How to Sync Gmail Contacts with Outlook on Mac- Easy Guide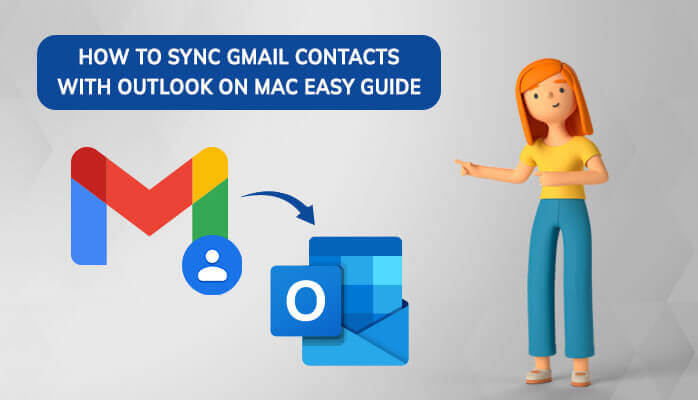 Many users have a question "why is my Gmail not syncing with Outlook?" To answer this query, we will share some reliable ways in this blog using which Mac users can add Gmail contacts in Outlook. Even though Gmail has a wide number of users, Microsoft Outlook is still a widely used web email client for professional work by many users. Keeping contacts up to date can be a critical process for most professionals, especially if you are using both Gmail and Outlook. Switching between these two email clients to search for a contact can be a bit of a hassle and annoying. In such scenarios, many users want to sync Gmail contacts with Outlook for easy and fast access. Both Gmail and Outlook provide an option to transfer contacts from one web client to another.
However, the process to migrate contacts from Gmail to Outlook is a bit tricky and requires good technical knowledge. We'll talk about this process in detail and try to help you make the transfer of Google Contacts easier.
Also Read: Techniques to Import EML to Outlook – The Complete Solution
Manual method to transfer Google contacts to Outlook 
The Manual method to migrate Gmail contacts to Outlook requires downloading the contacts from Gmail in vCard format. After converting to vCard, Mac users can easily sync Gmail contacts with Outlook. The steps to perform the procedure are discussed below:
Open Gmail on your browser and Sign in using credentials.
Click on the contacts option on the left and then, select Export.
Select all google contacts or a selective group of contacts to Export.
Choose the Export format as vCard.
Tap Export to download all the contacts in vCard file format.
Right-click the vCard file and select Open with and then navigate to MS Outlook.
A new window appears, and the vCard file is shown as the attachment there.
Now, choose Open from the drop-down icon.
In Mac Outlook, navigate to the People module, and the synced Google contacts will appear there.
Above we shared the manual method using which Mac users can easily sync Gmail contacts with Outlook.
Limitations of the Manual method
The manual method is time-consuming and has multiple steps. There are certain limitations to transferring Gmail contacts to Outlook which we will discuss in this section.
Mac users cannot import Gmail contacts to Outlook in bulk at once.
The steps are tricky and require good technical knowledge.
There are high chances of losing important contacts during the process.
Exporting single contact one by one can be very time-consuming.
Users can not remove duplicate contacts from the process.
Due to the above-discussed drawbacks to adding Gmail contacts in Outlook. Many experts switch to an advanced and reliable professional approach. The professional approach is easy to perform and gives high accuracy results in less time span. 
Also Read: Simple Solutions to Migrate Zoho Mail to Gmail
How to sync Gmail contacts with Outlook automatically
If you are facing difficulties in transferring Gmail contacts to Outlook using the manual method, you can go with the professional solution. MacSonik Gmail backup tool is a reliable and trusted professional solution to transfer Gmail contacts to Outlook without any hassle. It is an automated method relying on which Mac users can efficiently move Google contacts to Outlook. There are various other benefits of this tool that has been discussed below:
This method allows creating a backup of Gmail emails to other file formats and email clients.
There is no alteration or loss of data during the conversion.
The data hierarchy is maintained throughout the conversion process.
Users can create a backup of Gmail emails along with contacts.
There is no compromise with data security during the entire conversion.
The automated method allows importing Gmail contacts to Outlook in bulk efficiently.
It also allows Mac users to transfer only selected emails of desired dates.
Conclusion
If you are a frequent user of both Gmail and Outlook. It will be very convenient to transfer your Gmail contacts to Outlook for easy access. In this blog, we have discussed both the manual and professional approaches to sync Gmail contacts with Outlook. Hope we were able to solve all the queries. We have also shared the limitations of a manual method and how switching to a professional approach is relatively easy, safe, and less time-consuming.
Author bio:
Ankit Roy is a professional Technical Content Developer and Analyst. He has great knowledge about Email Backup, Cloud Migration, File Conversions & Data Recovery for Mac. He developed his skills in technical content writing throughout his undergraduate days. Ankit Roy additionally developed his skill in Google Analytics, Keyword research, and Webmaster tool.