Simple Solutions to Migrate Zoho Mail to Gmail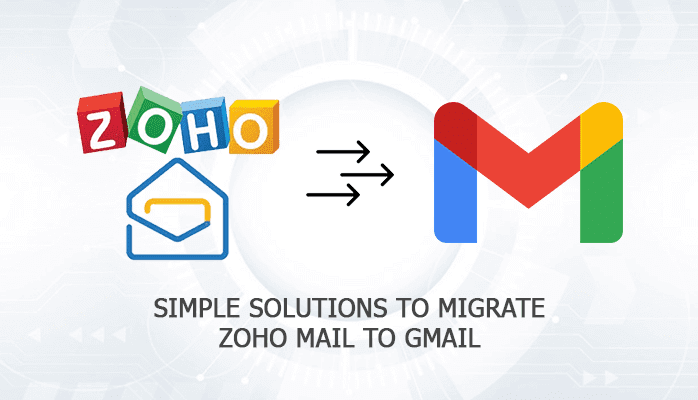 Many Zoho mail users are not pleased with the services delivered, and therefore they want to export Zoho mail to Gmail. Are you finding ways to move from Zoho to Gmail? Then you can read this article for easy solutions. You will learn about the best reliable solutions to migrate Zoho Mail to Gmail in this article.
The solution includes both Manual and Professional ways. We have two professional methods for you and one professional one. You can check the steps of manual methods below. In addition, we will also give information about the migration through the Zoho backup tool in the professional method. But before that, we will know the reasons in the next part.
Reasons for Zoho mail forwarding to Gmail
Many users prefer Gmail over Zoho Mail, and Zoho mail users are switching to Gmail. There are various reasons users move towards Gmail from Zoho or other Email Clients. Let's discuss some reasons here:
Gmail provides a better spam filtering feature than Zoho.
In comparison to Zoho, Gmail is also good in terms of security. You get a notification when login happens from a new device.
Business users prefer Gmail over Zoho as it has many features for business users.
Now we know the objective of moving from Zoho to Gmail. Now you might be wondering for the answer to How to configure Zoho mail in Gmail? or How to transfer Zoho mail to Gmail? Your wait is finally over. Now we will learn the best viable methods to transfer email from Zoho to Gmail in the below context.
Manual Methods to Transfer Zoho mail to Gmail
Now we will grab the knowledge about both Manual and Professional methods. But first, we will go for manual procedures. We have two manual methods for transferring email from Zoho to Gmail. You are free to use any method that suits your needs. In the first method, we will Add Zoho mail to Gmail. You can check the steps below:
Method 1
Open your Gmail account, click on the Gear Icon, then choose Settings.
On the Settings page, go to the Accounts and Import.
Now, tap on Add another Email Address.
A pop-up window will appear, enter your Zoho mail credentials and then hit the Next step button.
Now, Enable IMAP access in your Zoho mail to move further in the process.
Then, enter "smtp.zoho.in" in the SMTP Server block and put your username and Third-party password.
Modify port no. to 465 and hit the Add Account button.
For Account verification, either click on the link in the confirmation mail or enter the confirmation code.
Obey the above instructions to transfer folders from Zoho to Gmail. Now we will see another Manual Method. Here, we will make Zoho mail our default account in Gmail. Thus, given below are the steps for the second method.
Method 2
Open your Gmail Account and go to Settings.
Click Accounts and Import on the settings page.
Now hit the make default option beside the Zoho mail account in the "Send Mail as" segment.
Now you have made the Zoho mail account your main account, and all your folders will directly transfer to your Gmail account. These methods help users to Zoho mail forwarding to Gmail. However, the process might take a lot of time according to the size of the file. Now, we will learn some more limitations of the Manual method.
Also Read: Techniques to Import EML to Outlook – The Complete Solution
Drawbacks of Manual Methods
The above manual methods are not free from flaws. They have some drawbacks which we should know before applying these manual methods. Hence, given below are the limitations of manual methods users experienced while Zoho mail forwarding to Gmail.
It only migrates email from Zoho to Gmail and doesn't transmit the other mailbox elements.
You don't get the option to transfer selected mails.
Non-technical users find difficulty while performing these steps.
Right now, you all might be thinking about whether there is a much easier way to migrate Zoho mail to Gmail or not. So, the answer is yes, there is a much quicker and simpler way, about which we will study in the below context. Thus, we will learn about the professional method in the next section.
Export Zoho Mail to Gmail Professionally
To transfer Zoho mail to Gmail, we will use a reliable Automated Software named the Aryson Zoho backup tool. It helps export Zoho email to Gmail, Hotmail, Opera Mail, Yandex Mail, and more. It helps to migrate Zoho emails to PDF, , HTML, JSON, TIFF, CSV, TXT, etc. This professional tool provides lots of features to its users. You also get the option to select Zoho mailbox items from the tree structure.
I hope you find this article informative and you were able to migrate Zoho mail to Gmail from the above methods. Let us look at the whole write-up and see what we conclude in the end.
Also Read: Best Way To Backup Office 365 Data – Quick Guide
Conclusion
Finally, we will summarise the full write-up in a few lines. Some users were looking for ways to migrate Zoho mail to Gmail. Thus, we provided some viable solutions to the Zoho users. We firstly discussed two manual methods and their steps. However, these manual processes have some limitations. Hence, the search for the perfect method was not over yet.
So we learned about the professional technique. Here, we used reliable third-party software for Conversion. Finally, I conclude that the professional method is suitable even for novice users. Hence, I suggest using third-party software for easy migration.