Techniques to Import EML to Outlook – The Complete Solution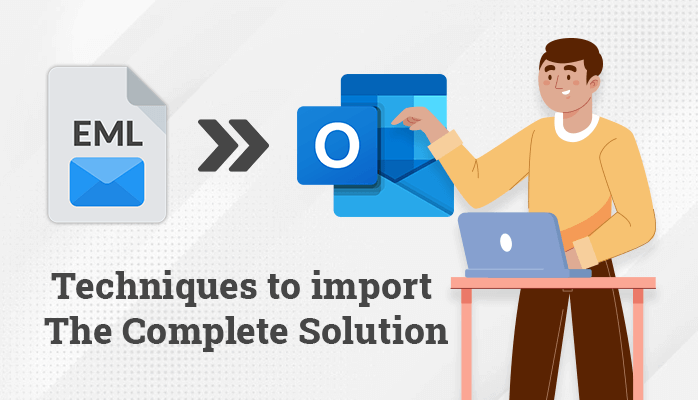 If you are seeking a solution to EML to outlook transfer then you are on the right blog. We will learn about the EML file format and also know which file formats Outlook supports in this blog. After that, we will know the reason why we should import EML to Outlook. Furthermore, we will understand some methods in that two will be manual and one will be a professional method. Also, We will talk about a utility which is EML to PST Converter in the professional method. Let's start the blog by knowing about Outlook PST and EML file formats.
Microsoft Outlook is an email client that allows users to send and receive emails and use PST files to store data like calendars, contacts, notes, journals, etc. In contrast, an EML file is used to store a single message individually that includes entire email content like sender, receiver, subject, date, time, body, media, attachments, hyperlinks, and other items. Also, It can be opened with a text editor like Notepad. Users are asked questions like can outlook save message as EML, the answer is yes. We will know this technique in the method section. But before moving on to the methods to import EML to Outlook PST, let's know some reasons first.
Reasons To Move EML files to Outlook
There are some reasons why we need to perform this conversion. Let's start knowing them.
A PST file contains the entire mailbox data, while an EML file only contains individual emails.
Using scanpst.exe or other methods, you can repair corrupt Outlook PST files. However, you cannot easily recover data from an EML file.
PST file format is supported on Windows Live Mail and MS Outlook but EML doesn't support it. EML file format is supported by other email applications also like Apple Mail, Thunderbird, etc.
You might decide to convert EML to PST file format after reading the reasons above. Here are some simple and effective techniques for EML to Outlook transfer. Let's explore them all.
Also Read: Best Way To Backup Office 365 Data – Quick Guide
Method 1 – Import EML to Outlook Using Windows Live Mail
There are various steps to move EML files to Outlook. So follow these steps and add EML files to outlook. Let's start understanding the method
1. First, open the Windows Live Mail application on your system.
2. After opening Windows Live Mail, click on the File >> Export Email >> Email Messages.
3. Choose Microsoft Exchange as the export format in the Windows Live Mail Export window and Click Next
4. Now a pop-up window appears in which it displays that your emails will be exported to Microsoft Outlook or Microsoft Exchange.
5. Select Ok then the next window will show you the folder list.
6. Now, Select the folder that you want to export then click on the OK button to initiate the export process.
7. When the process is completed, the Export complete message will display in the next window
8. Lastly click the Finish tab
Note: It is recommended that you should take a backup of your data at a separate location before implementing this process.
So this was the method in which we used Windows Live Mail to import EML to Outlook. Now let's know another approach to add EML files to outlook.
Method 2- Convert EML to PST Using Microsoft Outlook
In this method, we will use Microsoft Outlook to convert EML file to PST.
1. Firstly, Go to the EML file location where it is saved.
2. Now, Right-click on the EML file that you want to convert.
3. Then Go to the Open with option and select Outlook to open EML file in Outlook
4. Now, Your EML file will open in Outlook.
5. Finally click on the Move button and select the folder where you want to import the EML file.
Note: If you want to import EML to Outlook in a different folder then you will have to create that folder before this whole process.
These are the manual ways to import EML to PST. But these methods may not be ideal for some users. There may be many limitations that can be problematic for some users. So Let's know some constraints.
Also Read: Simple Solutions to Migrate Zoho Mail to Gmail
Some Causes Why Manual Approaches Might Fail
The methods that we have just known have some limitations as well, let's know them too.
Email attachments are seldom migrated using manual methods.
While applying Manual approaches, there is a high chance of data loss.
It is a lengthy process and takes more than enough time to perform the conversion.
Your computer must have Microsoft Outlook and Windows Live Mail application installed.
It requires technical expertise to perform the procedure.
Users have difficulty remembering the entire procedure. There is also the possibility of human error.
Manually transferring EML files to Outlook is not feasible if you have a lot of them to transfer. Only a few EML files can be migrated using these processes.
To overcome these limitations, we need a solution that anyone can use and easily import EML to Outlook. So we know that solution in the next method. Let's proceed to the third and last method.
Method 3- Automated way to move EML files to outlook
Above we have discussed two methods in which you have followed some steps. But some users want to know a method that does not take time. So in this method, we understand open EML file in Outlook with the use of a professional tool named Sysinfo EML to PST Converter. Outlook import EML files along with the entire email formatting and attachments with the help of this most risk-free tool. This utility import EML to Outlook as well as other formats like CSV, MSG, HTML, EMLX, MHTML, PST, and MBOX. Also, you can able to migrate EML files into other email clients like Gmail, Yahoo Mail, Office 365, Zoho Mail, Yandex Mail, Opera Mail, etc.
Conclusion
Finally, we are ending this blog here. We have learned a lot of things in this blog and also solved the query- Can Outlook open EML files. Also, We have discussed reasons to Outlook import EML files. After that, we also learned some methods in which two were manual and one was an automated professional method. But I recommend the professional automated method because it doesn't require any technical expertise.