How To Improve User Experience With Mobile App Development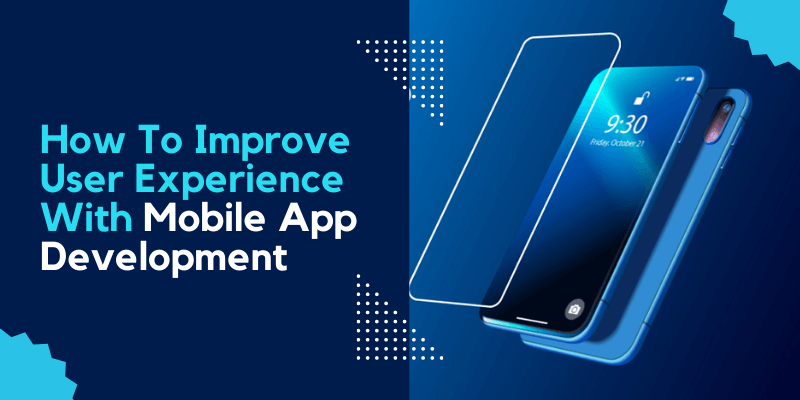 With the rise of mobile technology, the demand for Mobile App Development Services has increased significantly. Today's businesses can't function without mobile apps, which can be leveraged to boost user engagement and satisfaction. These days, we can't imagine our lives without the convenience of mobile apps. As the number of mobile phone users continues to rise, it is more crucial than ever to develop apps specifically tailored to this audience. Moreover, it's not hard for a mobile app development firm to grasp the significance of prioritizing the quality of the user's experience.
In this piece, we'll look at how to enhance the mobile app development process to better serve the needs of the end user. Throughout this article, you'll learn about the various mobile app development approaches, the value of a well-designed user interface, and proven methods for making an app that users love.
What is User Experience (UX)? Explained
User experience (UX) is increasingly crucial in the digital age. It's the user's whole experience with a website, mobile app, or physical object. User experience includes visual design, usability, functionality, and accessibility.
UX design's main objective is to provide a satisfying, engaging, and loyal user experience. A well-designed user experience may significantly impact user behavior, conversion rates, and business performance, making it crucial for digital products and services to get it right.
To create a positive user experience, UX designers/mobile app development companies need to consider more than just the way a product looks. They must consider the user's path and how they'll achieve their goals. A well-designed UX also can make or break a product.
Essentials Ways to Enhance the User Experience With the Mobile Application Development:
What variables contribute to an exceptional client experience? How can you eliminate complexity in the UX design of your mobile application to improve the user experience? To improve the mobile application's user experience, we have outlined some critical considerations.
Optimizing the Application for Various Devices:
Users can access Apps can on various devices, including tablets, smartphones, and even smartwatches. As a development agency, it is also becoming essential to optimize the app for various devices. Ensure that the app's appearance and functionality are consistent across all devices. This will also create a uniform user experience and make the application easier to use.
Developing an Easy-to-Use UI:
Designing a user interface (UI) that is simple to use is vital for delivering an exceptional user experience. By ensuring that the app is easy to use and the functions are straightforward to identify and comprehend, you can contribute to a positive and productive user experience. Incorporating pictures to help the user understand the app's functionalities will also go a long way toward enhancing the user experience. This will aid in ensuring that users are able to maximize the app's functionality and make the most of its features.
Any mobile app developer in Singapore who is worthwhile would prioritize making a simple and straightforward UI. By ensuring that the programme is easy to use and the functions are straightforward to identify and comprehend, you may contribute to a positive and productive user experience.
Also Read: What Are the Most Preferred Mobile App Development Frameworks in 2023?
Making use of Push Notifications:
Push notifications are a terrific approach to maintaining user engagement and reminding them to utilize the app. As a mobile app development firm, you should utilize push notifications to notify users of new features and upgrades, as well as to remind them of the app. This will assist you in retaining app users and increasing engagement.
Utilization of App Analytics:
Utilizing analytics is an excellent method for understanding user behaviour and enhancing the user experience. Analytics can help you understand how customers use the product, which features they use most, and what needs improvement. This will assist you in optimizing the user experience and ensuring that your application satisfies user requirements.
Enhance the Search Functionality in your Website Design:
Want to improve the design of your app's search function? It is a good idea to ensure that your app's users can simply find the information they seek. With a well-designed search function, your users will be able to get the information they need quickly and effortlessly.
A superior search function should be intuitive and simple to use. It should have a user-friendly interface that facilitates speedy and accurate searches. It should also give filters and sorting options so that consumers can refine their search results to meet their particular requirements. In addition, the search function should give relevant results that are organized in a manner that makes sense to the user.
Increasing Security Procedures:
Security is an essential component of every mobile application. As a mobile application development company, you need to ensure that the app is safe and that user data is protected. Included in this is the usage of encryption for data storage, secure servers for data transit, and two-factor authentication for user login. Additionally, you should ensure that the security mechanisms are frequently updated so that the software remains secure.
Also Read: Best top 10 mobile app features to attract your customers
Avoid Displaying the Blank Screens:
One of the most important things to remember when creating a mobile application is to prevent blank screens. Blank screens can discourage customers since they appear to have crashed or malfunctioned. This can be extremely off-putting for users and cause them to exit the application entirely.
Instead, it is preferable to indicate activity to users while their work is loading. For instance, you can display a loading wheel or a progress bar to inform users of the task's status. This will reassure them that the application is still operational and provide them with something to view while they wait.
Conclusion:
These proven strategies help improve a mobile app's user experience and increase user loyalty. One of the most effective methods of figuring out what needs to be done to build a complete User Experience for your target users is to take an objective-oriented approach to the mobile app design and development process. The aforementioned methods can be applied to mobile app development in order to boost its UX and UI.