How to Limit Character Count For An SEO Friendly Article?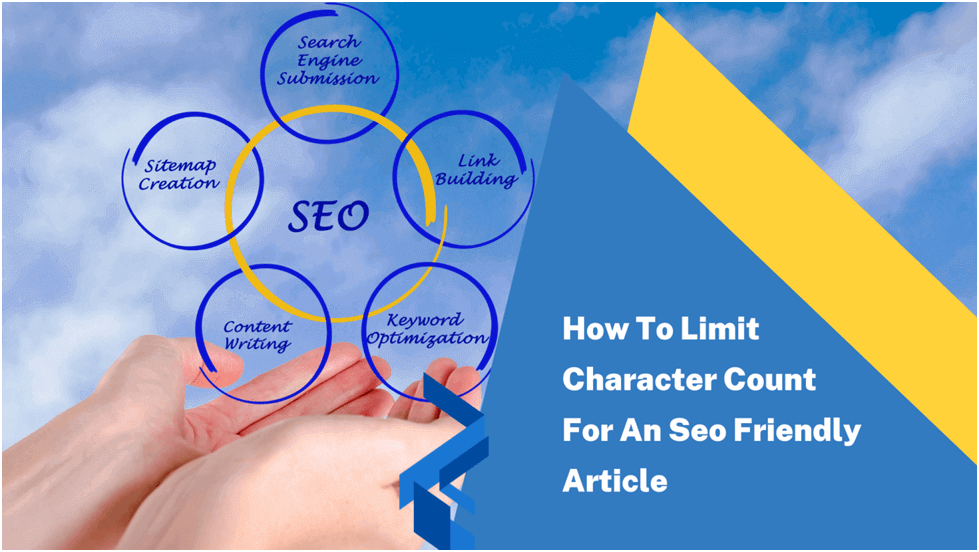 Let us know in detail how to limit the character count for an SEO-friendly article.
Writing has progressed greatly from newspapers and advertisements on paper to a global
data compilation is ready to be accessed by anyone.
We utilize writing in a number of ways in today's digital world.
We have got you covered on everything from digital site blogs to social media content.
Many people are creating digital content nowadays, and some people may find it challenging to keep within the character count restriction.
However, you need not to be concerned since we have a few suggestions to assist you with your content.
There are various ways to reduce the character or word count without losing the content's quality.
In SEO, the character count is a significant ranking factor (Search Engine Optimization) all the way from your blog title to your conclusion.
The number of characters in an article can have an impact on its placement on search engine results pages.
Also Read: How Can SEO Help To Improve Your Business?
What is Character Count!?
In today's era of digital content creation, one of the most important components related to content writing is character count, which is sometimes overlooked by quite a few people.
The character count means the total number of alphabetical characters in your content that make up words.
It is vital to keep in mind the needs that are specific to the type of content you are trying to develop.
The importance of the character or word count in the content generation process is occasionally overlooked, but this is not something to ignore.
Here is How To Limit Character Count For An SEO Friendly Article
1. Review Your Content Strategy
Setting up the correct technique for your content is critical.
It is so that if you are dealing with content, such as blogs, articles, or any other type of information, you will know exactly what to do and how to accomplish it.
You may easily take past bits of content that have performed very well and have a logical content structure as references and use their strategy.
This will reduce your workload while also assisting you in increasing your productivity and refining your content strategy.
Every company has an SOP (Standard Operating Procedure) that outlines how to complete specific tasks.
Those SOPs are based on strategies that the company or corporation uses to complete those tasks.
2. Utilize A Character Counter Tool
A Character Counter is a free online tool that counts and displays the number of characters, characters with spaces, pages, words, and word density in your text.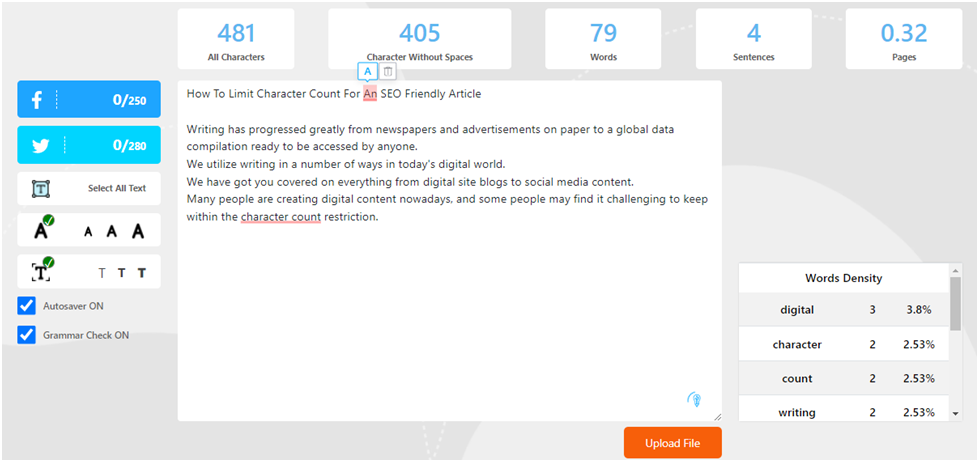 Character counters are online-based and can be used with a web browser like Google Chrome or Microsoft Internet Explorer.
The current length and other important data regarding your content are shown and updated in real time as you type.
The maximum length of your text is also displayed.
This is the tool you use when you need to condense your content or increase your character count.
A character counter tool's purpose is to keep you from surpassing the character limit for the writing task at hand.
If you need to keep your writing within a specified length restriction, this tool can help.
As previously said, the character count is critical, particularly when trying to reach a broad audience.
When it comes to your brand, website, and or social media, word count is crucial, and it should be carefully studied.
3. Practice To Write Within Character Count Limits
To make things easier, you may utilize a pre-made collection of templates, which will provide you with a starting point.
Every professional has gone through stages where they require education and practice in order to master the activities they perform.
Practice makes perfect, as the saying goes.
Make sure you practice any task you are struggling with, especially writing in this situation.
It is a lot like a sport in that you can only get good at it if you practice a lot.
If you adhere to it, you will develop the habit of writing inside the character or word limit and making your content as detailed as it has to be.
As previously said, writing is a talent that can be learned.
Like any other skill, you may enhance your writing capabilities by practicing on a regular basis.
Also Read: Top 7 SEO Insights Search Analysts Should Consider
4. Ensure Relevance
Many people are generating digital content these days, as we indicated at the beginning of this blog, and while remaining within the word limit might be challenging, it is vital that our information is neither irrelevant nor out of context.
Filler text should not be utilized to merely extend the length of your content since it may cause the content to become out of context.
Write out what you really want to say to your audience and reply to any questions or concerns they might have right away.
Take each piece of content one at a time and throw light on the context of your article so that it does not feel hurried on the page.
Our research and experience have shown us that relevancy is extremely crucial in terms of SEO.
5. Ensure Maximum Readability
When sharing content on social networking platforms or websites, you are limited in terms of content, which might impair the reading of your message if it is not written properly.
Reduce the length of your sentences by using shorter words and more straightforward terminology.
Limit the length of your sentences, keep them brief, and use suitable titles and words.
Use bullet points and/or lists to make it easier for the reader, as well as yourself, to mention and underline key topics in your content.
Readers nowadays have a trend of skipping stuff if they believe it is either overly long or insignificant, which means they will skim through your content.
It is critical that you create content that is not just succinct but also relevant to the nature of your topic and easy to read for your readers.
Character Counter's Roles in Content Optimization:
1. Ensures Adequate Amount of Content
The character counter helps you to check if the content you have produced meets the quantitative requirements.
2. Ensures Readability
When it comes to content readability, character count is an important measure that helps the writer determine whether the content is concise and to the point or not.
3. Helps Optimize the Content
A piece of content with appropriate keyword density allows you to include more hyperlinks and optimize it accordingly as well as reach a bigger audience, which increases traffic and improves site rankings.
Conclusion
As a writer, you are well aware that there are times when the words just will not come.
You may feel trapped, unmotivated, or as if you want to abandon everything.
But do not worry you are not the only one who feels this way!
In this piece, we go through the five finest writing strategies and recommendations for dealing with character or word limit concerns. Thank you for taking the time to read our guide!