What Are the Advantages of Blockchain in the Field of Healthcare?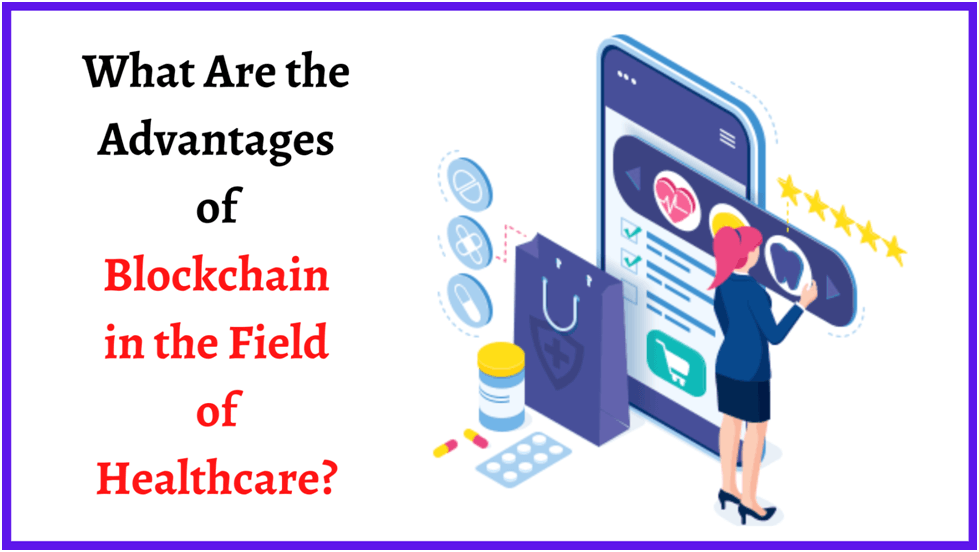 Blockchain is a concept that is relatively new to numerous conventional industry procedures; however, it also aspires to make substantial effects.
Blockchain in the healthcare industry is showing tremendous growth by providing innovative solutions. The apps based on blockchain technology have secured healthcare data from various cyberattacks.
Business leaders are now using futuristic security measures to maintain safety in tech-driven healthcare protocols.
In this modern era, the digital healthcare system has ushered a technological revolution in the healthcare domain.
Healthcare app development services providers use the latest technology aids to offer healthcare solutions via a quick and seamless delivery system.
Whether marketing or service management, implementing blockchain technology has become a preferred option for developing secure, robust, and futuristic electronic healthcare solutions.
So, what exactly do Blockchain solutions provide to the healthcare industry while being a transparent, decentralized, irreversible, and secure technology?
Let's find out.
1. Outstanding Supply Chain Management
The healthcare industry provides medical supplements to patients, which needs an interactive delivery system. An automated supply chain management can play a critical role in specifying peer-to-peer visibility of transactions.
Blockchain makes the standard supply chain process easy, more accessible, secure, and reasonable.
One can streamline the management of Electronic Health Records (EHR) and other crucial patient records for healthcare information.
Widespread use of efficient technologies like artificial intelligence makes it possible to improve customer credibility and supply chain optimization.
Moreover, blockchain technology has enabled manufacturers, suppliers, vendors, and consumers to come under one roof where data is shared transparently and effortlessly. It does not require any complicated distribution channel for supply chain management of goods.
A healthcare app development firm can assist you in utilizing technology innovation to create futuristic healthcare solutions.
The growing demand for medical devices has established the requirement for decentralized access to information more apparent and feasible.
With the rising online distribution of goods, the supply chain procedure needs to be more visionary toward the increasing need for natural and ready-to-use products.
Also Read: Why Are Businesses Opting For Blockchain Smart Contract Development?
2. Unique Healthcare Structure
Blockchain is associated with a community-driven conversion in the modern-era healthcare scheme. Its abilities as a distributed and decentralized ledger of transactions have proven extremely crucial to large audiences.
From healthcare to DeFi, Blockchain solutions have leveraged the strength of distributed data and cryptographic abilities in healthcare apps.
Blockchain technology has assisted global manufacturers, and suppliers in restraining fake drugs and counterfeiting medical tools and supplies. Cryptographic keys secure the data associated with storing, delivering, and managing these resources.
The merger of Blockchain and AI allows a compelling supply chain optimization based on a more exact supply and demand projection.
3. Efficient Data Management
It provides an effective tool for fixing traditional method problems that exist in big-scale infrastructure. The fixing of data distribution is settled in a decentralized model of Blockchain technology.
It helps healthcare organizations to maintain privacy and access for handling information flawlessly. Furthermore, implementing international compliance like the Health Insurance Portability and Accountability Act of 1996 (HIPAA) has allowed the adequate management of healthcare databases.
A blockchain development company builds healthcare apps according to HIPAA compliance to provide customers with sustainability and credibility.
4. Payments Through Cryptocurrency
The diverse use of Blockchain technology has permitted aspiring business owners to create data portable and interoperable electronic healthcare solutions.
All the participants involved in the healthcare sector, such as hospitals, researchers, governments, etc., are using robust security and multiple authentication functionalities of Blockchain to develop safe and viable solutions for employing healthcare functions.
The Blockchain-based healthcare industry is rectifying the traditional problems in this domain. Such a technique has enhanced the procedure's accountability and assured the utilization of all futuristic healthcare protocols.
Cryptocurrency is a new and unique payment model employed by Blockchain-based healthcare solutions providers for efficient treatment, solution delivery, and execution of general activities.
Patients can obtain immediate care using quicker cryptographic payments supported by a leading blockchain development company.
5. Security Awareness
Today's security protocols are leveraging the latest functionalities streamlined by Blockchain technology. As a result, it has removed trust issues and established a technology-based mechanism such as consensus in the middle of the entire procedure.
Improving security awareness in an atmosphere where resources are distributed is more accessible than a conventional procedure. It is simple to validate instability in data and fix relevancy concerns through sufficient authentication.
Also Read: Predictions for the Future of IT in 2022
Final Thoughts
From handling electronic health records (EHRs) to authorizing medical researchers to cooperate on multilateral data processes, Blockchain in healthcare has immensely benefited the sector.
As time goes by, the healthcare app industry's technological improvement is making new market trends. The worldwide usage of Blockchain technologyin making more feasible healthcare information plans has evolved more apparent.
Healthcare app development companies utilize groundbreaking Blockchain technology to build a potent and secure decentralized mobility architecture.
Author Bio
Tom Hardy has 10+ years of experience as a software developer in SparxIT. He often writes blogs and journals to share his expertise for a reputed blockchain development company.