How to Backup IMAP Mailbox on Mac – A Complete Guide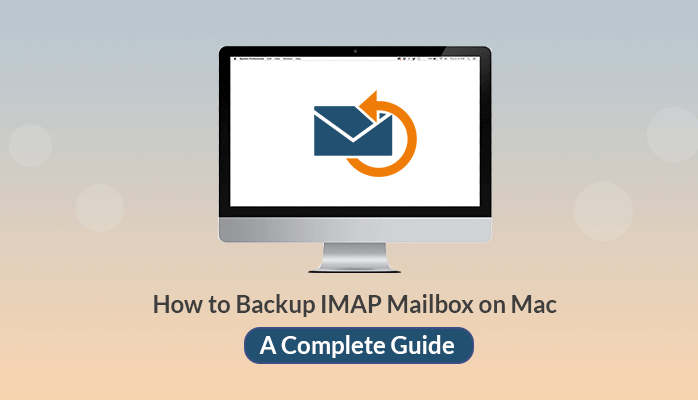 Internet Message Access Protocol or IMAP is a standardized email protocol used by various clients. It allows us to store and access the email messages on the server. Users can access the IMAP server mail from multiple devices with ease. The changes made from one device on IMAP will be easily reflected on other devices. IMAP mail servers always preserve a copy of the emails that are present on the IMAP configured accounts. lets know How to Backup IMAP mailbox on mac, in detailed.
Whenever you access your mailbox, your email client sends a request to the server to connect with your messages. When you read your email messages using IMAP, you are basically reading it on the server. And you are not actually accessing or downloading it on your computer or local storage.
If you are a mac user and using an IMAP email web client for email deliverance. Then this query may arise in the end, how to Backup IMAP Mailbox on Mac? You don't have to stress yourself for the backup solution. In this article, we will show you the ordinary and advanced solutions to tackle this issue. But before moving further, let us know why it is important to backup IMAP account.
Also Read: How to Sync Gmail Contacts with Outlook on Mac- Easy Guide
Reasons Behind Backup IMAP Mailbox on Mac
As we know that it is a web-based email client and offers you to read the recipient emails only on the server. You don't have any local storage of data until you take a backup on the device. However, similar to any data, IMAP data is also vulnerable to multiple threats. So, taking a scheduled backup is always an effective solution to keep the mailboxes secure.
Some of the reasons are mentioned below to backup IMAP account,
To secure data when accidentally deleted by the user.
It prevents data loss when intentionally deleted by the user when it is not being used.
Prevents data loss may be caused due to a crash of the server.
Backup IMAP mailbox on Mac to intercept Malicious activity caused by cyber attackers.
To access the information offline whenever needed, without internet connectivity.
In the above section, we have discussed various reasons to backup IMAP email Mac. Now in the next, we will discuss and elaborate on the best possible method to backup IMAP emails on Mac.
Traditional Method to Backup Emails from IMAP
There are multiple solutions available over the web to backup IMAP accounts but they are not very safe. In this article, we are going to discuss the possible ways that can be used to backup IMAP emails on Mac.
IMAP itself enables the user to backup IMAP mail Mac from an IMAP account and access the backup data on any OS such as Windows, Mac, Linux, etc. In this manual procedure, the user will know to backup IMAP emails with the help of Mac inbuilt
Export feature.
Let's keep an eye on the steps mentioned below to backup IMAP Mailbox on Mac,
Open MS Outlook on Mac.
Click on the File menu and select the Export option from the menu.
In the next opened wizard, select from the items that you want to export and press the continue button.
Now, choose the destination for the resultant file & click on the save button.
After the backup is complete, press the cancel button. You have successfully backup IMAP mailbox to OLM.
From the above-mentioned steps, hope you understand, hope you know How to backup Mail folders on Mac. While performing the steps, the user must have the prior technical knowledge to prevent an error. Next, we will talk about some of the limitations that users face while performing the stated method.
Also Read: Fast and Secure Ways to Import MBOX to Outlook PST on Mac
Limitations of Manual Method to Backup IMAP Mailbox on Mac
Backup of IMAP mail using this trick is an option but not considered as an optimum solution to deal with. It is a very lengthy and complicated approach and must require some technical knowledge to perform the steps correctly.
Some of its drawbacks are:-
Any technical error may lead to data corruption.
It can perform only a single mailbox backup.
IMAP Mac mail export mailbox with attachments can't be done.
It doesn't provide an option to remove duplicate emails while backup.
Do not allow selective migration or backup IMAP email Mac.
Manual technique is very tricky and not feasible to deal with. To terminate such kinds of hindrance, most of the users switch to the professional method. IMAP Backup Tool for Mac is the automated and recommended solution to opt. The professional technique helps the user to escape from the lengthy process and saves lots of time. Users can easily backup IMAP mailbox on Mac separately or in bulk along with attachments and other components.
Conclusion
In the above article, we have discussed the method to backup IMAP email on Mac. We can take backup manually when we have sound technical knowledge. But when it comes to non-technical users and bulk backup options, then it is not suitable to go with. To eliminate such kinds of difficulties users are suggested switching to an advanced solution. The professional technique provides effective and efficient experience to backup IMAP mailbox on Mac smoothly.