Key Impact of Artificial Intelligence in Web Development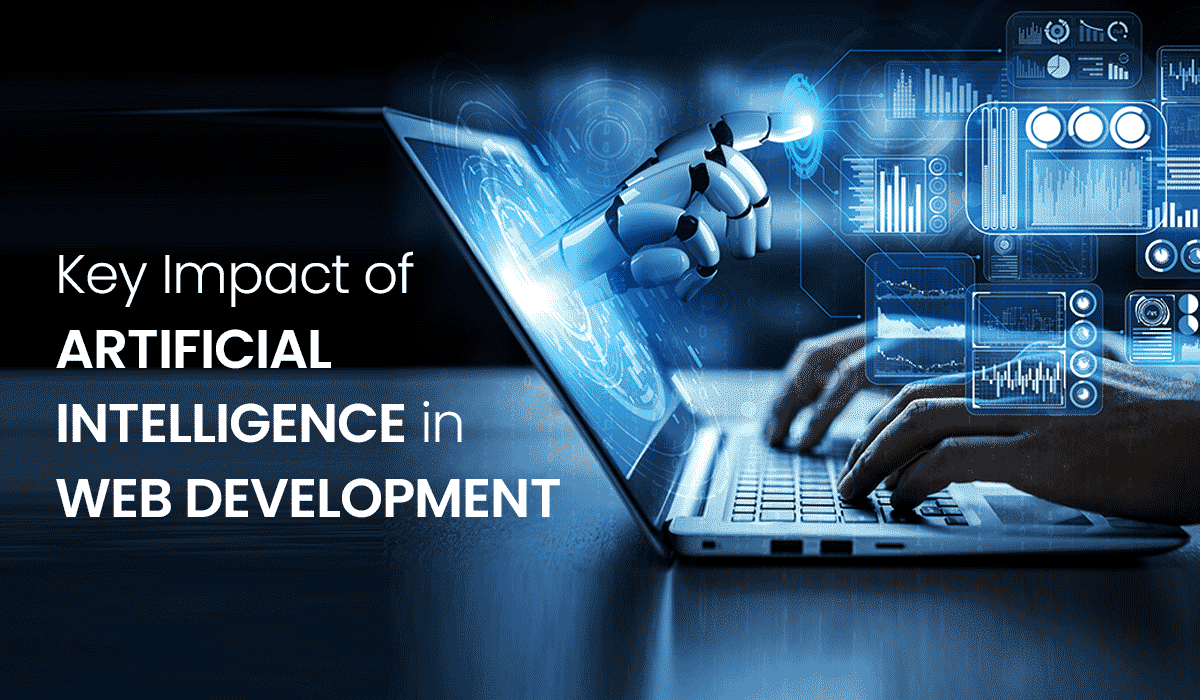 In today's digital world, web development is a massive and valuable medium. The involvement of UX designers, HTML coders, and web developers makes web development a more comprehensive thing. They work behind the scenes to develop secure, fast, and engaging websites for people. Artificial intelligence in web development gives you the best practices to enhance the website appearance and also assists the customers in fulfilling their buying requirements adequately.
However, the entire development process is incomplete if it cannot interact with the customers interested in purchasing the products online from websites. In such cases, you should incorporate the latest technology- AI or Artificial Intelligence.
So, you can understand that the importance of artificial intelligence in web development is immense. By using AI in websites, developers can implement various user-centric innovations that enhance user experience and boost customer interaction.
So, now you might wonder how does AI affects web development. Fair enough. To know this, take a glance at the below points. All these explain the artificial intelligence benefits for reforming the web development requirements and boosting user experience to grab more users for visiting a website.
Faster coding
Those days are gone when web developers need to write long, complicated, and time-consuming codes. Now, with the assistance of artificial intelligence in web development, they can code faster and with ease. It is so because AI automates numerous processes and allows developers to develop code in a hassle-free manner. Due to this automated coding, they can save a lot of time and create more intuitive websites and apps in a short time.
Better ranking
Website ranking is a huge factor. Without enough raking, no website can achieve its desired success. Many factors contribute to ranking. But among them, AI works well, and it helps your website appear in the top list of any search engine. Several AI tools like WordFit, Morphio Ai, and others work efficiently and assist you in creating effective and fruitful SEO strategies. Thus, you can use artificial intelligence to get a more enhanced ranking. Through this, you can get more visitors and also generate more revenue in the end.
Customer engagement
When you develop a website with artificial intelligence, you can incorporate AI-powered communication and chatbots tools to enhance customer experience. These chatbots facilitate conversations as it adequately replaces the need for customer service specialists. Not only this, but you can offer more effective customer service as these chatbots guide people about taking action and also boost their participation on the website.
Quality assurance
If you are in the web development field, you can understand the troubles behind quality assurance and maintenance. They both are not only tedious but also monotonous tasks. However, with the advancement of AI or Artificial Intelligence, you can perform both with ease. You can use AI algorithms to enhance the performance and speed of your website. Apart from this, you can also collect inferences and data as AI algorithms help you to gather all these efficiently. Therefore, AI in the web industry is a valuable technology that offers an effective quality assurance system.
Also Read: Essential WordPress Development Tools for 2022
Personalized UX or user experience
With the advent of artificial intelligence in the web industry, you can now provide a personalized user experience to your visitors. The impact of artificial intelligence is so significant that you can take your visitors' participation to next level, and they will also feel more valued when using your website.
Empower voice-based conversations
Nowadays, website users prefer to use their voices to search for something rather than writing long keywords. As a result, you need to incorporate voice-based conversions to offer visitors such features. In such a case, AI or Artificial Intelligence will help you efficiently. AI will assist you in empowering voice-based conversations happening between the websites and users. So, why not make use of AI for website creation?
AI research
The growth of artificial intelligence in web development comes with an AI research feature. In this process, businesses can discover new methods of enhancing their products and services. It is so because AI research does the tedious researching job by utilizing technologies like visual search and facial recognition to search or scan for anything quickly. Hence, it is another reason why more and more people are opting for Artificial Intelligence in web development.
Customer behavior analysis
Apart from the above, AI also enables owners to evaluate customers' behavior by monitoring their activity on the websites. AI offers a customization experience to owners and visitors. In that feature, they can utilize visual AI to make informed buys. On top of all, the image recognition feature allows website owners to remove inappropriate content and products from their websites.
Final Words
To wrap up, we can say that the above points are enough to understand the impact of artificial intelligence on innovation and web development. As a web development company suggests, without AI, the developers might not offer that enhanced user experience to people. Therefore, if you want to incorporate more features, take advantage of AI and reap benefits.