Global growth in online learning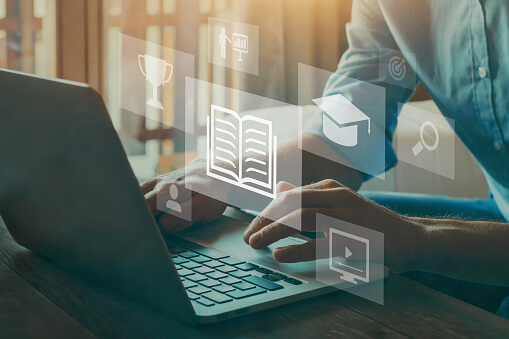 Did you know that online learning is growing at a rapid pace all over the world? More and more people are getting their education online and for good reason!
In this blog post, we will highlight what growth has been experienced across the globe regarding online learning and why it has potentially been experienced.
What global growth has been experienced in online learning?
If you were to take a look at some of the statistics to have been published recently in regard to the online learning industry, it is clear that there has been a significant amount of global growth following the pandemic that was experienced.
Indeed, many around the world had decided to sign up to learn new courses including those that want to take Portuguese classes online, with one online learning platform revealing that they had more than 20 million new users register for courses; a figure that was said to be the equivalent of three years.
Additionally, the number of users enrolling in courses each year has continued to increase steadily, with 21 million users in 2016 has since grown to a total of 92 million in 2021, while enrolment has peaked at 189 million!
It is a truly global phenomenon that is being experienced, as we have seen huge populations from countries all over the world look to register for online courses. From the U.S. to the U.K., India to China, and Mexico to Brazil, there are individuals all over the planet looking to make the most of the technology available.
However, when you take a deeper dive into where the growth is actually being experienced, then you will find that it is from countries in emerging economies. Countries from South America, Asia, and Africa are typically found to be participating more and more in online learning at the moment. In fact, it has been claimed by one company within this sphere that Paraguay has seen a growth of 98% in regards to the number of learners, whereas Lebanon experienced a growth of 97%.
Furthermore, according to Skill Scouter, the online learning industry has managed to experience a growth of more than 900% over the last two decades, with it understood that around 40% of all Fortune 500 companies utilize the technology in some way or form for the employees that they hire.
Additionally, it has been claimed that the market is projected to reach $325 billion by 2025, with the U.S. and European sectors accounting for approximately 70% of the total market.
What are the reasons for the global growth in online learning?
There are many reasons why online learning is becoming more popular every day. 
There are so many websites and online resources that can benefit everyone from a student to a corporate professional. Just look at websites like RARBG that can help you download software, E-books, journals, courses, and so many other learning materials completely free!
Naturally, the availability of the internet across the world has played a significant role, as users are now able to access online courses whenever they want. This also leads to the fact that they allow individuals to change the way that they learn.
This includes the fact that it has now become convenient. You can learn at your own pace and in your own time. And You do not have to worry about fitting class times into your schedule, or having to try and rearrange certain things that traditional classroom learning may have to make you in order to attend. You can also learn from anywhere in the world, as long as you have an internet connection.
Final Thoughts
To summarize, online learning has enjoyed an astounding amount of growth across the world in recent times, with technology having clearly played a role in helping it to become accessible to a wider audience. Additionally, given how busy the population is, it would seem very likely that this growth will only continue in the near future.