What are the Benefits of Shopify for eCommerce Website Development?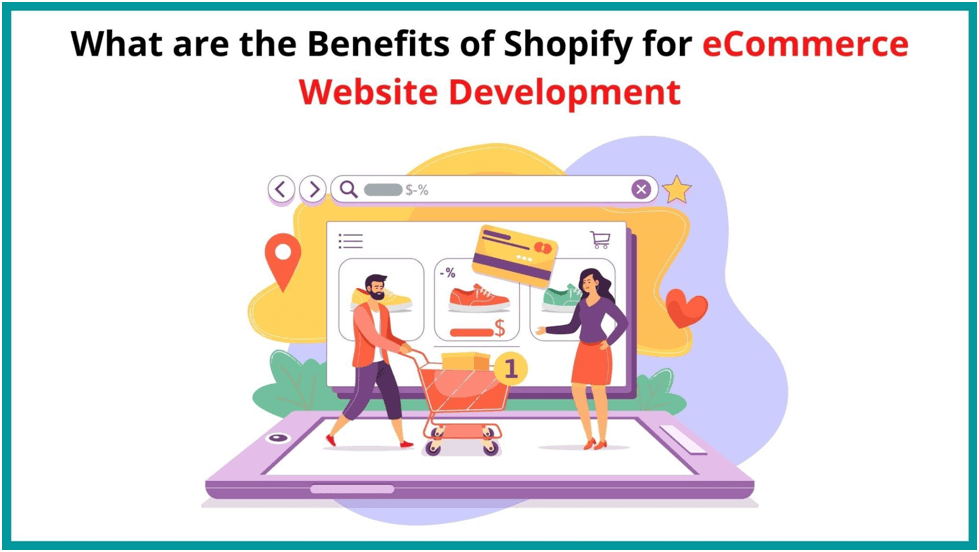 In this digitalization era, people prefer the comfort and convenience of online shopping. Thus, having an eCommerce website for your business is required to leverage a vast potential market.
With an eCommerce website, you can reach out to your audiences and expand your business. However, to achieve this, you need to develop an eCommerce store. Thankfully, having platforms like Shopify has made website development easy.
This blog will discuss several benefits Shopify provides for developing an eCommerce website.
1. Easy to Set Up and Use
Shopify provides a faster and easier solution for eCommerce website development. With its centralized order fulfillment capability, you can easily manage inventory, orders, payment, and shipping in one place. It is easy to set up and use with just a few steps.
Also, it has excellent documentation, helping set up your eCommerce website with a step-by-step guide or answer any of your technical questions. Thus, you can precisely search your query and have a simple, smooth online store configuration through Shopify.
2. Cost-Effectiveness
Shopify provides many inbuilt features, whether it is managing payments, shipping, or inventory. You get several features like a full-featured blog, multi-currency support, payment gateway, subdirectories, etc. Additionally, you do not have to pay extra web hosting fees when you build your online store with Shopify.
Shopify is an affordable solution where you only need to pay a monthly fee to use Shopify. Hiring an eCommerce website development company is the fastest way to get online and start selling.
3. User-Friendliness
Shopify is very user-friendly for businesses and consumers simultaneously. With simple drag, drop, and edit components of Shopify Theme Editor, you can easily customize your eCommerce website. It is easy to add product details, images, specifications, etc. Shopify provides consumers with a clean, minimalistic, professional, and reliable checkout experience.
Therefore, it is a convenient platform to set up and update websites with a smooth browsing experience for the customers.
4. Mobile Responsiveness
As per Statista, the number of mobile users is more than 6 billion, and this number is continuously rising. Therefore, setting up a mobile-friendly store is as essential as a website.
The websites developed with Shopify are highly responsive as it comes with mobile commerce features. It provides built-in mobile features to allow your customers to access your online store from iPhone or Android devices. With built-in mobile commerce shopping carts, your customers can buy products from your website on the go.
Also Read: A Guide to Create a Custom eCommerce Website without Writing Code
5. Built-in SEO
Search engine optimization (SEO) is essential to improve the search engine ranking for your eCommerce website and help customers find your products. The built-in SEO features of Shopify help you optimize your content, such as landing page creation, meta tags, custom title tags, etc.
Also, it manages various SEO activities automatically, like automatic generation of the website's sitemap.xml and robots.txt files, title tags auto-generated containing your online store name, and canonical tags are auto-generated and added to pages to prevent duplicate content from appearing in search results.
6. Easily Customizable
Shopify has over 70+ premium and free design templates that you can select from Shopify Theme Store and modify as per your eCommerce website needs. The design templates in
Shopify come with theme settings to enable you to customize your eCommerce website's design without the need for technical knowledge.
Besides that, you can customize the homepage's layout, add banners and slideshows, change fonts and colors, and upload a logo to give your website a look as per your requirements.
7. Robust Management
With Shopify, you can easily manage the eCommerce website from a branded online shopping experience to payment processing and order management. First, you can eliminate the manual process that enables growth for your eCommerce business. Also, you can manage a large number of orders across multiple channels effortlessly.
Moreover, you can access your report on your Shopify store by installing the Shop channel. For instance, you can view specific performance metrics, such as sales, orders, favorites count, and impressions.
Also Read: Why is Ecommerce Business Getting Popular Than Ever?
8. Secure and Reliable Platform
Since customers have to provide their sensitive data, such as credit and debit card details, it is essential to keep your eCommerce website secure. A secure eCommerce website will help you increase customer trust and build brand loyalty.
The online stores powered by Shopify are covered by PCI standard categories, covering network maintenance, cardholder data protection, driving a vulnerability management program, robust access control measures implementation, regular monitoring and testing of the network, and maintaining an information security policy.
Thus, Shopify ensures a secure and reliable eCommerce website.
9. Excellent Customer Support Service
Shopify provides excellent customer support; thus, if you ever face any issues or difficulties while developing your website, you can ask for assistance from them. Their 24/7 customer support is available at your service to solve your problems and streamline an easy-to-manage eCommerce website.
Additionally, they provide several help videos and troubleshooting guides to find the solution to your issue quickly.
Conclusion
As per the mentioned benefits above, we can conclude that Shopify is one of the suitable platforms for developing an eCommerce website. However, many factors might affect your
choice to choose a platform, such as cost, features, requirements, etc. Therefore, it would be best to select a platform as per your website needs.
Author's Bio
Tom Hardy is a Sr. Web Developer in a leading eCommerce website development company. He loves to explore new technologies and share his insights through blogging in his free time.