A Guide to Create a Custom eCommerce Website without Writing Code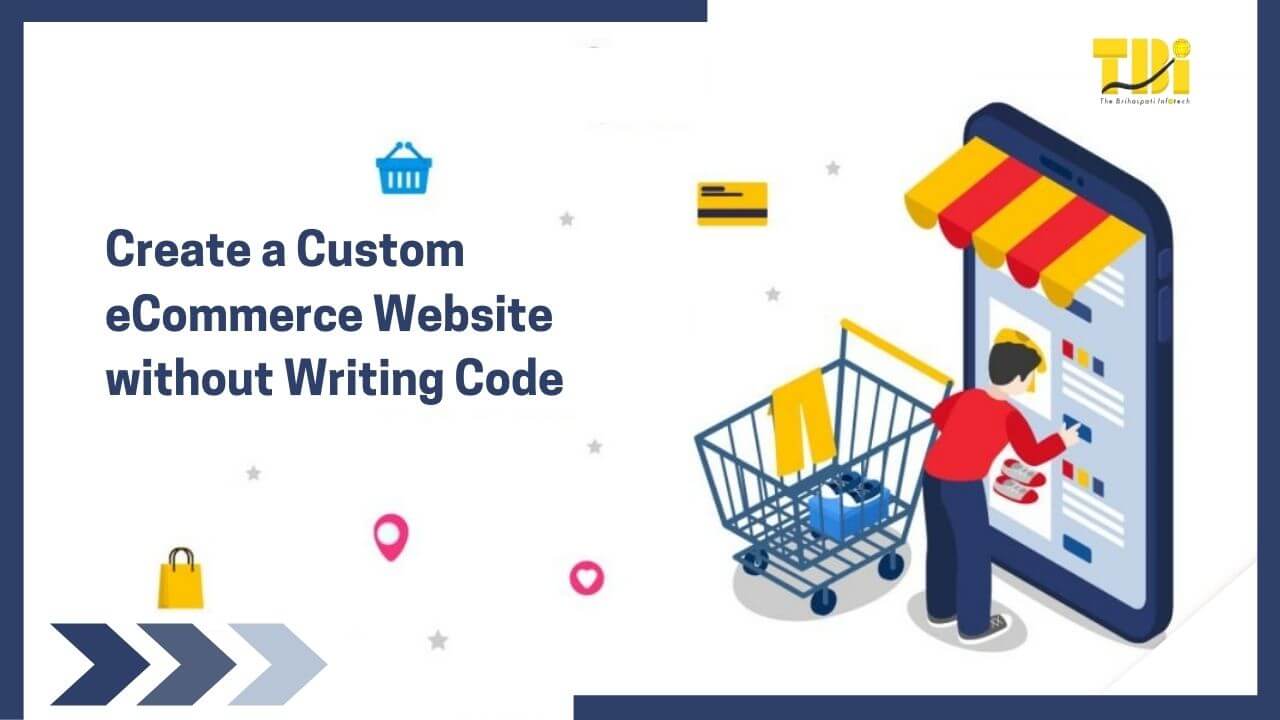 Take a chance to partake in the eCommerce industry and expand your business. So, the sooner you start the development of your eCommerce store, the faster you will be able to expand your brand. A great and customer-oriented website is the foundation of a successful eCommerce business. Therefore, do not let in the fact, that you have not made any eCommerce store. The sale of your store will not happen automatically. So, building an eCommerce website is now easier and more intuitive. All thanks to the tools accessible on the market. So, get your custom eCommerce website development from a reputable eCommerce development agency.
Do you already have a brick-and-mortar store and want to expand online? Or is it your first online store? Stay with us to know how you can build your custom eCommerce store. We will discuss the steps to develop your eCommerce store from scratch without coding.
Steps to create Custom eCommerce Store without Coding
Do you know there are eCommerce builders available? Which is the best eCommerce website builder? Shopify and WordPress plugins like WooCommerce are the trending platforms to build an online store. Follow the below steps to have custom eCommerce website development.
Sign up with the eCommerce Builder
An eCommerce builder is a component of internet software that enables you to establish your own online store without requiring specialist technology or technical experience. There are a plethora of online store builders to choose from. Some are inexpensive, while others are expensive, and some are reliable. For large web stores, we recommend Shopify, and for smaller ones, WordPress.
It costs a little more than their WordPress hosting, and it includes everything you need to start an online store. WooCommerce is a plugin of WordPress to create your eCommerce store. In fact, it's entirely configurable, secure, includes a free SSL certificate and domain name, and includes fantastic WooCommerce features to assist you in creating, promoting, and selling from a safe online store. To use the website builder to start the development, you need to use a perfect plan according to your requirements and do not have to overpay for services you do not require.
Create Your WordPress Website
All the eCommerce website builders will handle the technical thing, and you do not have to write any code. It helps you to focus more on the design and the content. Business owners use the templates, and others use drag and drop interfaces to create their custom eCommerce websites. So, choose your domain name which makes sense with your online store. Once you pick the domain and hosting from the best agency, it will prompt you to install the CMS. Here you can either choose WordPress or WooCommerce + WordPress.
You'll be required to form a WordPress account. Write down your login and password since you'll need them again shortly. After that, you may choose from a variety of free WooCommerce themes. The basic layout of your online store is determined by the themes, but you can change it to meet your brand. For now, you may either choose a good-looking free theme or skip this step and finish setting up your website. You can change the theme of your website after connecting it with WooCommerce.
Connect Your Site With WooCommerce
You'll need to install WooCommerce once you're in the WordPress dashboard. WooCommerce is one of the most popular plugins for turning a basic WordPress website into an eCommerce store.
It's a free, open-source platform that's also user-friendly. WooCommerce is a great lifesaver for eCommerce businesses, from product pages to payment gateway integration to automated tax computations. You want to put everything on your side, from your address to your sector to the type of goods you sell.
Also Read: Why is Ecommerce Business Getting Popular Than Ever?
Fine-tune the settings on your eCommerce website
This step focuses on configuring the essential features of an eCommerce website, such as payment gateways, shipping options, and tax computations automatically. Indeed, in your custom eCommerce website development, you can add the functionality according to your requirement.
Set Up Payment Options
Configure Your Tax Rates
Set Up Shipping Options
Personalize Your Ecommerce Website
Add the products to your eCommerce website.
If you don't have something to sell, having an eCommerce website is pointless. That's why you need to add the items you'd like to sell on your custom eCommerce store. However, you can also contact the eCommerce development company to get a custom development.
You can add the products from the left side of the WordPress Menu sidebar by selecting the products option.
Boost Conversions with Plugins and Additional Content
In fact, at this point, you have covered all the steps to make your custom eCommerce website public. Following that, we'll go through several strategies for increasing website traffic and, as a result, increasing revenue.
Install Plugins
Include Any Content that is Required
After you've sorted out the plugins, your eCommerce website's copy and content should be your next priority.
Make your eCommerce website accessible to the general public.
Are you happy with your custom eCommerce website? Does its theme entice the customers and function properly? Then, it's time to launch your website and start the sale.
Your Website Will Go Live
From the WordPress sidebar, go to Settings and then Privacy.
From here, you can make your eCommerce website public.
Conclusion
We hope the above steps are clear to perform custom eCommerce website development for your online business. In fact, you can communicate with a professional and experienced eCommerce development agency to get your website to develop.