How eCommerce Web Development Increasing Revenue in Online Businesses?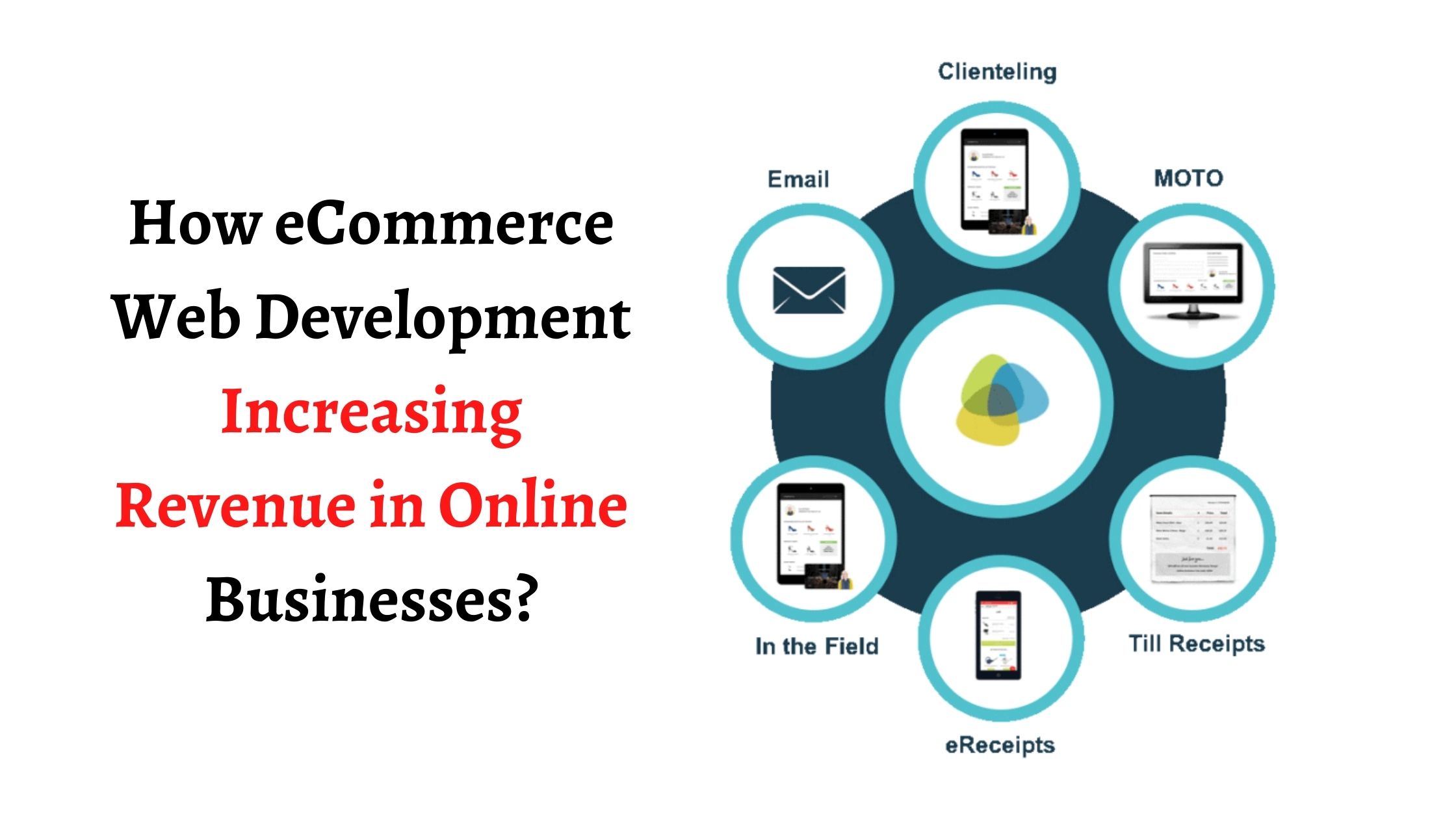 With the advent of smartphones and easy access to the internet, people are more inclined to look for every solution online. Consequently, online businesses have been flourishing to serve internet users. Today, eCommerce has become a shining industry taking the online business to a new level. People are leaning towards eCommerce for their shopping needs making it a lucrative business for entrepreneurs. Hence, many online businesses are taking the route of eCommerce to increase sales and ensure their growth. Compared to a brick-and-mortar store, an eCommerce website is more effective for selling and buying products. There are numerous advantages of eCommerce, ranging from ease of selling to greater market reach.
What is eCommerce, and how much can a new eCommerce website make?
In simple terms, eCommerce can be defined as buying and selling products or services electronically through the internet. Sellers can offer their products or services through online marketplaces, and buyers can purchase them quickly and easily with the help of eCommerce websites or apps. Moreover, eCommerce has revolutionized the shopping experience and started a new era of online business. Therefore, investing in eCommerce web development has become lucrative for businesses today.
Did you wonder how much a new eCommerce website makes? If this question arises in your mind, then we have the answer. Depending on whether a new eCommerce website is a success or failure, you can make a lot of money from your website. There is no limit on how much amount you can make with your eCommerce website. But you need to make sure that your online store is successful in ensuring constant earning from it. When your online store is a success, you can make big bucks with the only limitation of your resources.
Also Read: Reasons why your business needs a Responsive web design
How does an eCommerce website benefit a business?
No matter if your company is big or small, having a website is a necessity for every business today. An eCommerce website is profitable for you when you want to sell your products or services to customers through the internet. There are many advantages of an eCommerce website, and with these benefits, you can generate more revenue.
Here are the key benefits of having an eCommerce website for a business:
Lower set up and running costs than an offline business
Setting up an online store is much more cost-friendly than setting up a brick-and-mortar store. You can avoid the cost of staff salaries, infrastructure, equipment, and other business costs by opting for the eCommerce model. Further, eCommerce websites offer complete functionalities to sell and grow online. The money you save by not investing in an offline business can be used for the growth and advancement of your business.
Operate business from anywhere
Another advantage of eCommerce web development is that your business will have no boundaries. It means people can access your online store from any part of the world. An eCommerce website removes the geographical restrictions that an offline business has to face. Your customers can be anywhere around the world, and they will still be able to access your store if they have internet connections. Consequently, you can extend your reach.
Easy tracking of results
Tracking and measuring results is also very easy with an eCommerce website. To know whether your website is successful or not, you will measure the results regularly and track its performance. You can use website tracking tools like Google Analytics to track your website and measure the results. An eCommerce website allows you to view statistics related to cart abandonment, the number of orders processed, percentage of revenue at an interval, average cart total, and more.
No time restrictions
A brick-and-mortar store has time restrictions, unlike an online store that can operate 24/7. There is no time for opening and closing an online business unlike a brick-and-mortar store. Hence, with an eCommerce website, you don't restrict your customers, and they can access your site at any time of the day.
Also Read: 7 Benefits of Shopify eCommerce Development Services
How do eCommerce websites help boost the revenues of online businesses?
E-commerce websites are an excellent platform to enhance your revenues and develop your business. There are many ways how eCommerce web development helps boost the revenues of online businesses.
Here are some ways eCommerce is beneficial for businesses:
Empower customers
In the past few years, eCommerce has gone through a transformation to empower customers to make online purchasing a painless process. Now thanks to the evolution of online marketplaces like Amazon, eBay, Alibaba, etc, buying goods and services is a lot easier. As eCommerce empowers customers to purchase goods and services easily, it inspires more and more customers to shop online. Businesses can get multiple benefits from the rise in online shopping by attracting more online buyers to their eCommerce websites. Consequently, they can increase their revenues.
Better products and services
Websites can communicate with customers through advertisements and promotions to provide information on new products. Customers can also provide feedback and comments regarding products and services to help producers in product making. Indeed, customers' feedback contributes to the making of the right products. Consequently, producers will create the right products that will offer complete customer satisfaction. More customer satisfaction will help businesses to earn higher revenues.
Increased efficiency
Another big advantage for businesses with eCommerce is that it improves their efficiency by streamlining the production and service delivery process. There are many reasons for bolstering business efficiency with eCommerce, including the execution of online transactions and cashless payments. Business transactions have become more cost-effective and faster because of eCommerce. Increased business efficiency helps reduce costs and increase revenues for entrepreneurs. You can benefit from eCommerce web development with reduced costs and increased efficiency.
Expand with new businesses
E-commerce provides an opportunity to expand and explore new businesses to extend their customer reach without a physical presence. Organizations can gather quality data related to their customers and analyze the data to find out new business opportunities with better product ideas. With an eCommerce website, an online business can diversify in different fields and cater to customers from a wide range of business domains. Hence, eCommerce offers excellent expansion opportunities and helps businesses grow in multiple dimensions. Choose the right eCommerce development partner to create a flexible and scalable eCommerce website to meet your customers' needs. As you grow your product range, you make more money that increases your overall business revenue.
Let's sum up!
One of the greatest benefits that eCommerce brought to people's lives is the ease of shopping. Similarly, it has brought numerous benefits for businesses as well, including the ease of selling their products and services without any physical setup. Moreover, there are lots of ways in which an eCommerce website contributes to the increase in business revenues. You need to choose the right eCommerce web development company to create a state-of-the-art website. With that eCommerce website, you can sell products and services and earn revenue much higher than through offline methods.
Author Bio
Emily White is an experienced and passionate web developer at CSSChopper, which is a renowned eCommerce development company. She is an ardent developer and a part-time writer who loves to write on various technologies and trends to provide useful information to her audience.