Tips to make PDFs SEO friendly to Boost your Ranking on SERP | An Expert Insight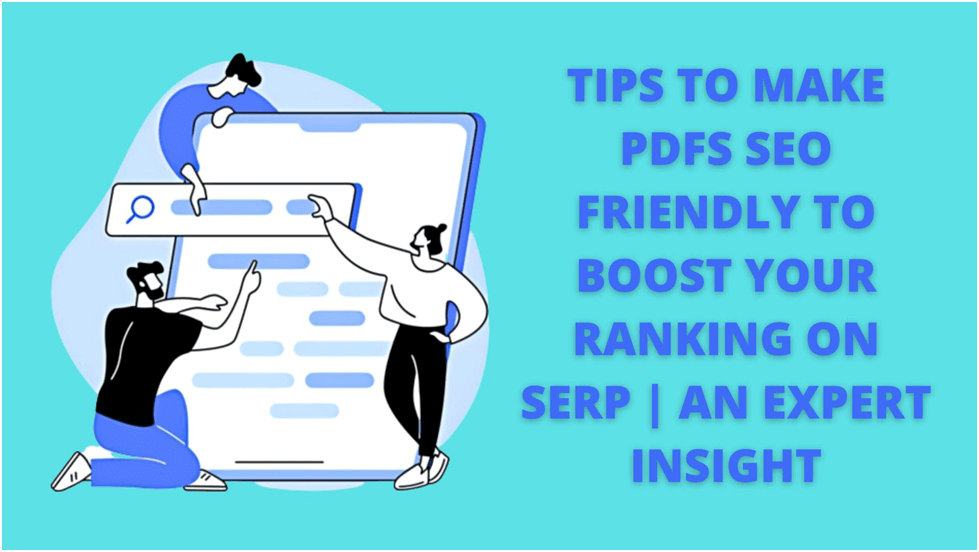 If you work for a firm that produces PDF documents, you should be aware of how crucial SEO-optimized PDFs are to your operation.
Anyone may utilize PDF files, whether they want to find information on a certain subject or learning more about your business. This implies that if your PDF documents are optimized, you will be likely to reach a larger audience than previously.
Why PDF files should be SEO-friendly
Here are some main justifications for why it's crucial:
The very same amount of work can reach more individuals. At the same level of work, you may reach a considerably bigger audience if you provide a lot of goods or services. Your marketing initiatives will be substantially more economical as a consequence.
You might move up in the Google search results. An optimized PDF document, for instance, may appear higher in Google results than an unoptimized one when someone searches for anything related to your industry. As a consequence, you'll receive more visitors from the results of search engines than before.
Ideas for optimizing your PDF files for search engines
People often communicate papers, ideas, and information using PDF files. They must be search engine optimized because they are also highly common on the internet.
Here are some tips to follow for optimizing PDF files for search engines:
Also Read: How to merge PDF files free on Mac- Quick guide
1. The title and description should contain keywords
For every search engine, keywords are crucial. They aid consumers with locating the information that is pertinent to their needs. The file's title and description should contain keywords when you produce a PDF.
You must use keywords in the file's title and description when making a PDF. When someone searches for your document on Google or Bing, you may add descriptions to make it easier for them to locate.
Keywords are phrases that explain the subject matter of your PDFs. For instance, if you have a collection containing dog images, you might want to utilize the keywords "dog," "puppies," and "puppy" in the document's title and description.
Ask around or conduct some study online if you're unsure about the best keywords for your work. Inquire with colleagues who work in fields other than your own for ideas on keywords individuals may use to get information about their specialty or area of interest.
One of the most crucial components of SEO is the title of a PDF file. It's usually preferable to utilize original names rather than generic ones, particularly if you can use keywords that are pertinent to the information in your PDF file.
As you add more headers or subheadings with various themes, attempt to avoid disrupting the document's flow. If required, keep it straightforward and start your work with simply one major title before adding further text below it.
2. Combine small PDF files
Perhaps you've never considered it, but combining tiny PDF files into a larger one might improve its SEO. When you have a large number of papers, each one has a different amount of material. However, grouping them increases their chances of receiving higher ranks. Make sure you don't mix PDFs with unrelated content.
You may, for instance, have twenty PDF files with information about real estate. You may Merge PDF files into a single document and title it properly with relevant keywords.
3. Minimize the size of your PDF
Although Google may penalize you for uploading huge files, PDFs aren't the only ones to watch out for. Your PDF's picture or video file should be compressed before being uploaded to your site. You'll see a boost in your Google rankings and user satisfaction from the smaller file size that results from this.
PDF files may be optimized by first compressing them. Files may be made smaller by a technique called compression. A PDF online compressor tool is a great option since it is simple to use and produces high-quality output, but there are more tools available if you need them.
4. Link to other websites or pages with backlinks
Backlinks are references to your page on other web pages and websites. They may be external, which means they are on a separate website, or internal, which means they are on the same website.
Your search engine rating may be raised by using backlinks. Google will infer that a page is more significant and of better quality than others if it has more backlinks going to it than other pages. When a user searches for terms associated with your content, this will raise the position of your website in the search results.
If people appreciate how much you have written or posted online, backlinks may be a good way to get more traffic to your website. This boosts the credibility of your site with users whom might later come across related issues via their own research as well as with those who are already familiar with the subject but want additional details before making any judgments about something pertinent.
5. Make your content search engine friendly
A fantastic strategy to raise your PDF content's search engine ranks is to optimize it. People frequently use search engines to locate the material they need, therefore if your PDF material is not optimized for search engines, it will be challenging for them to find it.
Search engines choose which websites should be featured in their results using a variety of algorithms and techniques. Unfortunately, because these algorithms are continually being modified and enhanced, it is challenging for businesses to keep on top of the SEO best practices curve. Fortunately, you may increase your odds of success by following some simple procedures.
Make sure there are no duplicates of the material. Use Copyscape or Turnitin to search for duplicate content. Keep in mind that if a PDF file includes copied content, you might not be able to rate it. As a result, make sure all of your content is original.
Also Read: Top 4 Methods to Convert EML to PST File With Attachments
6. Make the PDF file's URL appealing
Make the PDF file's URL interesting. Use a URL that is pertinent to the PDF file's content and is sufficiently descriptive for viewers to readily remember it.
Make sure your PDF files' URLs are simple to enter. You may do this by using keywords in your URLs and by ensuring that hyphens, not underscores or spaces, are used after each word in every URL (e.g., www.yourdomainname.com/my-title-here/).
To make them easier for consumers to read on devices such as smartphones, keep your URLs brief and to the point. The URL does not have to contain the entire title text. Instead, you may merely list the essential terms that best describe the content of your PDF file.
7. Ensure that all of the download URLs are active
Ensure your downloading links are operational and simple to locate on your PDF papers in order to SEO-optimize them.
Your PDF documents link density and the number of broken links it contains can have an adverse effect on how well it performs in Search engines such as Google. Making ensuring that the entire URL in your PDF files is active and functional is crucial for this reason.
8. For each image, provide distinct alt tags
Give each image in the PDF an alt tag while you're creating it. Alt tags aid search engines in locating photos on a website. Your PDF will be more easily indexed by search engines if you add a picture with relevant keywords. As a consequence, your website will rank better for those terms in search results.
Keywords for alt tags are crucial for PDF SEO. Not including them will prevent search engines like Google from understanding the content of your text.
On the web, images are frequently the material that is shared most. This may be so because they are appealing to the sight and simple to consume in one sitting. In comparison to text-based material like blog posts or articles, they frequently have stronger visual appeal.
To increase the likelihood that your PDFs will be returned in a search for their contents, it is essential that you provide descriptive alt text for any photos you include in your PDF.
Conclusion
The field of search engine optimization (SEO) devotes a lot of attention to HTML websites and the methods by which they may be optimized for higher placement in search engine results pages (SERPs), particularly those of Google.
However, what about PDFs? PDFs may be a significant asset to your SEO efforts, but it's important to understand how search engines interpret them. The good news is that Google has confirmed it would index PDFs, but only those that are "fully structured.
Keep in mind that search engine optimization (SEO) of PDF material is essential for high search engine rankings. If you intend to distribute your materials digitally, even by download, this is crucial. Unless your PDF is optimized, it will not appear in the results for searches with terms relevant to its subject matter.