Top 4 Methods to Convert EML to PST File With Attachments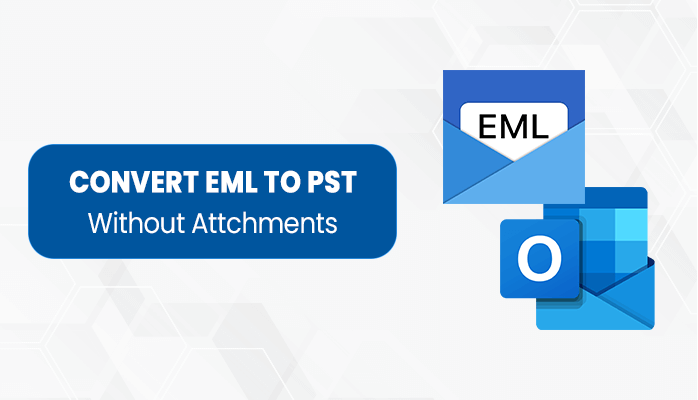 Summary
PST files store a large amount of data in a single file. many users want to convert EML to PST file format. Let's discuss the two methods like manual and professional approaches ahead of the article.
Introduction
EML files store a single message in each file. It contains the sender detail, email text, recipient detail, and the date of the message. Its size is relatively smaller as compared to other files. Moreover, Windows Mail and Outlook Express use EML format for their emails.
On the other hand, PST file created by Microsoft Outlook application. It contains the entire mailbox related to a user account. PST file size is large, and you can see PST file sizes in multiple GBs. It supports several email servers like IMAP, POP, Exchange, Office 365, etc. These email clients create PST files for Outlook accounts. Before going on to the solution, we need to know the potential reason to convert EML to PST file format.
Why Users Need to Migrate EML to PST File Format
There are various reasons to export EML files to PST fi;e format in the following points.
EML files have a high chance of corruption as compared to other file formats.
EML is hard to access because it is open to limited email clients.
PST file format is easy to access in every version of Microsoft Outlook.
You cannot store multiple messages in a single email. On the other hand, the PST file contains a lot of data in a single file.
These are some reasons to convert EML to PST file format. The next section will discuss the simple and secure ways to convert emails from EML to PST files for Outlook. Additionally, if you want to use EML as evidence in a court then you can convert EML to PDF file format.
Top 3 Manual Methods to convert EML to PST
In this section, we will discuss the different methods. Firstly, you can learn how to use Windows Live Mail and Microsoft Outlook to convert EML files to PST, and then how to implement MS Outlook Application with Drag & Drop option. Let us move on to the techniques.
Use the Microsoft Outlook and Windows Live Mail
Open your MS Outlook and Windows Live Mail on your device.
Use Window Live Mail, tap on the File tab from the export options.
After that select the Email messages.
Choose the Microsoft Exchange for export option, and hit the Next button.
You can see a Pop up on your display and click on the Ok button.
Now, you can choose a particular folder and export all email folders to export.
Next, click on the Ok button.
When completing successfully, hit the Finish button.
Use the MS Outlook Application, Drag & Drop
You can use this when EML files are separately saved on the computer. Additionally, you have not installed any EML-supported email client on the system. Then, you can follow this method to convert EML to PST file format.
Launch your Outlook on your device.
Go to the EML files location, and then choose the file.
Now, you can drag the EML files.
After that, drop it into your Outlook Application.
If you use this method, you can see your EML files in the Outlook application.
Also Read: Best Way To Backup Office 365 Data – Quick Guide
Use the Outlook Express to Export EML to PST Format
If you want to use this method, then you need to first configure the EML files with Outlook Express by dragging them in it. After that, follow the simple steps mentioned in the below section.
Start Microsoft Outlook on your system.
Then, tap on the File tab, and select the Open and Export option.
After that, tap on the Import/Export.
Now, select the Import Internal Mail and Addresses.
Then, click on the Outlook Express, and hit the Next button.
Finally, tap on the Finish button to export .eml files to Outlook.
These are the manual methods to convert EML to PST file format. All approaches have different steps and long processes for new users. Also, these methods do not provide data security to the users. Let us discuss more details about the limitations of the methods.
Drawbacks of the Manual Methods
We will discuss the disadvantages of the manual method to migrate EML to Outlook PST file format in the section.
These are time-consuming methods.
Required technical knowledge to implement the techniques.
It does not provide data security while transferring the data.
You cannot remove duplicate emails during conversion.
follow the next methods to convert EML to PST file format.
Professional Method to Convert EML files to PST
We have discussed the three methods in the above section. If you tried these approaches and you faced issues while using the methods. Then you can choose these methods to get a better result. Now, we will suggest the Cigati EML to PST Converter tool that can convert EML to PST format. Also, it can convert various other file formats like JSON, CSV, PDF, MBOX, DOCX, etc.
Additionally, you can export EML files to Various email clients like Yahoo Mail, Office 365, Gmail, AOL, Thunderbird, etc. This tool makes it easy to convert EML files to PST file format due to its advanced features. You can export multiple files at a time with a single click. Moreover, it allows users to migrate or backup EML files without Attachments. The EML to PST converter tool provides options for the user's data filter and time filters.
Conclusion
We have explained the manual methods to convert EML to PDF file format. The manual three techniques have certain limitations and provide limited options to the users. Then, we have recommended a professional approach that is safe and secure to use. The automated tool is a secure and reliable software to convert EML file to PST file format. It works with advanced technology that helps to provide an error-free solution.
Ravinder Ahlawat is a Professional Technical Content Writer and content outreach manager at Cigati Solutions. He has experience of around 3 years in this niche.