Effective Strategies to Boost Mobile App Downloads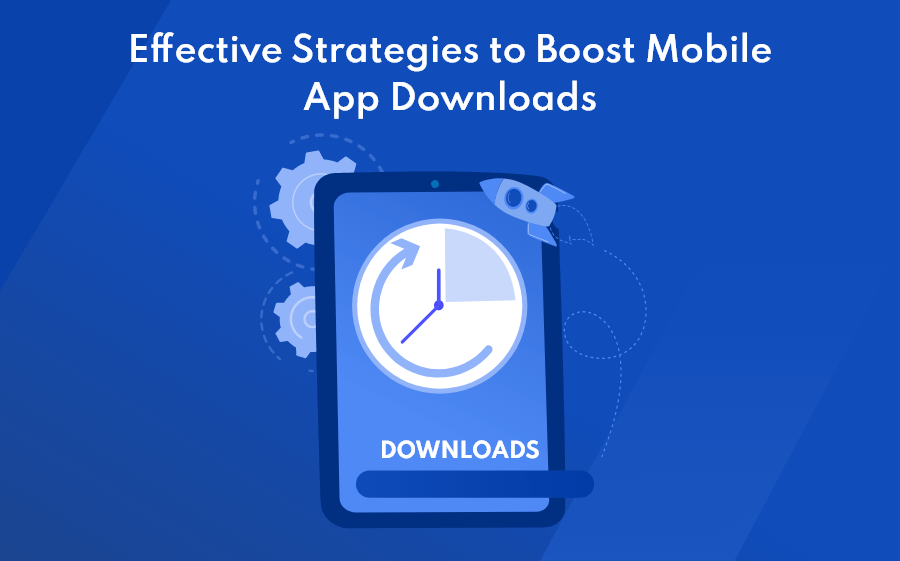 So, you've created your mobile app, uploaded it to the app store(s), and it's now available for download by users. That's a significant achievement! However, this only completes half of the task. The challenge is getting people to download your app. One of the parameters determining its success is the number of mobile app downloads.
You might have created a fantastic app. You've gone to great lengths to make it a perfect go-to app for your target audience, from its appearance to its features, but none of that matters if no one downloads it. It'll take time and effort, but you will succeed if you use the right strategies. It applies to both Android and iOS Apple devices. So, whether you want to increase iOS app installs or Android app installs, this article will help you do so.
Before we go into the tactics, make sure your software has been correctly optimized for the app store. That is the root that must be robust for your mobile app to grow. When properly optimized, SEO helps your website and its content grow in the search engines, while ASO helps your app gain visibility in the app store. The better optimized it is, the more likely it appears in the search results for a relevant search.
Optimizing metadata with the proper keywords, having a catchy app icon, including screenshots, and localizing keywords by nation store are all examples of app store optimization. Next, focus on the other ways by hiring a top custom mobile app development company for your app and achieving more app installs once the basics have been addressed thoroughly.
Effectively market your app.
Depending on your total budget amount, you should spend the money within days or a week. Distribute your advertising across the channels that your target audience prefers, which could include:
Use of social media
Email Marketing SMS Marketing Sites like Reddit and Digg
App directories for content marketing
Blogs/magazines that are relevant
Many app users will arrive from organic search results, but many others will come from the landing page for your web version. As a result, you should also create a website. You are dedicated to your application, with a clear call-to-action encouraging people to download it.
Use social media to your advantage
Using social media platforms to promote your mobile app can result in a significant increase in downloads. In addition, brands and other marketers can use social media to promote their products and services. When used properly, channels like Facebook, Instagram, Twitter, LinkedIn, YouTube, and others can yield impressive results.
So go ahead and promote your app on all of the appropriate platforms. For example, if your app is primarily for business professionals, LinkedIn and Twitter are good options, while Facebook and Instagram are the best options for capturing young people.
Marketing with Influencers
Influencer marketing is one of the great and effective ways to increase mobile app downloads today. Even though it's not a new concept, its effectiveness has increased in recent years.
Influencer marketing is similar to brand endorsement, with the only difference being the scale at which it is carried out. While the latter is a type of advertising that involves well-known celebrities who charge a high fee to endorse a product, the former involves someone who has a large social media following and can be seen as a valuable resource for your target audience.
A brand that is trying to promote an app based on effective diet plans and routines, for example, could reach out to a well-known dietician with a large following and reputation.
Also Read: What are IoT Based Apps and How They Can Impact the User Experience
Appropriately name and describe your app
So, if you want people to remember your app title, it needs to be specific and appropriate. Your app's name should be short, simple to remember, and easy to type. While mobile app stores allow you to use up to 225 characters, you should only use about 25 of them.
On the other side, a saas development company should focus on the ASO & SEO efforts. It functions similarly to a website's Meta description tag, but it isn't searchable in the app store.
Include a download link or links in your email signature.
Email marketing may appear outdated, but it is still a popular way for businesses to communicate with their subscribers and share news, updates, sales, or other useful information about their brand. In addition, email marketing can help you get more app installs.
Add the brand logo and link to your app to the email signature field, which would have been missing if you hadn't already created an app for your brand. Different email providers have different instructions for setting up or editing an email signature, so look up the instructions for the one you're using.
Design a QR Code
When customers scan your app's QR code, it can direct them to the app store, which can help you increase your mobile app installs. They're a great option because they can go almost anywhere.
You can use your QR code on business cards, advertising posters, banner ads, local stores, and other places. In addition, many well-known companies, such as Netflix and Porsche, have used QR codes for various purposes, and we see no reason why you shouldn't as well.
Also Read: How to Merge MP4 Files – 3 Free Tools and Detailed Steps
Produce an Insightful Video
Videos are more powerful than text or images in comparison. According to Wyzowl's research, 85 percent of businesses use video as a marketing tool, and 92 percent of marketers consider video to be an important part of their marketing strategy. In terms of consumer perceptions, 84 percent of users were persuaded to download an app after viewing a video.
Videos significantly impact people's decisions to purchase a product or download an application. However, unless they are familiar with the subject, most people avoid watching long videos. As a result, make a brief explanation video (no more than a minute) explaining your app and how to use it.
Last Thoughts
There are many ways to increase the number of downloads of your mobile app. You could also try writing a guest post, releasing a press release, promoting the app on your blog, answering questions that your app can answer on platforms like Quora and Reddit, submitting your app to application submission sites, and so on.
It could be not easy to persuade your customers to download the app, but patience is the key. Unfortunately, there's no such thing as an instant fix for success. However, we hope the strategies listed above have provided you with enough information on popularizing your cross-platform mobile app development and increasing its installs.