Why Should Businesses Invest In Developing Social Media Applications?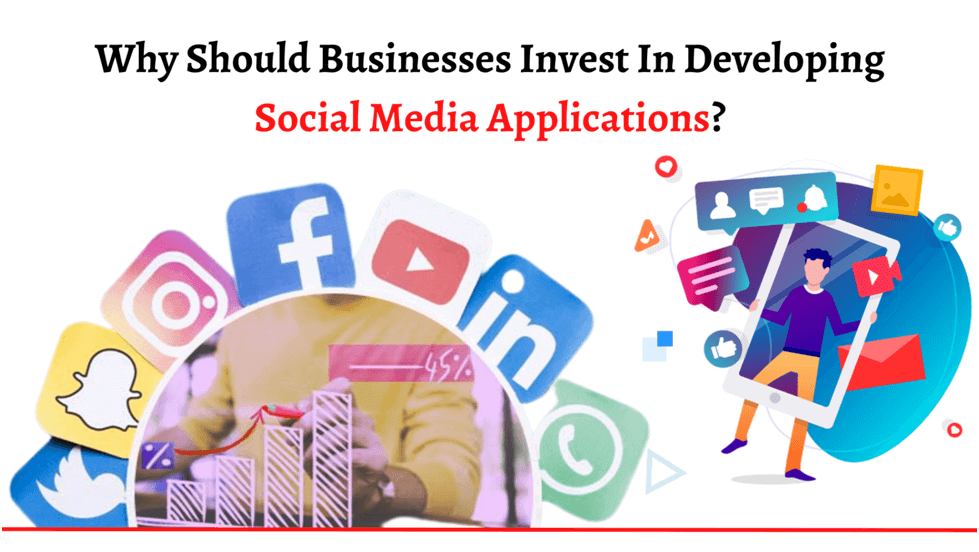 Nowadays, social media applications are not an option for businesses; instead, they have evolved into a must-have aspect.
According to research More than 4.62 billion social media users globally in January 2022, amounting to 58.4 percent of the entire population. The sector of social media is one of the most booming markets.
However, this market is highly populated with prominent players, like Instagram, Facebook, LinkedIn, YouTube, Twitter, etc.
So, a burning question running on every entrepreneurs' mind is, do users need one more social media application?
Evaluating how profitable the social media market can be, it is evident that more businesses want to build a social media app. Hence if you are interested in making a social media app, you would require valid reasons to justify your investment.
Let me list out the reasons for creating social media apps as brilliant business ideas.
Build Better Relationships With The Users
Social media apps act as a medium that assists businesses in connecting with their customers and building a bond with them. These applications not only provide a platform for promoting your products but propelling first-hand interactions with your users.
The influence of social media has displayed its significance to business and other facets of life. Social media apps enable brands to create honest relationships with their users. On the contrary, buyers feel more connected to the business community and make genuine efforts to grow the brand through their social connections.
Facilitate Powerful Brand Promotion
One of the most significant reasons that social media applications are regarded as promising for businesses is that it performs as an adequate advertising and brand promotion method.
These apps deliver advanced choices like remarketing of products and a user-centric approach helping businesses to reach more probable buyers who are more likely to buy your products and services.
Moreover, users also compel brand promotion by engaging on popular social media sites, allowing enterprises to expand their outreach. Brands also incorporate various social plugins to improve the website's performance to draw the potential audience for scalability.
Get Insights into Your Audience
The secret to a thriving business is creating a buyer persona because it provides an enterprise with an idea of the kind of users they have to serve. Enterprises need to collect information related to buyers' browsing habits, shopping choices, and demographics to deliver better products.
Social media apps build a trustworthy source of customer data as users ask, recommend, and share reviews related to the products here. Companies can use users' data for product development, advancement, and targeted marketing.
Drive More Web Traffic
Social media apps help in bringing higher traffic to your business website. Users of social media apps ensure that they reach business websites if they discover something fascinating. Moreover, they assist in link building by sharing the posts on their social handles.
Businesses can also attain high traffic and rankings by investing in social media apps. An increase in web traffic also relies on the quality of the social media app development company you choose for app development. Make sure you select a reliable app development company for desired business results.
Also Read: Top 10 Benefits Of Social Media For Your Business
Boost Loyalty and Brand Awareness
Brands that have social media apps build customer loyalty. The greater the customer loyalty, the more likely the users will be with the brand for a more extended period and facilitate from their side. Moreover, the businesses become more reachable and trustworthy to existing and probable users.
Get Customers Feedback
Many businesses advertise on multiple social media platforms when launching a new product. Social media apps allow customers to share feedback about the products and services. Certain software apps analyze feedback automatically to evaluate customers' reactions as positive or negative.
Companies can also utilize the social engine CMS to post questions or surveys on social media handles to know the perspective of online communities about their products or services.
Final Thoughts
Social media applications continue to incorporate themselves into day-to-day life; more users will go to new and upcoming social platforms. The companies with a solid social media presence and branding will improve conversion rates, while those who do not have could lose probable users.
Social media apps can become a good option for your business because it allows scalability and broader reach. When you determine that a social media app should be a part of your business marketing, the best thing to do is select the right company. A team of professional developers will build engaging apps that boost your business.
Author Bio
Tom Hardy has 10+ years of experience as a web developer in Sparx IT Solutions. He often writes blogs and journals for social media app development company to share his expertise in mobile app development processes.