Pros and Cons of Magento eCommerce Development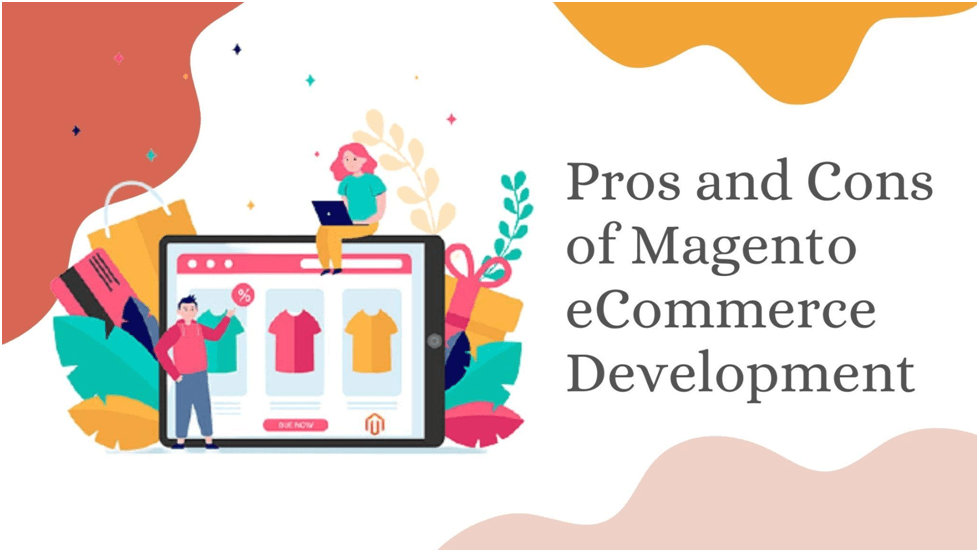 eCommerce has altered the face of the business era. With a few clicks and mouse touches, you could run a business that is easily accessible and convenient. Besides, a platform like Magento comes there to help eCommerce development and make the business stand out.
It has a flexible architecture that comes with several modules and extensions. All of this saves users time by allowing them to focus on gathering information about how to make the store more engaging, interesting, and functional.
Besides, Magento eCommerce development is preferred most of all. This is because it is the most flexible, robust, and user-friendly platform out of those others available in the market.
So, if you are thinking of choosing Magento for your eCommerce site, then it is essential to know everything related to it.  Here, in this article, we are defining its pros and cons to make choices easy for you.
Pros of Magento eCommerce Development
Unlimited Customization and Higher Flexibility
What exactly do you think an open-source platform entails? It gives you complete control and freedom over the source codes. You can also alter templates and add functionality to the website as needed.
When it comes to third-party integrations, Magento is the most effective. It allows you to execute numerous tasks, including product import and more. As a result, ensuring that the website is up to date and working smoothly. All in all, Magento provides endless customization opportunities.
SEO-Friendly
No online business can perform and rank well without SEO efforts. For earning higher ROI, your site needs to appear on the top of the SERPs.
Here, Magento comes with an extensive collection of SEO features. Some best of its SEO capabilities comprise:
Image optimization
SEO-friendly URLs
Automates Google roadmap generation
URL redirection
Product's meta tags
Rich featured snippets
All these features will contribute to increasing your website's rankings on the SERPs. The best thing is all of the plugins are in-built. Thus, saving you from buying or downloading any additional ones.
Maximum Scalability
Undoubtedly, Magento is a robust platform for eCommerce store development. If you do own a large inventory, no other platform would be more viable than Magento.
It can manage thousands of products with ease. Also, it has layered architecture that can help expand the goods catalog. The good news is you can also extend your online shop to other countries. Thus, allowing you to reach a wide range of customers worldwide. Moreover, Magento permits using native integrations. It helps to simplify business workflows.
Offers Mobile-Friendliness
Consumers these days have become mobile-first. This is because smartphones have become their on to go device to execute their everyday tasks. It can include anything like discovering about a brand's product pricing to comparing quality, and much more. Hence, failing to adapt to mobile-friendliness will make you lose your place in the marketing game.
Besides the increase in mobile users, delivering engaging, reliable, and quick user experience has become essential. Here, Magento again comes that one platform that has vital tools to develop a fully-functional eCommerce website for varying devices.
Also Read: A Complete Guide To Become A Web Developer In 2022
Additional Features
If you compare Magento with Shopify, WooCommerce, or some other platforms, you will see Magento will always win the fight of features.
It comes with a wide array of out-of-the-box features that works great for effective marketing, boosting business efficacy, and enhancing user experience.
Some features worth sharing are:
Multilingual
Support multiple currencies
Robust SEO capabilities including Google sitemap, information on goods and their subcategories
One-Page checkout
Detailed reporting and analytics
Supports multiple product types
Numerous store views
In addition to these features, Magento eCommerce development is also possible with Progressive Web Applications. Moreover, responsive theme designs are in-built. These let you easily customize site themes for varying devices.
Faster Website Loading Speed
One biggest pro of Magento eCommerce development is it offers faster web page loading. In this digitization world, where everything comes at leisure easily and without the wait, everyone expects to be served quickly.
Here, if your website comes with a slow loading speed, besides waiting, the customers will switch to the competitors abandoning your services.
Thus, it is time to understand the significance of website loading speed and time. Magento platform helps to build the web pages with quick loading. Therefore, helping turn leads into sales and then conversions.
Cons of Magento eCommerce Development
High Pricing
Magento is available in multiple versions. For example, you can get the community version for free. On the other hand, Magento enterprise versions cost you a few thousand dollars. In addition, the paid Magento version, especially for large businesses costs around 50 thousand dollars per year.
All in all, Magento may be quite expensive in terms of cost but is free to use and you only need to pay for hosting. Besides, it is worth the investment.
Time Consuming and Lack of Experts
Of course, we discussed above that Magento has minimal loading time when compared to other development platforms. Indeed, this requires optimal customization and time to deal with such complexities. This is not the case with all of Magento's versions. However, the community version takes more time to get the loading time fixed.
Time consumption is a con but Magento does have a large community of developers and users. But again finding the authentic ones to perform the eCommerce store designing becomes challenging. The reason is that not all can easily master its databases and possess experience with the core software. However, there is a range of genuine experts available but surely with higher fees.
Tough Learning Curve
You will need to learn the coding and get the technical skills developed to save money on hiring the Magento developers. It's a complicated platform with various database tables and files that even experts get confused by.
However, you can easily find affordable experts too with all these skills and save yourself from understanding complexities.
Also Read: Why Is Mobile Marketing Extremely Important for Modern Companies?
Summing Up
The eCommerce platform with large inventories is quite bulky. Thanks to Magento, it helps easily express the hosting needs that merchants need to fulfill for efficient online store building. You will need to buy a server depending on the need. Besides, you will have to take care of SSL security, domain registration, hosting plans, and much more.
This could be hectic for beginners but having a team of experts with technical backgrounds can help stand out in eCommerce development.