WinX Video Converter: How To Convert MOV To MP4 files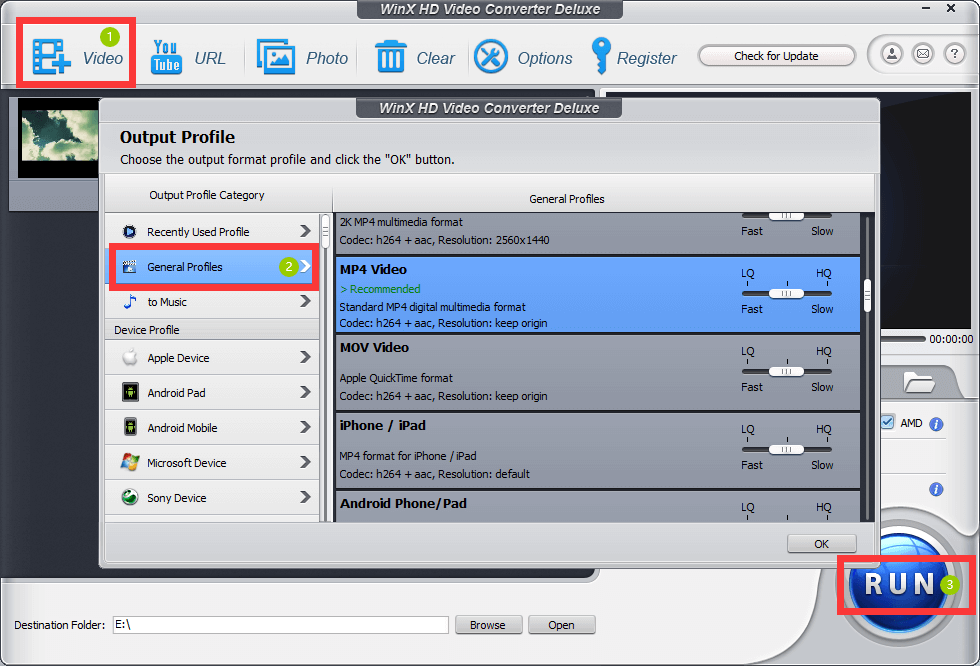 Do you also love to shoot videos using GoPro, iPhone, Canon, or other mainstream cameras? Do you also have to request your friends to convert the MOV to MP4? We know it's frustrating! here let's get to know how to convert MOV to MP4 in detail.
These days all the videos shot using the camera mentioned above are mostly formatted in MOV and are also high-quality resolutions like 4K, 2160p, and even up to 8K. MOV format often makes editing, storing, playing, and even sharing videos super exhausting and troublesome because these are generally large due to unsupported codec error or choppy issues. This is when the need for conversion into MP4 Comes into high demand since MP4 is much more convenient. We know your friends have probably told you this, and that's why you need them to convert those for you. But we also know that telling them to do it for you every time can be embarrassing. So why don't you use something that can make the MOV to MP4 conversion easy as well as free?
know everything about what if MOV files won't open here is the key point to know about it.
What is the need for people to convert MOV formats to MP4?
WinX Video Converter can solve so many problems caused due to formatting issues. This tool makes it easy and convenient for you to deal with. Though it has been said in the aforementioned paragraph, the need for MOV to MP4, let's have a brief and detailed look at it! Here are some reasons:
Compatibility issues: It is often not easy to operate MOV files. MOV formatted files are compatible with different media programs, so it becomes tough for the mobile owners to do their editing and other operations.
Accessibility: Another Situation when people feel a high need to convert files from MOV format to MP4 format is when they try to operate it or get its accessibility from Windows Media Player or Android phones. Android phones or Windows Media Player might not play MOV files.
Storage issues: Another major problem that gives rise to the need for conversion is that MOV files are usually of high resolution and thus take up large mobile storage space, causing importing and uploading issues. Not only so, but they also cause some playback errors.
Also Read: How to Merge MP4 Files – 3 Free Tools and Detailed Steps
Prime features and advantages of using WinX Video Converter
Using a MOV to MP4 converter like WinX Video Converter comes with bundles of advantages and exclusive features that you will not get in many other converters. So let's get jump into it!
· Quality:
When you convert videos from one format to another, it often causes harm to the quality of the original content. But when you use WinX Video Converter, super cool videos are shot on your GoPro or iPhone or other mainstream cameras to edit them to MP4 format to edit and upload them on social media sites like Instagram or YouTube. The quality remains intact and works smoothly.
· File size:
Another significant benefit of using WinX Video Converter to convert your MOV files to MP4 is that MOV files' size is large and hard to edit or upload. But when you use WinX Video Converter as a medium of conversion, it reduces the size of the files up to almost 90% without affecting the quality.
· Fast speed:
One of the biggest and significant benefits of converting MOV files to MP4 is that you can achieve up to 47X faster processing speed. You can use this to process, encode and decode large files, including those of 4K or 1080p, and even high frame videos without lagging but with an ultimate high speed.
· Multiple options:
You can also access numerous input and output formats. You can convert and process your footage shot on your mainstream camera to MP4, virtually to any format.
· All in one:
WinX Video Converter's reach is not only limited to compressing or converting MOV files to MP4 formats, but the users can also get easy access to crop, trim, set video parameters, and many more features. You don't need any unique experience to use this application. It is very user-friendly and handy for both, whether you are inexperienced or highly adaptive.
· Customize subtitles:
By using WinX Video Converter, you can also provide your views with more defined and described content through subtitles to your videos. You can customize them according to your willingness, thus presenting your views with a clearer presentation.
An Ultimate Guide on How to Convert MOV to MP4 Using WinX Video Converter For Free
We have prepared for you a simple and easy guide following which you can easily and faster than before converting MOV to MP4 On your Windows or Mac.
Step 1 – Download WinX Video Converter
The first step is very basic and the most simple step that is, you have to download this video converter and install it on your computer. The downloading and installation are completely free, so it is very easy to install.
Step 2 – Upload the original MOV file
Once done with the downloading and installation process, open it and click on the "+ Video" option to Upload your MOV file in the video converter. Another advantage that comes with this app is you can add multiple MOV files at a time for more than one conversion together. In case your files are stored in your drone or cameras, or iPhone, the first thing you need to do is shift them into the computer.
Step 3 – Select your desired output format: MP4
Once the output profile window comes up go to general profiles and choose MP4 videos and then click the OK button to close the currently appearing window. You can also click on the edit button to adjust the volume crop and expand crop or expand, trim or add subtitles. You can also adjust the frame size, aspect ratio, resolution, etc. by clicking on the settings button and changing accordingly.
Step 4 is the ultimate step. – Start converting
Now, press on the "Browse" option to choose the destination folder where you want to save the converted file and finally click on the "RUN" button to start the converting process for free and even without a watermark.
Conclusion
Now that you know a lot about why you need to convert MOV files to MP4, Its benefits, features, and the steps you can do to convert them, we hope that you will be able to do it independently. If you like using this, suggest it to your friends and family who also love shooting and editing videos and posting them for more people to see.