Why You Should Invest In a Grocery Delivery App?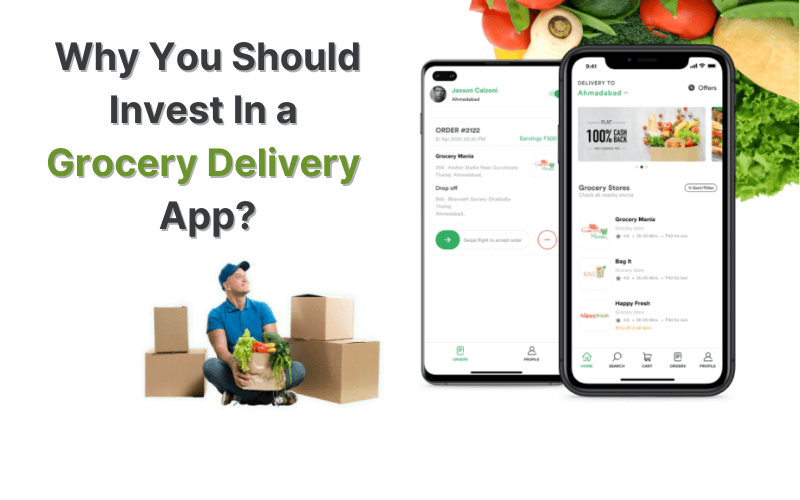 The grocery app has started a new wave in the industry. Businesses are using this mobile application to provide an easy and convenient way for delivering food, beverages, and grocery items. The grocery app is integrating retail stores, local shops, and food product companies with technology and empowering them to increase their sales and revenue. Kroger, Instacart, Shipt, Walmart Grocery, 7Now, BigBasket are the famous Grocery delivery apps that are making huge profits in the current market. Startups and entrepreneurs are investing significantly in grocery delivery app development and taking advantage of this growing business scope.
If you have also a startup plan, today, I will tell you why you should invest in a grocery delivery app and how this mobile app can help you drive huge profits and establish your business strongly.
1. Grocery Delivery is on the Rise
Today, people need grocery delivery services more than ever. They find it the best way to shop essential items online. Just order essential food items from a mobile app and get them delivered to a selected location. It is better than going to a local shop or marketplace and putting labor, time, and unnecessary traveling costs. However, this trend was already running in the market earlier, but the Covid-19 pandemic boosted this need.
At present, the demand for grocery delivery is rising significantly. As per the latest report from Research and Markets, the online grocery delivery services market is projected to reach $800 Billion by 2025 with a CAGR of 25%. So grocery delivery trend is the rise is not going to stop in the future.
2. Huge Business Scope
Grocery delivery business has huge scope in the future because it has changed the traditional practice of buying and selling essential commodities. Going shopping malls, plazas, marketplace, and local stores consume considerable time, effort, and money.
Whereas consumers can buy the same products and order them online and get them delivered within minutes by using a grocery app. Especially in remote locations where usually it is difficult to open a local shop or general store, a grocery app can stand out as the best option to order essential food items easily and quickly.
Also Read: Step-By-Step Guide to Make an Impressive Mobile App for Your Business
3. Sustainable Business Growth
Investing in grocery delivery app development gives you a big advantage. As grocery items are essential commodities, people can't live without buying these items. They will use your app in all situations. Be it a normal time, high inflation, war, or pandemic, they will need your app to get essential items at their place. So grocery delivery app gives you sustainable business growth that is always future-proof.
4. Save Consumer's Time
Modern consumers are very busy. They want everything fast at their fingertips. And the way people now spend their huge time using smartphones and mobile apps, they feel lazy to go outside and want all possible services delivered at their home or preferred locations. Moreover, going to local shops, marketplace, retail stores, and paying extra money in traveling also add unnecessary costs on the items. Therefore, people prefer ordering grocery items from a mobile app which saves their valuable time and money too.
5. Cost-Efficient Products Than Offline Stores
Grocery delivery apps eliminate various factors that affect the price of grocery items. People don't need to spend their money to visit nearby local stores or shopping malls. In addition to this, retail or local stores don't need to spend their fund on promoting their store or marketing.
The grocery app gives a common platform for all offline grocery stores to sell online easily nearby their location. This saved cost reduce the price of groceries and other food items. As a result, the grocery delivery app allows you to sell the same products at cost-efficient prices.
6. Make More Loyal Customers
Offline stores have many limitations. They can't chase the customers and monitor what they like and what is their buying patterns. Buy with a grocery mobile app, you can easily know about the buying pattern of consumers. What product do they mostly buy? Which items do they mostly order? When you know such useful information, you can easily give them suitable offers and some additional leverage to keep them buying from your application. In this way, you can make a large number of loyal customers who are constantly purchasing from your app.
7. Build Your Brand
You can't be like Walmart or Amazon Grocery. They have big resources and funding sources to run their inventory and other sections. However, startups can simply develop grocery mobile apps and establish their brand by providing fast and high-quality delivery services to customers.
A mobile app gives better transparency and reliability on products, price to the customer. They can easily compare the price and other factors on the Internet and other platforms to check how fare price and quality service your app is providing. In this way, you get a transparent and reliable way to establish trust with customers which eventually helps you build your brand.
8. Take Advantage of Fast Delivery
eCommerce business has made consumers a bit lazy. People now want to shop online for almost every product and get it delivered to their doorstep as fast as possible. This consumer behavior gives an advantage to grocery delivery app startups. They can give quick grocery delivery services to consumers.
Conclusion
Grocery app is one of the hot mobile app ideas for startups and entrepreneurs who want to start their business in the food and grocery delivery industry. It not only gives many advantages but also empowers you to grow efficiently and generate better ROI. And because people can't live without grocery items, your app could be used even in the most critical situations.
Therefore, you should find a professional grocery delivery app development company that can build you an intelligent and high-performing grocery application that helps both consumers and sellers.
About the Author
Erma Winter is an Android app developer at MobileCoderz that provides world-class Android app development services for startups, SMEs, and business organizations. She works with AI specialists and various technology experts to create business-oriented mobile apps. Besides her core profession, She read romantic novels and write her articles.