How Finance Companies Can Gain Market Leverage With Data Scraping Companies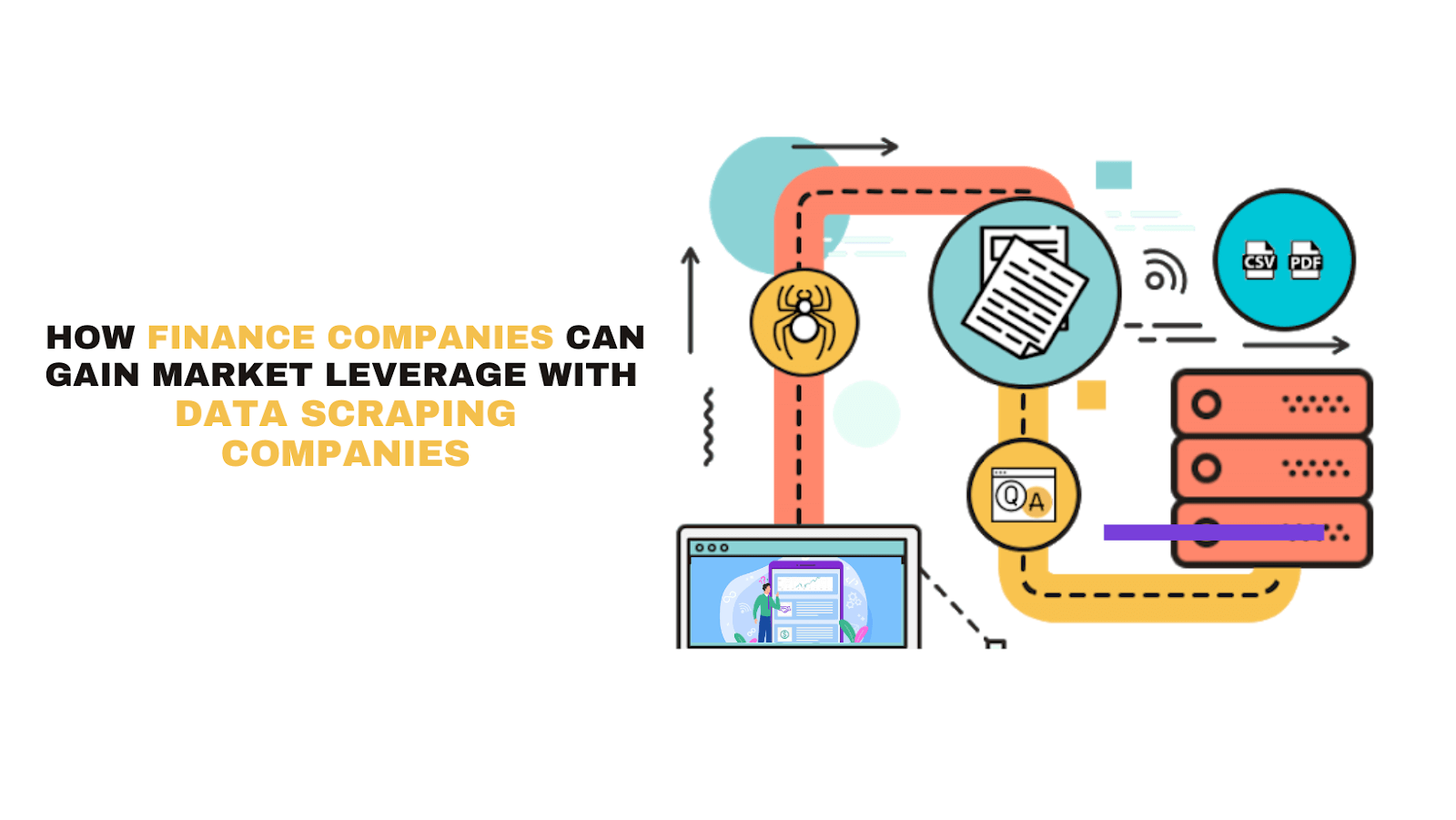 Technology is an ever-present fact of today's business world, and it runs on quality, timely data. While the internet is piling on more bytes daily, organizations are also relying on it increasingly to gain crucial business information. One of its greatest beneficiaries is the financial sector, with its vast interconnected web of data sources and generators across nations and companies worldwide.
With the new age giving rise to the financial technology (FinTech) sub-sector, which is touted to be the future of the industry, along with digital and cryptocurrencies, every financial firm should have its data management strategy on firm ground. This maneuver begins with obtaining relevant, high-quality data from the web via web scraping services. A professional agency can glean important data for your financial company at the scale and speed you demand.
And in the fast-paced world of financial decision-making, such speed and accuracy is the difference between success and failure. Read on to get an in-depth look at how data scraping affects the many aspects of the financial industry, and by extension, your company, and the benefits it brings in each instance.
Applications Of Data Scraping In The Financial Sector
1. Market Predictions
Financial markets are the epitome of the term volatility. With the trading floor now being virtual, the demand for high-speed investments has only gotten greater as anyone from anywhere can invest at any moment. If you don't possess the data you need to make an accurate analysis, you won't be able to predict market changes correctly.
But getting the data is no small feat since there are multiple sources of it scattered all over the internet. This is where data extraction services come into use. By applying the latest technological tools like Artificial Intelligence models, a data scraping agency can scour vital market data and extract the same in real-time. This data freshness ensures that your analysis, and therefore your predictions, will be accurate. 
You can get data on various stock markets from around the world in real-time. The extraction services provider will scan through relevant news portals and add the data to your warehouse continuously. This helps create a clear picture of a particular index's performance history, helping to make important predictions and comparisons too.
2. Company Profiling
When it comes to investing in companies, be they listed or unlisted, it helps to know how they've performed. This includes their stock performance history as well as their core deliverables. But profiling companies across stock markets and countries is not only a tedious affair, but it's also near impossible without adequate and accurate company performance data.
Leave it to your hired web data scraping company to get the job done. Their experts will go through those companies' performance data present on those organizations' respective websites, news, public records, and multiple other sources. The thorough search yields particulars about every company's stock performance history, general market performance history, and latest figures of the same. 
You can also get data about other influential factors like the kind of stakeholders and decision-makers present in the surveyed companies. It could also include possible short and long-term investment options for the company to improve its business and possible upcoming launches of new products or services. All of this data can be compiled into a comprehensive profile of every company and used to make better predictions.
3. Compliance Management
With money come many rules, and they vary depending on the country of operation. Web scraping services for financial organizations help in this regard as well by extracting various rules for financial management in every market of your company's operation.
By gaining valuable information associated with the respective country's financial structure, you can ensure better compliance with all of them. There won't be the kind of ambiguity that comes with an improper understanding of local financial laws.
One of the most important and confusing of finance laws is taxes. When investing internationally across multiple stock markets, tax compliance can become tricky. But by having every applicable region's tax laws compiled in one file, you can invest unambiguously.
The other instance of compliance is the transfer of immovable and movable tangible assets like property and gold. A data extraction services provider can add the pertinent rules regarding these assets to the others gathered and generate a report that contains all relevant regulations in one spot.
4. Personnel Background Check
Some employees in financial institutions like banks hold the keys to some important assets literally. They are entrusted with this responsibility with the assurance that they won't cause trouble to the institution while doing their job. An example is the persons involved in depositing money in ATMs.
A thorough background check is necessary to ensure that the people being hired for such jobs are who they claim they are and have no history of criminal activity. The company's HR executives would need information about not just a potential candidate's work history but their personal one too.
A web data scraping company can be of immense use in such circumstances. Its experts can scour the web and find personal information about candidates applying for such important roles. They can get it from social media, search for any news about them in regular media mentioning fraudulent activity, people they are associated with, those people's background, etc. The financial company will have a clear picture of a potential hire's past which helps it get the most viable future employee.
5. Personal Finance Data Management
A lot of personal financial transactions occur through the internet today via modes like internet banking, personal financial apps, social media apps, etc. All of these sources serve as data sources for financial services providers to determine a user's spending habits and capacity. By hiring a web scraping services provider, they can gain valuable insights into their target market's financial status.
This information serves as an important aspect of their financial product/service creation and marketing. An example of this is Account-Based Marketing, where a person's financial profile is created with such data and products/services are marketed to only those deemed capable of opting for them. It also helps get a person's credit score which can be used to provide or deny them loans and credit card perks. 
Conclusion
The financial world will continue to digitize further, with personal devices turning into the primary means of availing/providing financial services. This makes financial data ubiquitous and further scattered across the web. The only way financial companies of every type can function successfully in such an environment is by using the financial data extraction services of a professional agency. Not only will it save cost and time, but it will also bring the benefit of accurate financial and personal data that's very important to secure your financial company's future.
Author Bio
Rohit Bhateja is the Director of, the Data & Digital division, SunTec. He also contributes to data support operations, data entry and management, web scraping services and solutions, and web & app solutions. At SunTec, he has successfully led teams, redesigned business processes, and solved complex business challenges.
Rohit likes keeping tabs on the latest data trends and solutions that are shaping the industry & transforming business. He is also an avid writer with a penchant for translating his insights and understanding about any matter at hand into articles that promote a growth-driven mindset.