How to Write Engaging Content for Your eCommerce Website?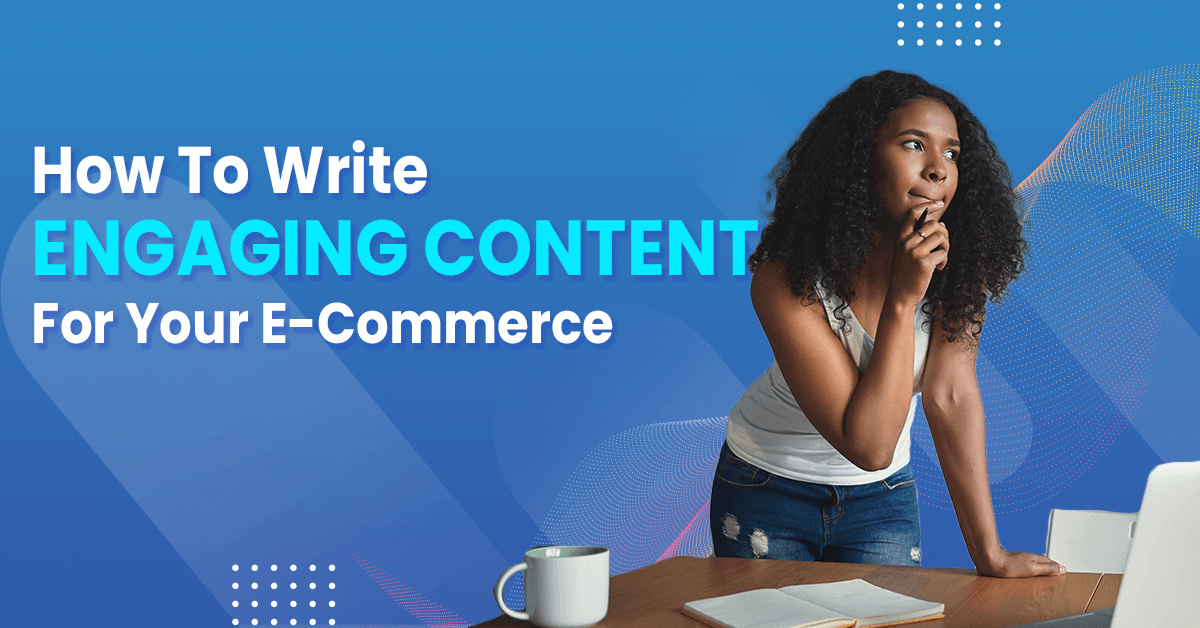 Engaging content is at the core of every successful online business. Yet, many eCommerce websites don't use it to their advantage. With the appropriate content writing for eCommerce sites, you can achieve incredible results, such as boosted traffic, higher sales, and quality conversions.
However, achieving these results is easier said than done. Here, we provide tips to create engaging content for your eCommerce website. If you implement them correctly, you can improve your eCommerce revenue significantly. So, here are five quick tips to help you reach your eCommerce goals.
Use an Audience-first Approach
The best advice we can give you for creating engaging content for your eCommerce website is to use an audience-first approach. Stop the ancient practice of trying to satisfy search engines, even Google. What you must understand is that search engines are not rudimentary systems anymore. Over the years, search engines have become more intelligent and only return relevant results to the users.
Google is a perfect example of this. Every time you search for something, Google somehow manages to give you accurate results that it's almost shocking. Google's algorithm is so advanced now that they have Google snippets that answer a specific query directly without even the user having to read the article.
That's not all. Google's latest helpful content update is all set to weed out robotic content which solely focuses on keywords. As the name suggests, Google aims to give users only the most relevant results. Moreover, there is no point in generating traffic to your website if you can't convert them successfully.
We are not saying that you should skip SEO. But you must ensure that your content is helpful to the user while still using SEO best practices. Make sure you use accurate and thorough descriptions for your products. It is also best to have a dedicated content marketing strategy for your business to boost your traffic, sales, and conversions.
Also Read: 7 Tips to Create Evergreen Content in 2022
Include Customer Reviews or Testimonials
The customer knows that your end goal is to make them purchase a product from your eCommerce store. Under any situation, the customer is more willing to trust the review of a total stranger than your marketing pitch. Therefore, it is a good idea to incorporate your best reviews or testimonials in your content.
Not oldy does it add positivity to the overall look of your online store, but it also shows clearly that your product is good. It is an excellent way to generate trust among your target audience and build credibility for your eCommerce brand. The more good reviews you have, the more the customer will likely trust your brand.
Be Mindful of the Word Count
One thing you need to know about writing engaging content for your eCommerce store is its word count. We don't just mean blogs when discussing content writing for eCommerce sites. It can also include product descriptions. Try using relatively lengthy product descriptions for your eCommerce store and clearly explain the product's features to customers.
Besides informing the customer about the specifics of the product, it also helps you to show Google that your online store meets the user's requirements. Ideally, it would be best to consider the lengthy descriptions and their design implications in the early stages of eCommerce development. Make sure you never limit the product descriptions to one-liners, as it can upset Google.
Online store owners often fall into the trap of using minimal content on their websites. Most don't even consider content writing for eCommerce sites at a much later stage. Doing so can hurt your online business because Google's Panda algorithm update negatively ranks thin or short web content. It is best to use lengthier content without making it dull for the users.
You must maintain the ideal word count in content writing for eCommerce sites between 300 and 450 for descriptions. It allows you to add all the necessary details and retain the reader's attention.
Eliminate Duplicate Content
The worst thing you can do to mess up content writing for eCommerce sites is to use duplicate content. Search engines, including Google, penalize plagiarized or the same content and are a strict no-no for your eCommerce store. Using the content on your eCommerce store on more than one page is not ideal, as it can affect your SEO.
It means no more copying content from one product description to another. Create unique content for all your primary and inner pages, including product descriptions. You can also seek the help of specialized SEO services to identify duplicate content on your website and eliminate them. Many eCommerce companies take the easy way and use the manufacturer's original product descriptions.
Even this practice can negatively impact your eCommerce store ranking because other eCommerce store owners are likely using the same content. The rule of thumb to follow in content writing for eCommerce sites is always to use fresh content and ensure zero duplication.
Also Read: How To Become A Successful Content Writer
Sell With Your Content
You must maintain superior quality when it comes to content writing for eCommerce sites. It applies to everything from your blogs to product descriptions. The aim of your eCommerce site content should always be to sell your products. You can write and publish articles that help your target audience. Still, you must also pitch your products and generate conversions.
For instance, a fashion eCommerce store can write an article on a topic like "Three fashion mistakes to avoid this winter." On the outside, it may look like a regular article. But on the inside, you must smartly pitch the products you are selling to the reader. However, it would be best if you still focused content writing for eCommerce sites on helping the reader.
Keep this in mind even when writing the product descriptions for your eCommerce store. Ensure your website visitors or customers know why your product or website is better than your competitors. Ensure to provide the correct information that is more likely to resonate with customers and solve their pain points. It is the only way to make your eCommerce business stand out and beat your competitors.
Conclusion:
Engaging content can significantly enhance sales and conversions of eCommerce websites. But many eCommerce store owners still need to realize the value of quality content in their eCommerce websites. If you execute it right, content writing for eCommerce sites can boost website traffic, sales, and conversions.
However, content writing for eCommerce sites is easier said than done. You need an expert to write compelling content that helps your target audience and keeps up with changing SEO trends. An audience-first approach is a must to ensure top ranking for your website and bring genuine prospects to your eCommerce store.
With search engines, including Google, gunning for helpful content for the user, it is inevitable to change your content strategy. The latest Google Helpful content update is proof of this trend. eCommerce store owners must prepare themselves for this. Moreover, you must also employ SEO best practices to get the best results through content writing for eCommerce sites.