7 Tips to Create Evergreen Content in 2022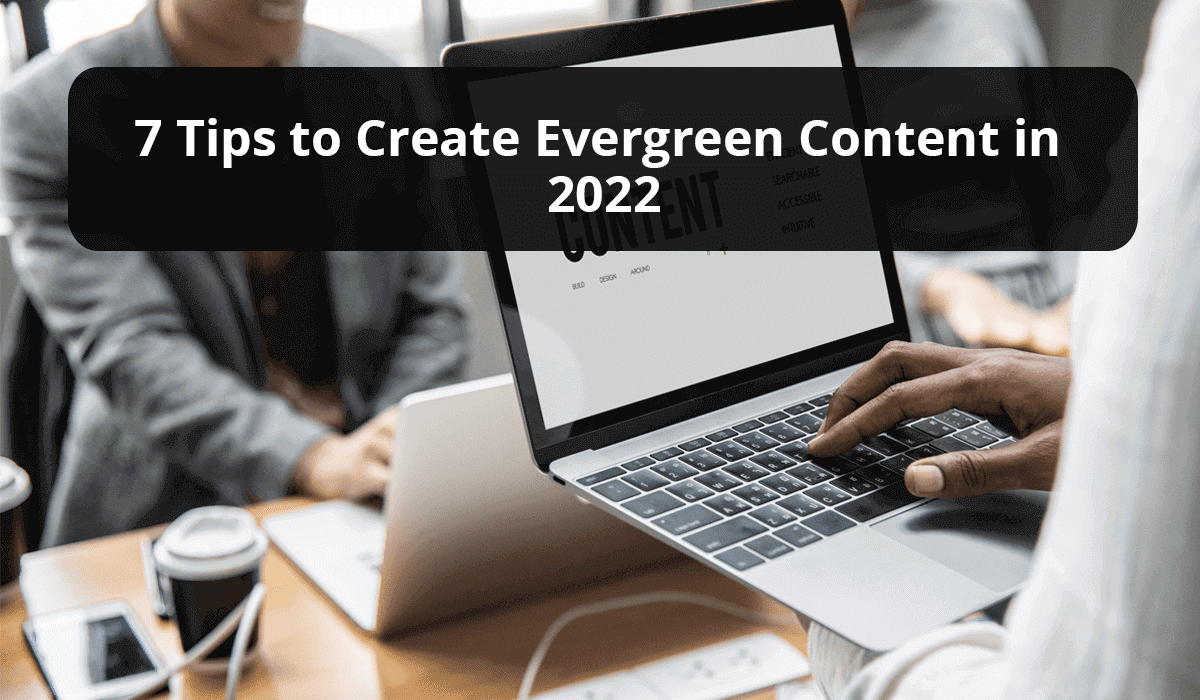 If you ask the Evergreen content definition in one sentence, the answer will be constantly relevant content that attracts traffic throughout the year. Since such contents are well-optimized, they stay related to drive traffic and rank higher on Google's search results throughout the year. As the blogs engage and acknowledge readers for an extended period, they do not feature expiry dates.
So, maybe you can understand the value of creating such content for your site to keep your business relevant for longer. Now, you may think creating such content must be a tricky or pro-level task. No, anyone can produce such blogs if they choose some evergreen niches, like- how to write SEO optimized blogs or how to lose weight fast. Also, there are other things to keep in mind while writing timeless blogs. Want to explore them? Then, jump to the next section.
Key Tactics to Create Evergreen Content
Now, you know the definition of evergreen content. But why are such articles so significant? We mentioned earlier that evergreen content's topics never get old. So, publishing evergreen and factually accurate content boost website ranking.
Also, people find the author credible and expert enough to go through the content. So, it drives organic traffic. Plus, Evergreen article ideas will keep your site relevant throughout the year.
So, if you want your business to rank higher on SERP this year, follow our recommended seven tips for publishing evergreen content.
1. Pick up the appropriate content topic
You should first select a topic with a potency to drive traffic constantly. Remember, trending contents attract visitors only for a limited period. But, timeless blogs persistently attract viewers for extended periods.
So, with the help of some analytics tools, choose such evergreen topics. For example, in-depth guides and tutorials, FAQ blogs, historical content, testimonials, and definition contents can be your evergreen blog topics.
2. Find an evergreen and unique niche
Every business has its niche. It can be your unique past in the industry, the exclusive product or service your business offers, or your idiosyncratic point of view. So, no matter in which field you have the expertise, select and create evergreen content topics from the niche.
Creating content in your specialized field makes you authentic and expert in your industry. Thus, people will always click on your blog and keep it evergreen.
Also Read: 5 Tips to Boost Your Content Marketing SEO in 2022
3. Include only proper keywords
Finding accurate keywords is the vital step for writing SEO-friendly content and evergreen blogs. So, after choosing a proper niche and timeless topics, invest your time researching keywords to rank your content higher on SERP.
You can type a relevant search query on Google to get an idea of what people are searching for. Also, pick keywords from the 'people also ask' category. You can even try some tools for advanced research.
4. Dates and events can expire your content
While dates or events can make your content contemporary and trending, years after, it can make your blog old. For instance, if your content is about a specific holiday or about COVID-19, it can drive massive traffic for a limited period.
But, after that, it will lose its relevance. So, blindly following the trend is not an efficient way to create evergreen content. Instead, you can smartly use dates to save your article from expiring.
For instance, you can smoothly update '2021 Social Marketing Guide' to '2022 Social Marketing Guide' without much effort.
5. Do in-depth research before initiating the content
People click your content only if they find it unique and more informative. So, take your time for the research and gather all the relevant information before creating evergreen content.
A blog needs to be well-planned and well-researched to stay timeless. You can even try to publish excellent guides and tutorials on your niche if it feels relevant to your business.
6. Regular updates keep contents evergreen
Refreshing your stale content as per new strategies and searches is the key to keeping all the blogs on your website evergreen. Every eternal content indeed expires after a specific time unless you update them regularly.
So, first of all, sort out such stale blogs and change their publication dates. Google thinks recently published articles are very relevant. Now, refresh old images and outdated data. So, update information, stats, language, and phrases to keep it pertinent.
Also Read: Proven Content Marketing and SEO Techniques to Get Increased Traffic in 2022
7. Regenerate the blog into several formats
Creating videos does not necessitate technical expertise. As video editing software such as Clipchamp has become more widely available, anyone can create a professional-looking video without breaking the bank
Now, we are at the penultimate segment of this blog, and maybe you are still finding a unique way for creating linkable content. Every minute, millions of SEO-optimized blogs get published on the Internet. Then, what will make your well-written, SEO optimized, and factually accurate content evergreen?
So, remodel your content to reach the maximum audience. You can try infographics or recreate your blog into video content. Remember, video content drives ten times more traffic to the business.
Summing it up
We can assure you if you follow these seven tactics to create evergreen content, your site will rank higher for longer. Also, SEO company recommends that users should focus on creating new content, refresh their stale blogs regularly for keeping them always trending.