Selecting The Right ECommerce Development Platform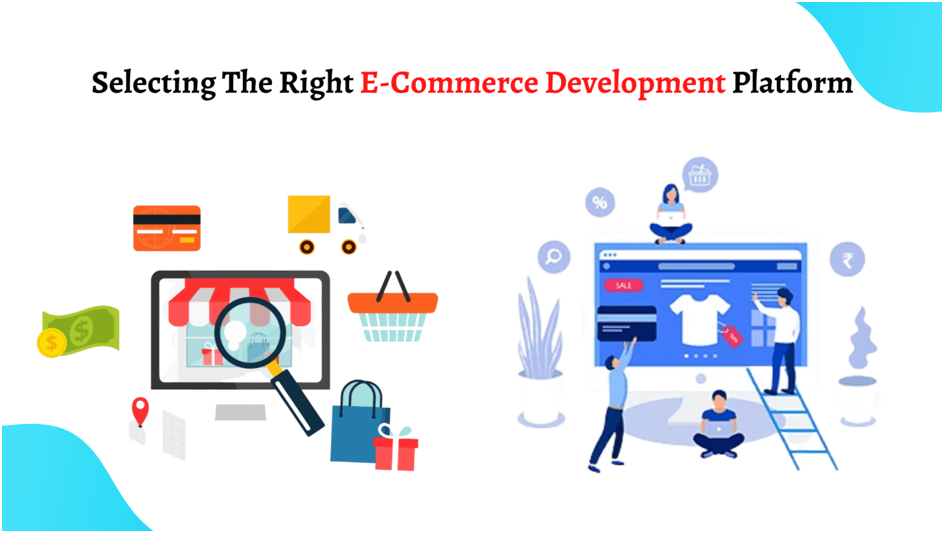 As a merchant, choosing an eCommerce development platform is one of the most important decisions you must make when starting out.
You need a platform to improve business by helping customers buy what they need. At the same time, it should provide your staff with what they need to effectively implement sales and marketing strategies.
In other words, the eCommerce platform you choose can make or break your business online.
So, how do you decide which platform's best for your business?
This blog explains all the essential aspects to consider when selecting the best eCommerce development platform for your business.
Factors to Help You Choose The Best E-commerce Development Platform
Do your research before you commit! Consider the following factors when looking for the best eCommerce development services and platforms:
1. How Much Can You Spend?
Developing an eCommerce platform will involve multiple expenses. Even though eCommerce service providers offer competitive packages, you must decide whether you are getting the best value for your money.
After all, costlier platforms and eCommerce app development services may not always translate into better or cost-efficient ones. On the other hand, cheaper options won't necessarily include everything you need, forcing you to look for the missing capabilities elsewhere. You will actually end up spending more when you have to hire separate providers for different services.
2. How Secure Will It Be?
Data integrity and security are always major concerns when shopping online. Customers need to know their information is under protection every time they visit your online store.
Therefore, choosing a platform that makes data protection a priority, especially during payment processing, is essential. Otherwise, your business will lose not just money, but also its valuable customers and reputation.
3. What Will Maintenance Involve?
A well-run eCommerce website isn't just a one-time expense. There's more to building and running an eCommerce website or app than you think. For starters, you must maintain it so everything works as it should.
In order to guarantee the smooth operation of your eCommerce project, you will likely have to pay for upkeep and maintenance. It usually involves the following –
The domain name will cost you an annual fee unless you pay upfront for several years
Your eCommerce platform may include hosting in its subscription fees. Otherwise, you'll have to pay separately
SSL certificates require an annual fee as well.
4. How Customizable Is It?
You cannot ignore the ability to provide a personalized experience to your customers. Depending on what you choose, the platform may offer complete or limited control over the source code.
Open source platforms, for instance, allow developers to customize every aspect of the site. This means you can change everything from the theme of the product page to the checkout. However, it might not be feasible for you to implement open source without coding experience.
On the other hand, customizable options are fewer on a SaaS platform. As the service provider controls the source code, users are limited in their ability to customize their sites.
You can always opt for the best eCommerce development services to work on the platform of your choice, regardless of the source.
Also Read: 5 Marketing Strategies for E-commerce Business
5. Does It Support Multi-Channel Marketing?
Successful business strategies involve multiple online and offline channels. These include social media platforms that now serve purposes beyond entertainment. Every platform offers an opportunity for merchants to sell – millions of users shop on Facebook, Instagram, and similar social media platforms.
Therefore, you will have to consider platforms that can weave together all these channels for a strong omnichannel strategy.
6. Does It Support Complex Inventories?
Your product catalog is a crucial aspect to consider as well. The basic product line might include various variants, or you may offer a wide selection of physical products and digital products.
If you have a large catalog, need several product pages, or want to grow your product range, choosing a platform with inventory restrictions limits your business.
There are many different types of businesses, and each may require different Stock-Keeping Units (SKUs) than the last. Luckily, there are platforms built for catalogs of all sizes. So, explore all the eCommerce development platforms you can to determine the right fit for your business.
7. Can It Scale With Your Business?
You should choose a platform that can grow alongside your business. If you are just starting out and don't expect much traffic on your website, you may not need high-traffic support.
A focus on growth, though, could lead to rapid scaling for your eCommerce business. Is the platform capable of handling current and future traffic demands? What will you do in the event that your promotion or campaign goes viral?
You must have a flexible hosting infrastructure to handle traffic surges without crashing. The platform should also be flexible enough to accommodate your requirements and features as they rise.
Also Read: Reasons That Makes Magento A Preferred Choice For E-Commerce Merchants
To Conclude
It is practically impossible for a retail business to compete online without an online store. The right platform, combined with the best eCommerce development services, will boost your chances of improving the bottom line in terms of sales growth.
Just make sure your chosen platform integrates with your current business software without costing you anything. It will be really frustrating to start from scratch otherwise.
Author Bio: Tom Hardy is an experienced web developer at SparxIT, a New York-based eCommerce web development company. He loves exploring the next big thing in eCommerce platforms when he's not busy working on a project.