Dynamics 365 Power Apps – A Powerful Business Platform for Powerful Future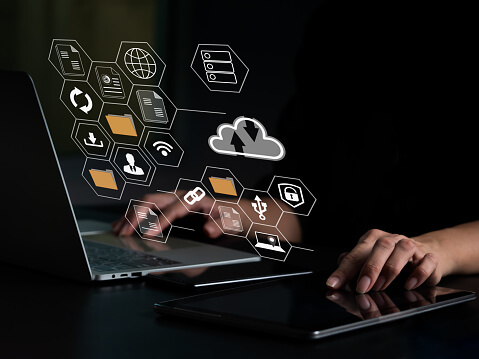 We all know the future of humans is AI and AI-associated apps that will make human survival seamless and smooth. Today we have an app for everything, and post-COVID-19, the demand for apps is at its peak. To pace with the demand for app development – software development companies are discovering various paths that help them to build apps faster with fewer resources. Microsoft-powered Dynamics 365 Power Apps platform is the unique stage that aids businesses to build apps faster and pace with constantly enhancing customer demand. 
Power Apps development is an innovative way that springs more agility, sustainability, and futureproofing with its capabilities. Microsoft Power Apps services reduce your software development cost, enhance the pace of app development, and provide the ability to develop apps even for individuals that do not have app development experience.
What makes Power Apps a Powerful Platform for Business Development?
Dynamics 365 power apps provides powerful tools and platforms to develop apps for business customized for your business unique needs. In this disruptive business environment where agility is the key towards success Microsoft Power Apps solutions & development plays a crucial role in keeping businesses one step ahead of competitors.
Moreover, there are many other unique features and capabilities that is spawned by Power Apps development platform making business development more powerful and robust.
The unique capabilities of Power Apps are as follows:
| | |
| --- | --- |
| Unique Capabilities | Description |
| No need for an Expert for App Building | Power Apps offers capabilities and built-in templates that help untrained power app users to develop apps with low-code, no-code abilities. The user does not need any skills or knowledge of coding to develop an app using Power Apps. |
| Drives Innovation | Users can build apps on Canvas and model-driven apps to build innovative solutions for role-specific business needs and requirements. Moreover, Power Apps can enhance innovation by integrating with different Dynamics 365 apps and services. |
| Enhance Your App Capabilities | Power Apps offers a model-driven app development that makes your app more intuitive, easy to use, and robust. Using a power apps connector, users can expand their app capabilities by using lightweight UI elements to make their app more attractive and insightful. Moreover, with built-in capabilities of Dataverse Power Apps offer a storage space to store, manage, and organize your data. |
| Refined App Development | Create apps that are designed and tailored for specific business needs and user experience with drag-and-drop capabilities. Power apps automatically generate powerful and immersive apps using data models and built-in templates to make your app more responsive and attractive. |
| Quick Deployment | Your app idea gets executed immediately with Power Apps. Users get empowered to build an app that makes a way to get launch the app right away using AI Copilot. Power apps have in-built ready-to-use templates that can be used to build apps using drag-drop capabilities and then seamlessly deploy on the app store. Power Apps offer secure deployment of apps that can be used on any device with an easy-to-use interface. |
Also Read: Top Application Development Practices You Must Follow in 2023
Things to ConsiderWhile Building Apps inPower Platform?
The user should consider several important things in building the app in Power Platform. To get started with Power Apps, users should consider the below-mentioned factors:
Need of Application –
Before starting, businesses should investigate the need for a power app platform. Businesses might be able to develop apps without the assistance of developers, but they need to take a license to build apps on Power Platform. Hence, companies need to identify the need and make wise investments to achieve maximum ROI. 
App Planning – 
After considering the need for an app, the next step is planning app development. Planning includes features of apps, UI/UX development & design, and determining the app development through a skilled professional or using built-in templates. 
Migration Provision – 
Power apps have built-in capabilities of Data verse that store app user information within the app. To migrate such important information on cloud business need Dynamics 365 migration service provider that helps organizations with the migration process with seamless and secured services. 
Support Services – 
Building an app is easy on Power Apps but requires continuous support and updates to keep the app's health progressive. Hence, hiring dedicated support service providers is advisable to aid your app with needed services and updates. Hiring a support service provider is wise as it improves your app's health, updates timely, and assists in downtime. 
Also Read: 7 Tricks To Make Your Small Business Large
Conclusion – 
Power Apps is a Microsoft-powered platform that makes business apps grow your business digitally. It transforms your business perspective with the right tools and uses fewer resources.
Business applications with Power Apps makes the life of business owners easier as it delivers professional–grade apps with ease using built-in templates. Moreover, the study justifies that businesses that have embarked on Power Apps have earned 140% of ROI in three years and saved $8.32M in net present value. Are you looking to make your traditional business transform digitally? – Get in touch with Power Apps consulting service provider today and learn more.