What To Look For In A Web Development Company: Tips and Tricks to Find the Right Partner For Your Business?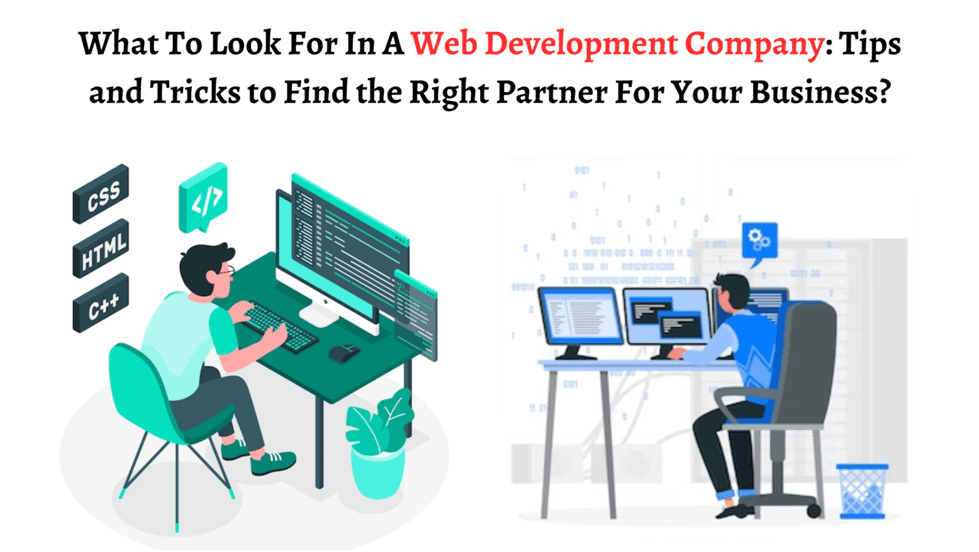 A business website allows entrepreneurs to enter new markets, create a loyal customer base, and acquire customers at a lower price. What To Look For In A Web Development Company.
So are you also considering creating a new website for your business or revamping your existing one?
However, creating a website is not easy. It requires expertise and skills. That's where an experiencedweb application development companycan help you. These teams possess a deep understanding of the latest tools and technologies.
Now the question is-" how to get the right web development firm?"
Worry not. We'll provide effective tips and tricks you need to make an informed decision.
Get ready to embark on a digital transformation journey and discover the key ingredients for a fruitful partnership.
Let's start.
7 Simple Tips To Follow While Hiring The Best Website Development Company
1. Decide What Features And Functionalities You Want In Your Website
It's important to decide what you want before collaborating with website developers, so they can better understand your requirements.
It includes the following things:
Decide what features and functionality you want
What type of website do you want
Do you want any custom features?
Deciding what features & functionalities you want in your website before hiring a development agency ensures goal alignment, customization, scalability, etc. It also helps you find the right team.
2. Evaluate Their Technical Skills
After deciding on your requirements, the next step is to examine potential web programmers' technical skills and knowledge. Knowing your web development team's skills will help you understand whether they can fulfill your requirements.
Therefore, hire web developers with strong technical skills who can handle your project effectively. This evaluation helps you gauge their proficiency in programming languages, frameworks, and technologies relevant to your project. It reduces the risk of project delays, errors, and inadequate implementation.
3. Check Out Their Portfolio
Once you have selected a few companies, you must review their portfolio thoroughly. Checking out the portfolio of a potential web development firm allows you to evaluate their past work and determine if their skills, experience, and style align with your project requirements.
Reviewing their portfolio lets you understand their technical abilities, creativity, and attention to detail. This information can help you decide whether they are a good fit for your business website.
Also Read: The Easiest CRM for Small and Medium-Sized Businesses
4. Check Out Reviews And Client Feedback
Checking out reviews and client feedback of the website programmer before hiring them is essential. It provides valuable insights about their reputation and the quality of their services.
Reviews and feedback from previous clients help you gauge the team's professionalism, ability to meet deadlines, and adherence to project requirements. It also lets you know how satisfied their previous clients are with the services offered.
5. Examine Communication Skills
We all know communication is the key to successful business relations.
Strong communication skills facilitate smooth coordination, minimize misunderstandings, and foster a productive working relationship. Furthermore, good communication promotes transparency, allowing you to stay informed about the progress of your project.
Therefore, ensure you hire a reliable website development company that follows effective communication strategies and provide regular updates.
6.Agree On A Budget
It's essential to set a budget before recruiting potential web developers. Agreeing on a budget allows both parties to establish clear expectations and align financial capabilities. It ensures that the project remains financially viable and helps avoid conflicts or misunderstandings regarding costs later.
Also, it helps the website developers tailor their approach, resources, and proposed solutions to fit within the specified budget.
7. Check Whether They Offer Support
Website development continues even when your website is launched. Once it's live, you'll likely discover things you want to improve.
However, it would be inconvenient to start the hiring process all over again just for those changes. That's why hiring a leading web application development company that offers ongoing post-deployment support is essential. They will ensure you're happy with the final product and assist you with any necessary modifications or updates.
Final Thoughts
By following the above-mentioned tips and tricks, you'll be well-prepared to find the perfect partner for your business's digital journey. Look beyond technical skills and hire web developers who understand your business goals & can help you achieve them.
Remember to examine their portfolio, which is a testament to their expertise and adaptability. Hiring the right team will create a unique website that propels your business toward unprecedented success.
Also Read: Why Java is the best choice for eCommerce websites?
Author Bio
Emily White is a project manager at CSSChopper, a top-rated web development company with a wide range of technical expertise. She is not just a manager but loves writing too. She likes to spend her spare time listening to music and composing knowledgeable articles.