The Easiest CRM for Small and Medium-Sized Businesses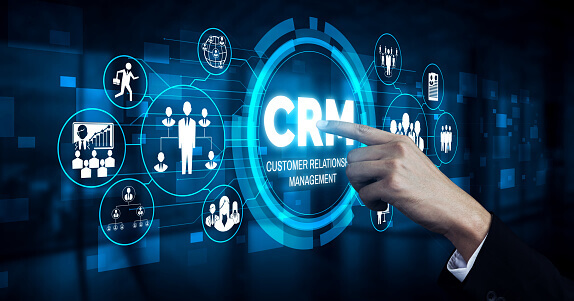 Salesforce's CRM enhanced client retention by 27%. Despite this widespread use, not all companies have adopted CRM. Most small and medium businesses still use Excel spreadsheets to manage their client information.
A customer relationship management system centralizes your data so it can be easily accessed and handled. The easiest CRM tool will send you reminder emails, calendar invitations, and more if you want to get more done in less time.
One of the biggest reasons these businesses don't maintain a CRM is that they don't believe they need one. Small and medium-sized companies may benefit the most from customer relationship management. We have produced a list of the easiest CRMs for all sizes of companies.
What Is Customer Relationship Management (CRM) Software?
CRM software helps business owners track prospective and present customers. CRMs replace the outdated client-tracking systems many firms utilize.
Use of the appropriate CRM software boosts production and improves client satisfaction. Modern businesses need to realize that these CRM tools are relatively simple to use.
The software will centralize sales leads and customer information. CRMs store leads' and customers' interactions and related documents, bids, transactions, and tasks.
To maximize a CRM, only utilize it for planned purchases or service providers. Every firm, whether it offers jewelry, gardening, real estate, legal, or accounting services, needs an effective CRM system.
Streamlining corporate procedures is essential for all B2B organizations. But notably so for, SaaS suppliers with longer sales cycles.
Consider the challenges CRMs address to determine whether your firm needs one. How will the best CRM systems help?
Put your customers' data in one central location. Using CRM software offers a centralized source of truth, limiting information sharing.
A CRM lets you share client contacts with several company reps.
A customer relationship management system may monitor your sales team's efficiency. Also, it might help lay out a process to follow.
Easiest CRM Software for Small and Medium Businesses
1. Wingmate
A robust customer relationship management system that is easy to use. Suitable for those who despise cumbersome CRMs and want to do away with disconnected spreadsheets. Wingmate has the easiest CRM system that helps enterprises of all sizes. From Fortune 500 to single-service, it can find latent income and labor savings. Leads can be quickly captured and followed up on with the help of its mobile app. Don't worry about entering data while you are in the field; just concentrate on making sales.
Things you will get
Visual drag and drop pipelines
Easy for agreement and attachments
2. Nimble
Editors' pick Nimble combines communication, calendar, contacts, and collaboration. Nimble helps build enduring customer relationships with customer insights and actionable data.
Simple to set up and operate, it has all the necessary functions:
Integrated thinking, planning, and administration
3. Zoho CRM
Among the many customer relationship management products available, Zoho ranks highly. It uses cutting-edge technology to give revenue-boosting insights. Its advanced software finds new clients and tracks advertising and sales.
Things you should know
You can read your inbox in CRM.
You can collect up-to-the-minute data on what your consumers are doing.
Use social media for advertising and integrating with other platforms.
4. Salesforce Essentials
In 1999, when Salesforce was initially introduced, customer relationship management was revolutionized. Its current SaaS product, Sales Cloud, can accommodate global companies. The Essentials plan is affordable for even the tiniest and most modest businesses.
Salesforce has top-notch CRM software and customer service. It can help with additional marketing applications. It Sales Cloud can scale with your business if you are willing to pay extra for it.
Things to know:
The interface is both common and easy to use
Effective contact management using calendar and email capture
Assists companies in coordinating their CRM efforts
High-Quality Mobile Applications
Integration with the Salesforce platform
5. Insightly
One of the most famous pieces of CRM software is this one. You may start with a small footprint and increase as your demands grow. It contains the most advanced CRM features.
Things to know
It has lead, contact, organization, partner, and supplier management functions.
It can make monitoring progress toward project goals via the use of milestones.
The Task Board, Activity Groups, Reports, and Other Tools Allow You to View Your Business Any Way You Like.
6. PipeDrive
Pipedrive is a sales tool that tracks contacts, transactions, emails, and documents. It's helpful for monitoring and planning actions and others' suggestions. It's a time-saver, allowing you to monitor leads and sales quickly.
As the most popular sales management software for small and medium-sized firms, it has over 50,000 users.
Things to know
Make sure no business gets lost in the shuffle by having a solid plan in place.
Document your trades and contacts with others.
By visualizing your data pipeline, you can see your transactions' progress.
7. Close
Close is the ideal CRM for small businesses looking to close more deals. A remote team may expand without spending much on corporate sales software. The question is, what is it that sets Close apart? A robust customer relationship management system can be streamlined through this tool.
Things to know
With Close CRM, you can contact prospects by email, phone, and text without paying for any other services.
Also Read: Top 8 Greatest Benefits of Employing a CRM software
8. Bullhorn
BULLHORN CRM's PULSE monitors email traffic to measure client connections. It lets you bring your whole client base together with activity tracking, sales automation, and a mobile CRM.
BULLHORN CRM's pricing levels include Enterprise, Corporate, and Team. What you pay will be based on the scope of your company and the specifics of what you need.
Things to know:
It provides a CRM app for smartphones.
Using PULSE, we can keep track of our customers and establish stronger bonds with them.
It has marketing and advertising automation tools.
Access to business reporting and analytics is straightforward.
9. Base CRM
Base CRM is now Zendesk Sell. This solution helps you build your team's best sales list and create a unified sales atmosphere. It transfers prospects from your website, database, or marketing automation system. Learn which lead sources will provide the most sales conversions and how to leverage them with this CRM.
Things to know
It does follow up on prospective customers.
It does the management of sales processes, including mobile sales.
Maintains an automated sales record.
Reporting and planning for future sales can be done.
10. Sugar CRM
You may create as many unique dashboards as you need to track and balance your priorities. It shows user experience and context to forecast possibilities.
Things to know
Conceptualizing Prospects
Management of Sales Pipelines and Cooperation in the Sales Force
11. noCRM
noCRM is an action-based lead management CRM software that may help your sales team achieve its primary goal.
Things to know
Reduce manual input to increase daily tool use by sales professionals and guarantee that all leads are being tracked.
Every lead has a next step you can take to improve your sales conversion rate and close transactions faster.
Get the most outstanding sales team by equipping managers with vital reports and communication tools.
12. Capsule CRM
Capsule CRM reduces SMB administrative hassles. Your company will be up and running fast with its easy user interface and accounting integration.
While it may be missing key features that its rivals provide, we like that it keeps things simple. A significant part of Capsule CRM is its comprehensive online knowledge base.
Capsule CRM is a simple interface based on the idea that only some companies are identical. It's compatible with numerous typical business systems, so it won't affect your workflow. Just don't assume it will provide the same conveniences as its rivals.
Things to know
Prompts companies to get in touch with old connections they haven't spoken to in a while
Unparalleled note-taking and collaboration features
Several plug-ins for popular small business applications
13. HubSpot CRM
HubSpot CRM is the most excellent free CRM for unlimited users due to its numerous features. Pipeline, email, marketing automation, dashboards, email monitoring, and ad management are all free.
This essential sales CRM makes it easy for reps to care for customers. The free version of HubSpot CRM only includes access to online resources like a forum and a FAQ.
This CRM software lacks team-focused reporting and analytics. Pipedrive offers no free tier but gives transaction, goal, revenue, and forecast information.
Things to know
The free plan includes helpful email marketing features like email layouts and response tracking.
Abundant people to interact with and utilize
capable of linking several social media profiles
Conclusion
It's crucial for businesses, especially if you are a small or medium sized business, to realize that CRM solutions will only slot into place if they are used. To get the most out of your CRM, you will need to put a lot of time and effort into planning and integration. Yet, when executed well, the outcomes may be revolutionary.
Also Read: Improve Productivity and Revenue in Retail Sales Using a CRM Software
CRM may collect past, present, and future customer information and information from other departments.
These data include those from finance, inventory management, marketing, and procurement. That may assist you in establishing a flexible, up-to-date sales funnel.