How is Flutter the Best Choice for eCommerce Development?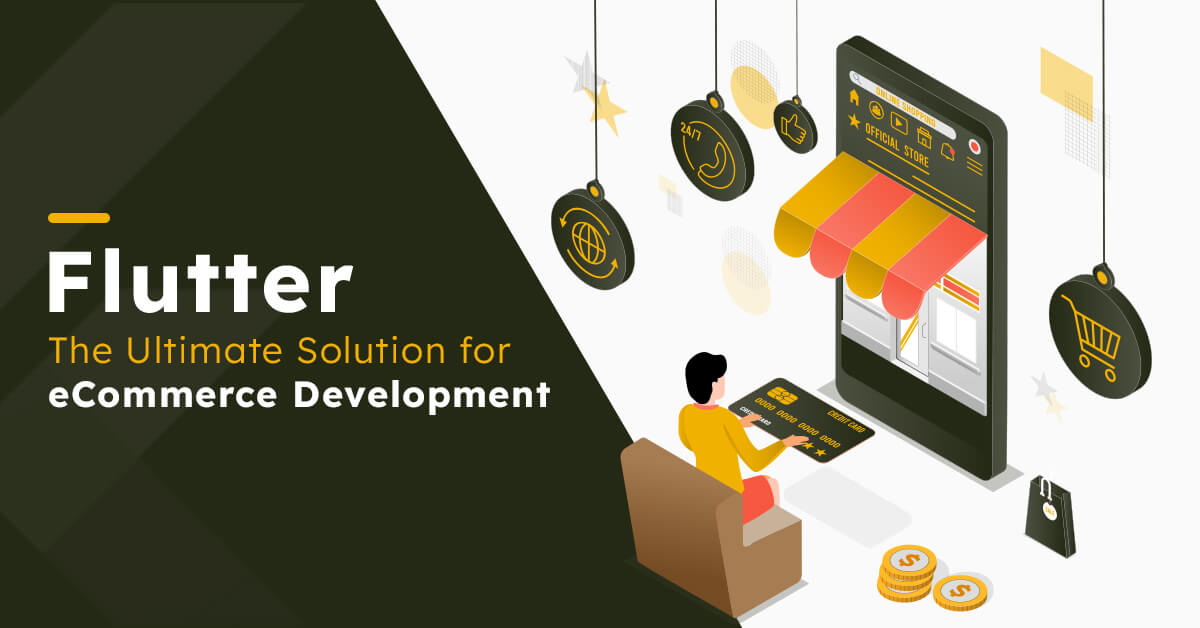 eCommerce development is on the radar of every retailer looking to grow retail sales and profits. The ability to keep the store open 24/7, increase user outreach, broaden offerings through mobile, and improve conversion rates are the by-products of pairing the online presence with eCommerce app development.
According to insider intelligence, the global eCommerce market is expected to reach $6.3 trillion in 2023 and $8.148 trillion by 2026.
However, immense growth in eCommerce development is possible when the eCommerce app renders the best experience with a high loading speed, appeals to the users with an intuitive UI, ensures seamless checkout with faster payment, and retains users with personalized offers. Besides, the app should work on multiple platforms without a single glitch. It completely depends on the eCommerce development platform and the technology stack that's powering the eCommerce application.
Flutter is one of the popular technologies that help retailers with next-gen eCommerce app development at speed and on a reduced budget. The unified code that works for different platforms has helped Flutter steal the show in comparison to other eCommerce platforms. eCommerce businesses looking for a successful venture should hire offshore Flutter developers to build a perfect eCommerce store.
Do you want to dig deeper into the details of how using Flutter is the right choice for eCommerce development? If so, read the article carefully to understand the advantages of Flutter for eCommerce applications.
10 reasons to select Flutter for E-commerce development
The benefits of leveraging Flutter in different aspects of eCommerce app development shed light on the objective if Flutter is a great fit or not. Hire Flutter developers to cherish the range of Flutter's advantages that are-
Make the eCommerce app run everywhere
The eCommerce app extends the reach to mobile customers when the application runs on all the platforms so that eCommerce offerings become accessible to all users irrespective of the device they are using. Be it desktop, mobile, tablet, or others. Here, Flutter comes to the rescue by overriding the cross-platform capabilities.
Using Flutter for eCommerce development ensures the app run across all devices and on all platforms similar to native applications. It helps in overcoming limited design, little customization, code sharing, and more as associated with cross-platform frameworks because it renders close to native experiences.
Also read: Selecting the right eCommerce platform for your business
Reduced time-to-market the app
As an entrepreneur, if you come up with a unique eCommerce app development idea and want to launch the eCommerce mobile app before the competitor does, then Flutter is a go-to option.
Flutter is a Dart-based framework whose programming style is declarative and reactive and won't use JS bridge for eCommerce development. Hot reload capability and ahead-of-time compilation help in improving development workflow and speeding up the app development process respectively. Thereby Flutter helps in launching the eCommerce app in a reduced time.
Build a UI-rich eCommerce app
E-commerce apps can appeal to users on small screen sizes only when the right number of design elements are used and placed rightly. Smooth navigation, attractive animations, brilliant graphics, and a lot more should be leveraged aptly. Flutter helps in crafting intriguing interfaces with a range of themes are provided available in different colors, fonts, and styles.
Flutter has a range of widgets that are used in combination to create multiple functionalities. The widgets are wrapped within one another or when stacked one after another, the horizontal or vertical layout as required can be created. Flexible APIs can help in adding animation, which is enhanced with a little tweak in the code.
Access to native functionalities
Building the functionalities from scratch cannot give competition to the in-built device's native features. The same thing is facilitated by Flutter which allows developers to access smartphone native features such as GPS, in-built camera, map, and others.
While it is believed that using Java or Kotlin language is required to access Android's native features optimally, and using Swift language is required to access iOS native features. But Flutter developers using the extended features in the SDK they are provided make it possible to access the native functionalities in reduced time and cost.
Easy integrations
Enhancing the eCommerce app with advanced technology-backed features such as AR, VR, AI, and IoT differentiates the eCommerce store from the crowd. Flutter enables third-party plugin integration when components are not available in built-in classes of Flutter.
Also read: Powerful ways to use AI in your eCommerce store
Guarantee secure checkout
Online payment has become a part and parcel of eCommerce applications, which, in turn, helps businesses to increase sales. However, the users show reluctance to mobile payment when they find security issues.
Flutter is a stable, scalable, and secure technology that allows businesses to get build secure eCommerce applications that are secure in every way. When users conduct transactions using the eCommerce app, the critical financial data when transferred to the server and received by the payment merchant is not intercepted by anyone- is guaranteed by Flutter.
Rigorous testing for flawlessness
Presently, users show zero tolerance for the flawed app. If the app crashes or loads slowly, the users take no time in uninstalling the eCommerce application. Here, only rigorous testing can save you.
Flutter provides good support for testing with a range of tools that test the source code, which is shared for different platforms. The continuous integration service and automated testing make testing easier and faster respectively. Additionally, it prevents errors in the source code when developers add new code.
Iterating the app becomes easier
The saturated eCommerce market mandates the need to iterate the app with new and trending eCommerce app features, and redesign, or modification of existing functionalities. The changes need to make faster that otherwise hamper eCommerce business productivity. Here, Flutter turns out to be the best solution.
Flutter features a hot reload that allows developers to fix the issues instantly and make the changes in real-time. the changes are viewed in real-time as soon as the alterations in the source code are saved. It enhances the collaboration among the development team and enables them to iterate the eCommerce app quickly.
Ensure smooth migration
When the eCommerce app for Android platforms is already developed, and you want to boost business profits by extending the eCommerce app to the iOS platform, Flutter makes it seamless. Flutter facilitates smooth migration from one platform to another and enables the extension to multiple platforms.
Flutter uses single source code to extend the app to more platforms while guaranteeing great UI and UX, and easier maintenance.
Also read: Voice Commerce is reshaping eCommerce industry & driving growth
Large community
The hiccups in the eCommerce app development journey are obvious. There's a need for expert guidance or assistance to resolve the issues aptly and quickly. Online community support plays a vital role in addressing the challenge.
Flutter has a huge community with thousands of developers that are continuously working on improving the framework. The tons of developers contributing and sharing the code to make eCommerce development effortless. Community support helps in getting the eCommerce apps developed in reduced time and costs.
Convinced about using Flutter for your Ecommerce application?
The myriad of advantages of using Flutter for eCommerce development gives no reason to not choose the technology. It's enabling modernized eCommerce app development that the tech-savvy generation needs. From high-performance and UI-rich development to secure payment and advanced features integration makes Flutter an ideal choice for engineering meticulous eCommerce applications.
In addition to using Flutter for eCommerce development, you need reliable Flutter developers that can help you with the right selection of eCommerce platforms and services and full-fledged eCommerce development. Otherwise, building an in-house Flutter team eats up a lot of time and resources that you can invest in growing and prospering your eCommerce business with eCommerce app development. Start a new eCommerce venture with Flutter!