Are touchscreen laptops worth it?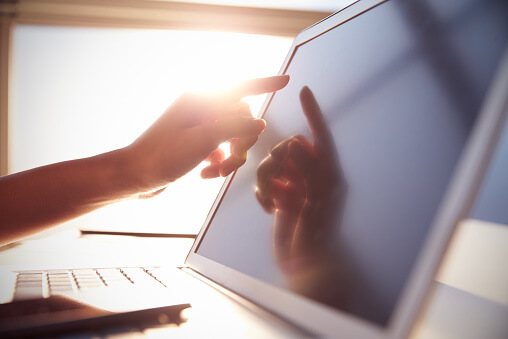 A lot of factors come into play when selecting a new laptop to buy. You need to look at the specifications, hardware, and memory. You also need to consider if what you need is a regular laptop, a modern touchscreen laptop, or even a gaming laptop.
Touchscreen laptops are currently regarded by a lot of people as the future of technology. This is most likely as a result of their ease and interactive features which include tap and swipe gestures. Most of the computer operating systems these days support the use of the touchscreen.
Advantages of touchscreen laptops
1. Ease of use and navigation
Customer reviews for the majority of touchscreen laptops show that it provides for easy navigation. This is based on a technology that will enhance your computer's functionality. This then allows the user to conduct tasks that would be normally difficult for a traditional laptop. Its ease of use is one of the major advantages. You don't need any attachments to make use of the laptop.
2. Suitable for notetaking and drawing
Touchscreen laptops are very popular because of their innovative drawing and smooth notetaking functions. These functions make them ideal for students – especially students engaging in design (as well as artists). It makes their tasks more seamless to execute. A laptop like the Lenovo Yoga laptop is ideal for both students and professionals.
Disadvantages of touchscreen laptops
1. Laptop battery drains more quickly
Granted, touchscreen laptops have integrated touchscreen displays. This feature then allows the user to easily interact with the display. However, this function quickly drains the battery. This means that you'll have to charge the laptop more often than not. This is something you should keep in mind when buying a touchscreen laptop.
2. Price
These kinds of laptops are quite costly to purchase because the cost of their manufacturing is quite high. You'll be able to get a great touchscreen laptop if you spend between $500 to $700. Due to the highly sensitive nature of the screen, an accidental fall could lead to you spending even more on repairing the screen.
3. Weight
Touchscreen laptops usually have heavy body designs that can be stressful to carry around. It's recommended that you make use of a decent laptop bag that will be able to hold the weight of the laptop. However, most of the new laptops are not that heavy, so you won't really encounter this problem if you get a modern touchscreen laptop – although it might be quite expensive.
Also Read: 5 Signs You Need a New Laptop
Problems with touchscreen laptops
There are some problems you can encounter while using the touchscreen of a laptop, so here's some of solutions:
Restart your laptop
A lot of technical issues can be fixed merely by just restarting the computer. This can be what your laptop needs if the touchscreen isn't working.
Re-enable touchscreen
Your laptop's touch screen can be reset if it stops working. This method is quite simple and effective and anyone in this situation should try this. To do this, click on the Windows icon and the 'R'key on your keyboard at the same time. Doing this should take you to the Device Manager. Double click on "Human Interface Devices". You will then see a HID-compliant touchscreen. Click on it. If you see a confirmation popup, confirm by clicking "yes". After this, enable the HID-compliant touchscreen. You can then test the touchscreen to see if it's working again.
Also Read: How To Choose The Best Laptop for Each User Within Budget
Buying guide
1. Size
A major advantage of laptop is their ability to fit into a bag that you can take everywhere with you. If portability is a big concern for you, you should consider getting a laptop with a lightweight design and smaller screen size. In specific, go for a laptop with a 12 to 13.3 inches screen and the weight not more than 1.5kg.
2. RAM
One of the most important aspects of a computer's performance is the RAM (random access memory). This is especially true if you multitask a lot on your laptop. This could include writing documents, editing photos, browsing the web, listening to music and even watching videos. The more RAM your laptop has, the faster it will be when accessing data and the smoother it will be when running your applications. The minimum specification is 4GB RAM. However, if you make use of software that consume a lot of power, then 8GB RAM or more is the best choice.