How Can Cloud Technology Boost Productivity and Profitability in 2023?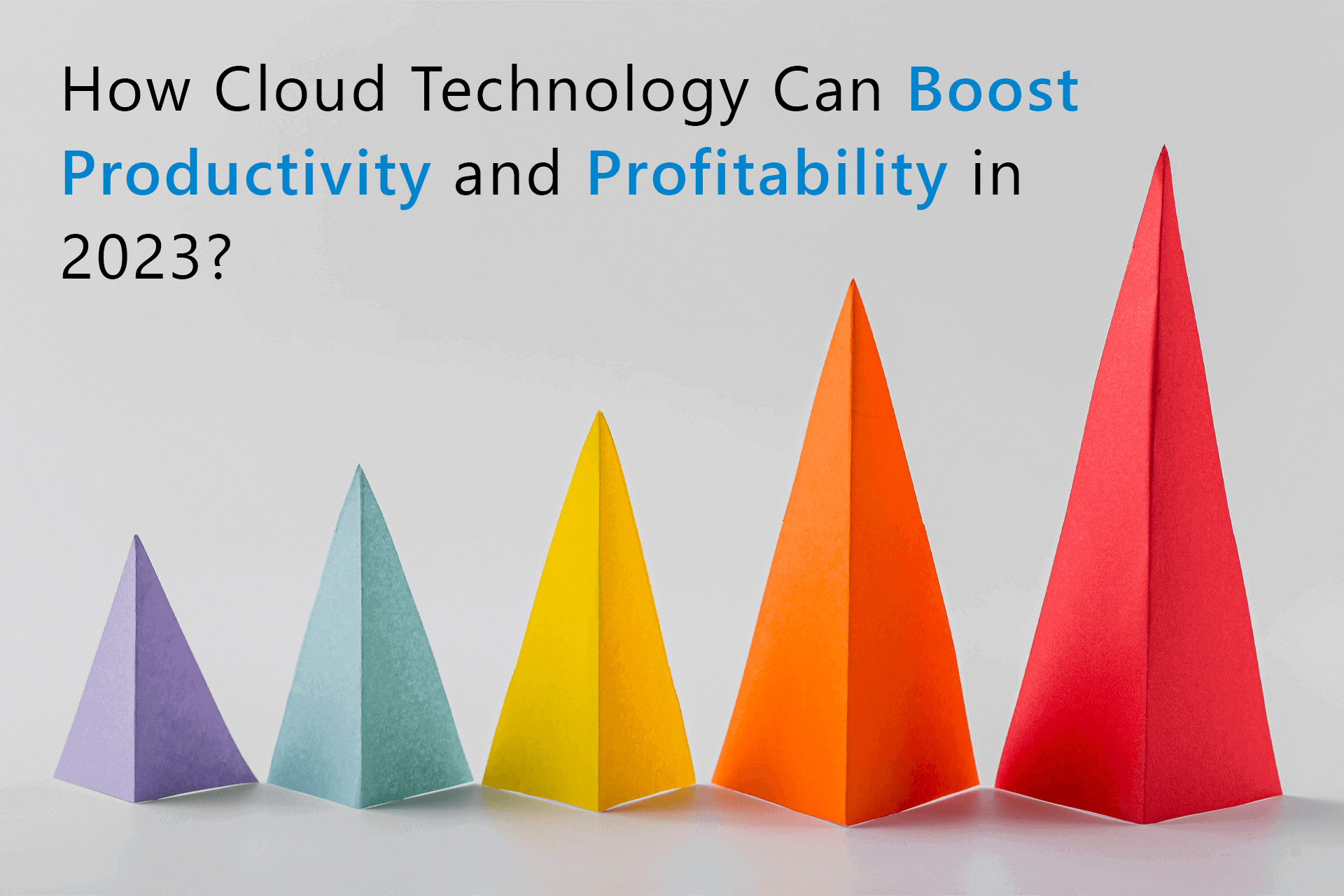 Cloud. Upload. Repeat. The socioeconomic environment's dynamic impact has been trending high for the last two years. Especially after the unwelcome covid-19 impact, the use of cloud technology is at its peak.
With 90% of data generated only in the last two years, businesses need the antidote of the cloud to store, secure, and organize their data precisely. It is said that 95% of fortune 500 companies are using Microsoft Azure cloud services.
Microsoft Azure is the second largest cloud service provider worldwide, with 19% of the market share. The aid of Azure cloud during the hard times of covid-19 has proved a boon for various companies.
Similarly, in 2023 the trend of Azure cloud is not yet hindered; Azure has a global presence with more than 200 products and services available across 60 different regions today.
Hence today in this article, we will discuss Azure cloud technology and how cloud technology can boost the profitability and productivity of the business in 2023.
Let's Roll
What is Azure Cloud Technology? – 
Azure cloud is a platform and service offered by Microsoft for cloud computing and security of data. It offers Infrastructure as a Service (IaaS), Platform as a Service (PaaS), and Software as a Service (SaaS) choices for developing, deploying, and managing applications and services through Microsoft-managed data centers.
Azure aids businesses with data storage, security, protection, networking, database, Analytics, computing, and identity. And Azure is known for its hybrid services provided on-premises and on Azure virtual machines. 
Azure Trends that Boost Productivity and Profitability in 2023.
With the update and advancement of technologies AI, ML, and IoT, Azure will be more innovative and intelligent than ever before. However, in 2023 the below-mentioned trends may boost productivity and profitability.
Cloud migration and hybrid cloud solutions: 
More and more companies are migrating their IT infrastructure to the cloud, and Azure is one of the leading providers of cloud services. In addition, many companies are adopting hybrid cloud solutions, which allow them to use both on-premises and cloud-based resources. Azure offers a range of hybrid cloud solutions, which can help companies increase their productivity and profitability by providing greater flexibility and scalability.
Also Read: Know the Ways Where the Importance of Cloud Computing Is Expanding
AI and machine learning: 
One of the top providers of cloud services is Azure, which is seeing an increase in businesses moving their IT infrastructure to the cloud. Furthermore, many companies are implementing hybrid cloud solutions, which let them employ both on-premises and cloud-based resources. Azure provides various hybrid cloud solutions that, by enhancing flexibility and scalability, can aid businesses in boosting productivity and profitability.
Security and compliance: 
Azure offers a range of AI and machine learning capabilities that may help businesses automate operations, enhance decision-making, and enhance their products and services. These services can help increase productivity and profitability by reducing the time and resources needed for tasks and improving the quality of the produced goods and services.
Internet of Things (IoT): 
The Internet of Things (IoT) is a movement that is becoming more significant as more gadgets are online. IoT services from Azure can assist businesses in gathering, analyzing, and acting on data from connected devices. By giving insights into how goods and services are utilized and enabling enterprises to automate tasks and processes, these services can help boost productivity and profitability.
Serverless computing: 
Thanks to the serverless computing trend, companies can now run applications without needing to manage Infrastructure or servers. By removing the need to manage Infrastructure, Azure's serverless computing services can help businesses lower their IT expenses and boost productivity.
Also Read: Tips for Starting a Successful Cloud Computing Business
Quantum computing: 
Quantum computing is a developing technology that has the potential to transform computing by providing solutions to issues that are currently beyond the capabilities of conventional computers. Various quantum computing services are available through Azure, which can aid businesses in exploring and testing this technology. These services allow companies to handle issues more quickly and effectively than possible, which might significantly influence productivity and profitability.
These trends and others may continue to influence Azure's productivity and financial success until 2023. It's crucial to remember that technology is constantly changing; thus, new trends and difficulties are probably on the horizon.
Conclusion – 
With the rapid advancement of data and technology development, the race against data storage, data security, and cloud trends will be remarkable to note. Businesses today are in a litany to embark on technology, and the trends mentioned above will surely be worth it for companies and Microsoft Azure consultants in 2023.
Many such trends are already in practice, and some are in the pipeline, which will soon be introduced in the market. Get in touch with a Microsoft Azure consulting service provider to embark on the cloud with confidence. Or hire an Azure cloud consultant to get assistance on cloud migration, security, and data storage and leverage the advantage of advanced trends of 2023.
Author Bio
Austin. H. Joy is an Enthusiastic Sr. Azure cloud consultant at Bitscape providing Azure Migration Services. He loves to write and read about the latest Microsoft technology trends. He likes to travel to natural places.