Top 5 Electronic Signature Services to Try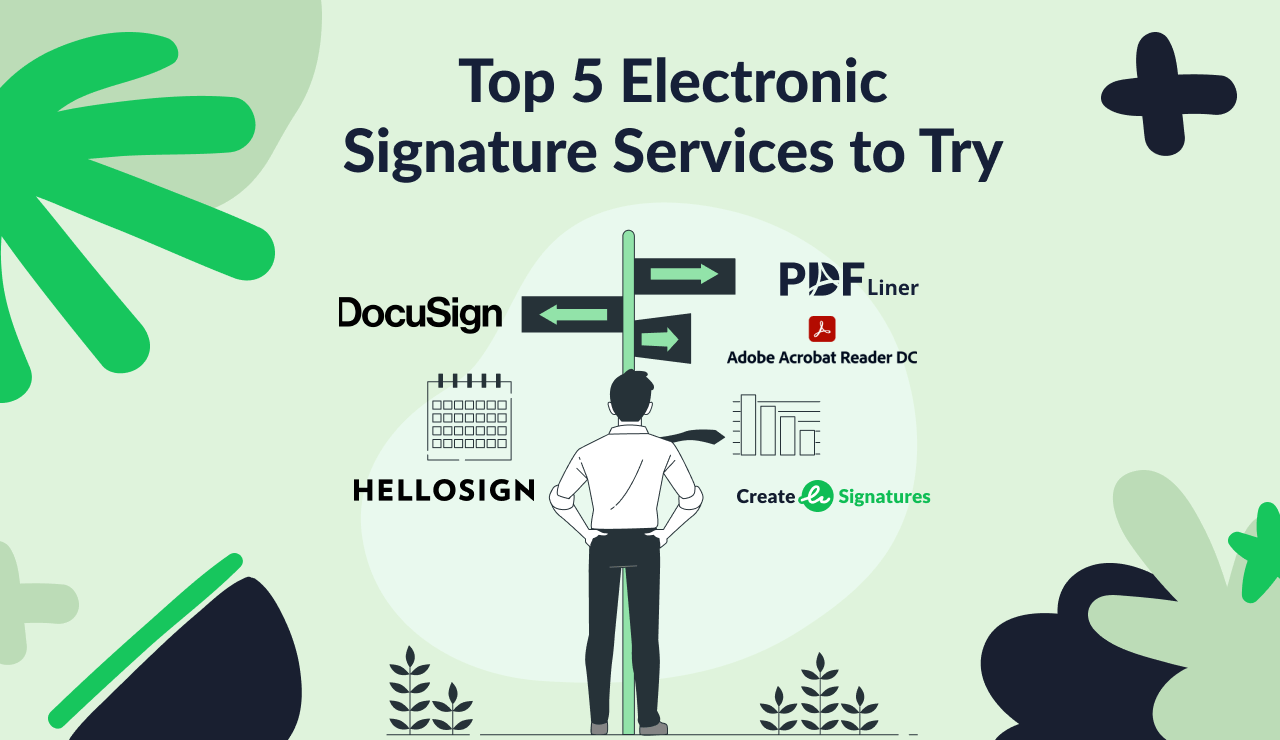 Conducting modern business implies paperless document flow and the use of electronic digital signature, However, finding a quality yet easy-to-use e-sign service might be tricky. In this article, we've rounded up the top five platforms to help you choose the best.
5 Best Electronic Signature Tools
Paperless workflow makes doing business much easier. You can sign an agreement with a partner from another city, remotely conclude a deal with suppliers, or quickly exchange completed forms with counterparties. These five services will help you with it.
1. PDFLiner
It is a web-based platform that is great for use on any device. With PDFLiner, you have all the tools you need to fill out, edit, sign, and send papers at your fingertips. You have the option to use forms from the extensive site library or work with your own files uploaded from your PC or smartphone. There are several ways to sign documents here. You can use an existing e-signature, take a photo of your signature on physical paper, use a mouse or touchpad to create it, or type your full name for the system to convert it to the handwritten format.
| | |
| --- | --- |
| Pros | Cons |
| Simple, user-friendly design; Several options for generating a signature; Own document library; Available on any device. | No mobile app. |
An additional PDFliner benefit is its affiliate program, joining which it's possible to gain a regular passive income from all bringing transactions.
2. DocuSign
It is an extensive service with many possibilities. In particular, the eSignature solution makes joint work on papers and collecting signatures of several negotiators much faster and easier. You can upload the files you need to your profile, view them, sign, and send them to colleagues for signature, and then track their status. DocuSign guarantees the protection and security of your data, as all information is encrypted. In addition to the main functions, this service allows you to create a page for a specific client to fill in templates and send files automatically.
| | |
| --- | --- |
| Pros | Cons |
| Allows you to collect signatures of several people quickly; Long trial period; There is a mobile application; Supports 14 languages. | Costly. |
Another advantage of this platform is the ability to partner with them. It's possible to become a technology partner as well as an affiliate partner to get profit from interaction with Docusign. 
Also Read: How to merge PDF files free on Mac- Quick guide
3. Create e-Signatures
Create e-Signatures is an easy-to-use service that specializes in providing signing tools only. With it, you can quickly create an electronic signature for later use in other editors like PDFLiner. Use your mouse or touchpad, select a pen color and line width, and sign in the empty field. The number of attempts is not limited; you can edit it as much as you like until you are happy with the result. The finished signature may be saved to your device in SVG format. Also, you can sign the document you need right on the site.
| | |
| --- | --- |
| Pros | Cons |
| Extremely easy to use; Clear instruments; Allows creating a signature in seconds. | No editing tools. |
4. Adobe Acrobat
Adobe Acrobat is one of the most commonly used services for working with documents and signing papers in particular. Unlike other platforms, it is a large workspace with many features and tools available. As a rule, it takes some time to understand what's what. But when you get used to it, you realize that it is convenient to sign forms with it. The service has three versions for any device, so you can quickly sign documents anywhere.
| | |
| --- | --- |
| Pros | Cons |
| Convenient collaboration on documents; Many useful features; Several versions for different devices; Flexible plans. | Tricky to master. |
5. HelloSign
HelloSign is an excellent option for those who do not need complex functions to work with documents and are looking for a simple service for signing papers. If you do not need to do it several times a day, but only twice a month, for example, the free version will be enough for you. However, a paid account is still worth the money as it gives you access to more advanced tools. This service was developed by DropBox and can be integrated with popular platforms such as Salesforce, Gmail, Slack, Google Docs, and many more. It greatly speeds up the process of exchanging papers between employees, partners, and clients.
| | |
| --- | --- |
| Pros | Cons |
| 30-day trial period; Easy to use; Can be integrated with many services. | A small set of templates. |
Also Read: Top 4 Methods to Convert EML to PST File With Attachments
Try These Top eSign Services Now
The right services simplify and speed up the signing process. In a paperless workflow, it only takes a couple of seconds. When choosing the right platform, pay attention to the additional features that can be useful in your work. It is worth paying attention to the five described software solutions (especially on PDFLiner) since they can streamline all the processes associated with documents.