Run Your Ecommerce Business with MilesWeb Shared Hosting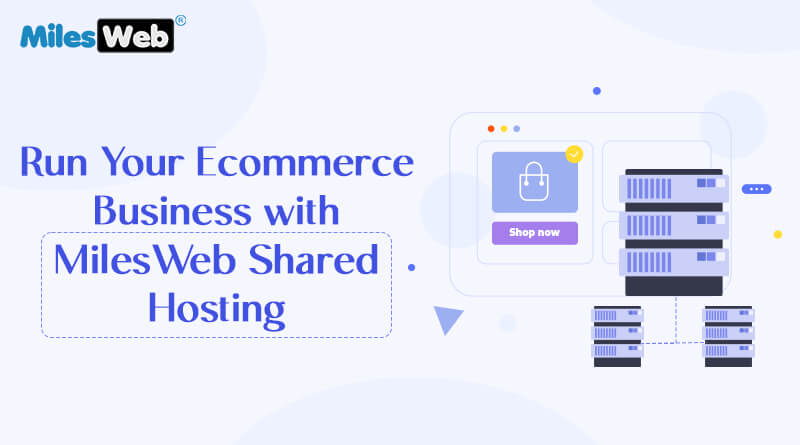 Amid the lockdown and after it, one sector that has grown massively is the eCommerce sector. Thus, many traditional businesses tried their level best to go online. Are you also looking to build your online business? You need several technical resources to make the task easier. You need servers, human IT support, and many software and applications to build an eCommerce site. The question is where you can collect all these technical resources? The answer is to look for a trusted web hosting provider.
Reliable web hosting service providers offer amazing deals and relevant technical configurations to host websites and applications. Your eCommerce websites will be dealing with many customers and their databases. Hence, get secured shared web hosting for a good web hosting company and safeguard your consumers' sensitive information.
For eCommerce websites, website owners need to ensure higher uptime and a smooth hosting operation to prevent the loss of customers, business revenue, and sales.
What Is Shared Hosting? Is it suitable for hosting eCommerce sites?
Shared hosting is an affordable web hosting service where website owners can host multiple websites through a single server. As its name depicts, the term 'shared' means hosting resources of the server (CPU, RAM, disk space, bandwidth, etc.) are distributed among different web hosting account users.
It means, along with your websites, many others users are hosting their websites on the same server. Memory, RAM, disk space, and CPU cores, of an entire server, will host websites of different hosting account users.
As the server resources are shared among different users, the operational cost reduces. Hence, many small businesses or merchants can afford this hosting service. However, along with affordability, the factor is that we cannot ignore security or downtime risks. So, you have to do a smart choice by selecting the right web hosting provider.
Your eCommerce website stores sensitive data of several customers worldwide. It includes payment card information, users' data, and many more. Because of choosing a good quality web hosting provider, users get SSL certifications and a secured web hosting environment with optimal server resources.
In high-quality shared hosting plans, servers accommodate volumes of traffic on your website. Due to this, you can easily scale your website in a secured web hosting environment without experiencing any performance issues. Moreover, users get SSL certifications to encrypt sensitive data.
Also Read: What are the Benefits of Shopify for eCommerce Website Development?
Why is MilesWeb's Shared Hosting Plans Ideal for Ecommerce Websites?
1. Top-notch security
Websites security is an utmost priority of biz owners nowadays. Today, there are hacking attempts made on online marketplaces. Due to this, cyber attackers and hackers misuse sensitive information for fraud and illegal activities. You need to protect your shopping websites. With MilesWeb's shared hosting plans, get free SSL certifications for all your hosted domains.
Moreover, MilesWeb offers 24×7 server support in which they monitor server resources and configure all security-related applications. So, you can say that they will look after all your security concerns and you can easily focus on your eCommerce business and logistics operations.
2. Enhanced Performance 
A good performance of your website is very much important to create a positive impact on your site. It is because many website users prefer websites that give them a smooth browsing experience. Also, poor-loading time and downtime can sometimes create problems in the checkout of products. Therefore, merchants should host their websites on reliable servers that give a higher uptime.
MilesWeb's servers in the shared hosting plan give a guaranteed uptime of 99.95%. It means your site will not experience page loading issues and accessibility problems. All of their shared hosting plans assure you of good website performances.
3. Low Cost
Many of the readers who are reading this content will plan to start their eCommerce business store. However, you are a new one in this industry segment. It is understood that the budget is lower and with hosting solutions you cannot afford an expensive one. MilesWeb's shared hosting plans start at A$ 1.2 per month (Tyro at A$ 1.2 / month). In this, you can host 1 website and get SSL certifications along with it.
Their shared hosting plans are the perfect ones if your online business is at the beginning stage. Scale your website slowly and steadily and make your online presence in this competitive space of the eCommerce business.
4. Customer Support
MilesWeb is available 24×7 to host your website and manage all technical operations. They provide tech support via email and live chat. You can connect with them anytime and resolve your queries.
Also Read: 9 eCommerce Marketing Strategies to Maximize Your Online Sales
Key Takeaways
Running an eCommerce site is not an easy job. You must be equipped with all technical resources and server configurations. In this, MilesWeb has all relevant server resources and tools to host your eCommerce sites with 100% efficiency. Get control panels, unlimited bandwidth, and other features to manage your sites on the server level.