7 Tips for Building an Efficient Online Ordering Software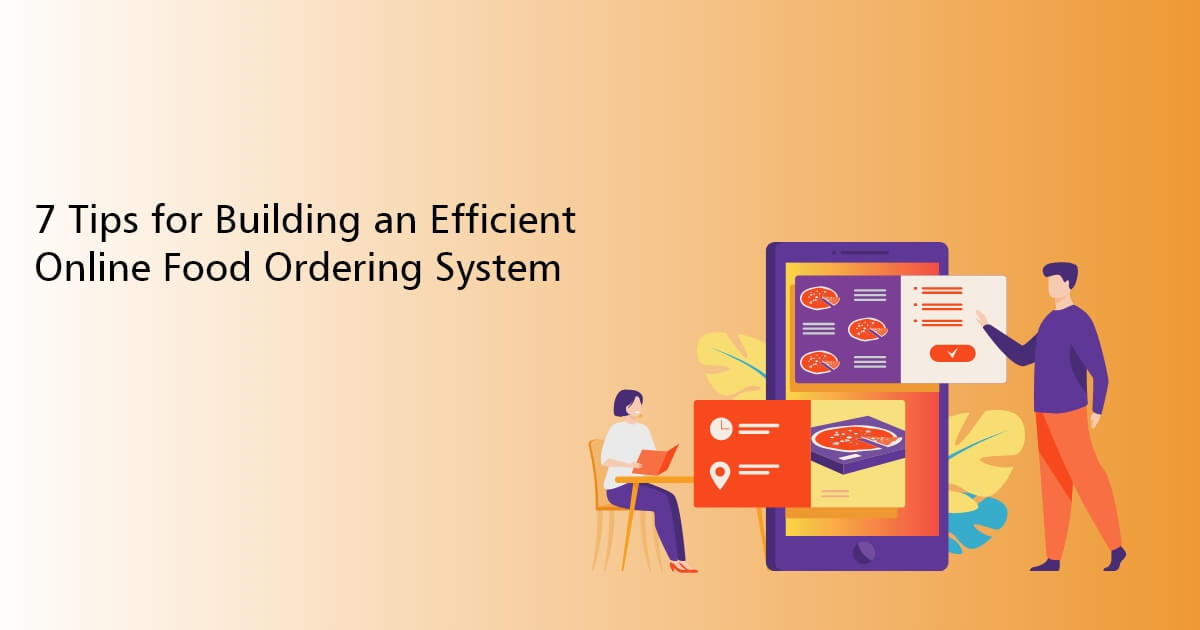 Introduction
Every business aims to stay ahead of the curve for rapid growth. Advanced technology and online food ordering systems are bridging the gap between restaurants and their customers. According to Restaurant Business, nearly 60% of restaurants have experienced increased sales with an online food ordering and delivery system. Online food ordering systems are in high demand, as they enable customers to order conveniently from anywhere, anytime. On the other hand, restaurants can streamline their day-to-day operations by receiving food orders directly on the food ordering software. Thus, it minimizes the risk of manual errors and miscommunications.
Why Does Your Restaurant Need an Online Food Ordering System?
Online food ordering software for your business brings many benefits. Look at the advantages of an online food ordering system and empower your food business with the latest technology.
Increases Efficiency
With an online ordering system, restaurants can efficiently manage food orders. The customers can directly place their orders online, so there are no chances of miscommunication, which is the case with telephonic orders.
Secondly, restaurants need not engage their staff to answer calls to receive orders and then deliver them to the kitchen staff. With online ordering software, the food orders directly reach the kitchen staff and thus speed up the process of preparing the food order.
Did you know that over 4 billion people use smartphones and 50.8% of the population worldwide is online? So, with food ordering software, restaurants can expand their reach to billions of people online and boost their sales.
Saves Time
When restaurants receive food orders online via the online ordering software, they can focus more on completing them quickly. Thus, they can manage more orders in less time, thus, increasing the productivity of the restaurant.
Top Tips to Build Online Food Ordering System
So, you have decided to build your online food ordering software. But you are wondering how to make the most out of it. Look at these tips to help you reap the maximum benefits of your online food delivery system.
Know Your Business Challenges & Needs
Before developing food ordering software, rethink and reflect on your business challenges. You need an online food delivery system to overcome those challenges. When you are well aware of those, it will be easier for you to explain them to the development team. The food ordering software is efficient if it solves all your business challenges.
Focus on Your Budget
The next tip to Building an Efficient Online Food Ordering System is to align it with your budget. When you build the software within your budget, you can spare enough money for your daily operations, marketing, promotions, staff salaries, and more. The best and most efficient on-demand food delivery system is the one that solves your business challenges while fitting your budget. Before investing, be clear on the answers to these questions-
How and when can you recover the cost invested?
Is the software matching your expectations?
Will it give anticipated ROI?
Hardware Compatibility
Make sure the online food ordering system is compatible with multiple platforms. If your software is compatible with desktops, iOS, Android, and tablets, you can reach out to your customers on all touchpoints.
Also, ensure the software delivers equally friendly and smooth experiences across all platforms. Any bugs or errors may lead to losing your new and legacy customers.
Think about Features
The next tip for building an efficient online food ordering system includes choosing the features wisely. Your users expect some default features in the food ordering software to make their ordering experience more effortless.
For instance, the online food ordering software must ask users to turn on their location. With their location on, users can check whether or not the delivery is available. Secondly, they can check out the offers and discounts available in their area.
Another feature can be payment gateway integration. Customers would like to pay online safely and conveniently. You should offer multiple payment gateways to allow customers to pay conveniently.
Real-time analytics
Another tip for building efficient online food ordering software is to include real-time analytics. The online food ordering software must offer real-time insights into your customer data and information. When you know what your customers demand and their choices, you can customize your services based on their preferences. You can analyze consumer behavior and develop personalized campaigns to market your services and increase sales.
Adaptability and Scalability
The next tip for building an efficient online food ordering software is to look at future needs. Every business aims at expanding its horizons and customers. So, for that, your food ordering system must be adaptable to these changes. The software must provide easy integration to third-party applications for effortless expansion of functionalities. Moreover, the software must also integrate easily with your food business's existing software and applications. Whether you build a food delivery system from scratch or acquire a saas-based food ordering software, adaptability and scalability are primary needs.
Also Read: Best Grocery Delivery App Service for Your Own Business
Final Thoughts
We hope the above tips will help you build an efficient ordering system for your food business. Embrace the advanced technology and accelerate the growth of your restaurant or food ordering business multifold.
However, if you lack the budget to build a food ordering system from scratch, a saas-based food ordering system is the other way to go. The ready-to-launch food delivery app offers all the essential features to launch your application online. There is no upfront investment, and restaurant owners can use it immediately.
If you are interested in a cost-effective yet efficient saas-based online food ordering software, try Foodiv. Visit foodiv.com now for more details.