A complete Guide to Building a Multi-Vendor Ecommerce Marketplace App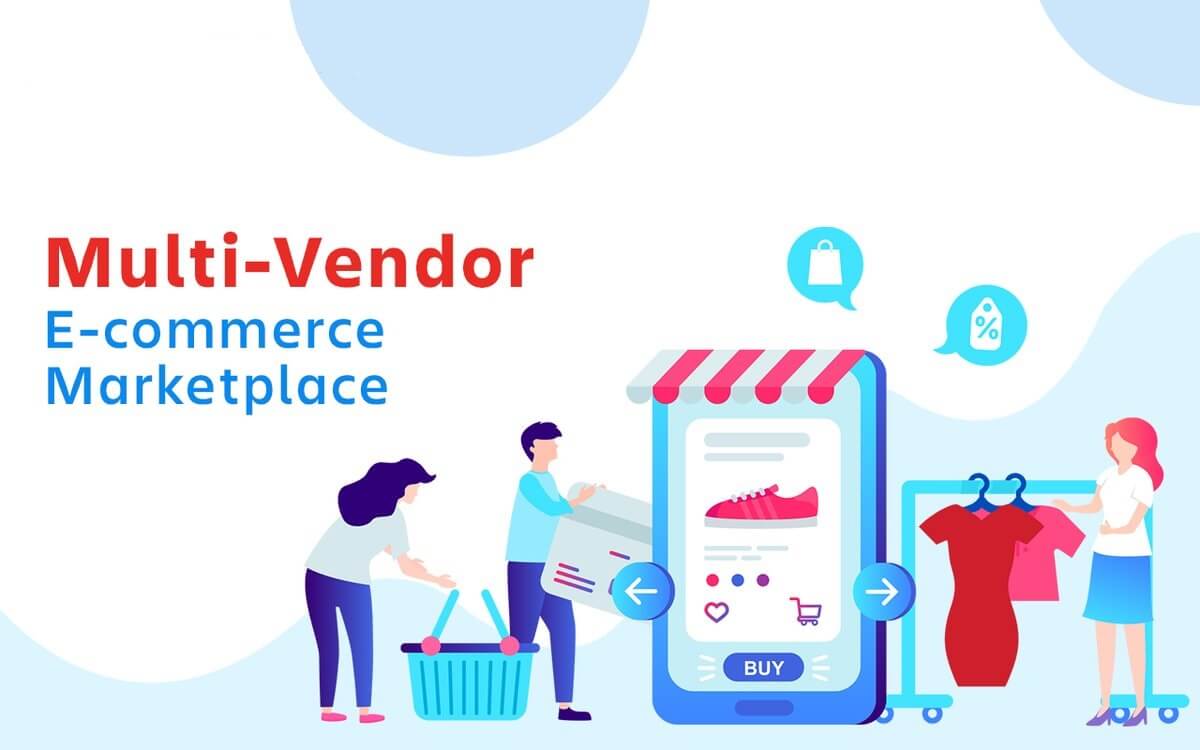 All leading eCommerce stores, are multi-vendor marketplaces. If you are looking forward to building a multi-vendor marketplace, then you are at the right place. We will guide you so that you can decide the best for yourself.  
The benefits of building an online marketplace app include scalability, great performance, custom-built features, and a personalized experience. 
What is a Multi-Vendor Marketplace?  
A multi-vendor marketplace is an online platform that allows different vendors to showcase their products and services, and customers can buy those products and services by paying via the online payment methods available on the marketplace app. The marketplace has one administrator who manages everything. 
Stats: Global eCommerce Sales  
In 2021, global retail eCommerce sale was over 4.9 trillion US dollars, which is expected to jump to 7.4 trillion dollars in 2025.
Let's see some key considerations for building an eCommerce marketplace app: 
Find the Niche  
Before going to the best app development company, it's important to decide early on the project ideation-what types of products or services you will provide on the platform. Multi-vendor marketplaces have many vendors on the platform, which benefits customers as they get better deals on products. Vendors benefit as they get to showcase their products to a large audience and get customers.  
So, you need to narrow your focus and decide the type and category of your products or services. While you are at it, define the target audience. At the beginning of your project, pay attention to the target audience, their likes and dislikes, and what you can do to attract your unique users. As your business scales, you can expand your offerings.
Competitors  
You should be aware of your competitors- their strengths and weaknesses. You need to provide better products than your competitors, a unique inventory, advanced loyalty programs, etc. Beating your rivals can be tough initially, but if you pay attention to improving products and providing customers with a better experience, then it's surely possible. 
Monetization Model  
Naturally, you need to earn money from your platform. Monetization strategy refers to the ways by which you can earn money. The revenue model should be such that it doesn't scare vendors and is profitable for you. 
Here's how you can monetize your app: 
Subscription Fee  
Vendors are required to pay a monthly subscription amount to the platform. 
Transaction Fee  
Vendors pay a fraction of the transaction value. 
Listing Fee  
Vendors have to pay a fee for listing each product on the platform. 
Advertising  
With ads, vendors can promote their products and services and get more visibility. 
Features  
Features are an integral part of an eCommerce platform; they can make or break an app. Important features such as easy signup and login, advanced search options, various payment methods, real-time tracking, ratings, and reviews are the basic features that every eCommerce platform should have. One can go for features such as wishlist, voice search, etc., to provide convenience to users.  
Also Read: Why is Ecommerce Business Getting Popular Than Ever?
Customization  
If you are using a ready-to-use solution, you can customize it as per requirements. A customized solution can be of great help to provide users with a seamless experience. You can customize the design too and build a platform that stands out from the crowd. 
Create an MVP  
Minimum Viable Product (MVP) is a product with just enough features that you can give to users for testing purposes. It's an effective step to understand how well users will take your platform. The MVP provides you with the following advantages: 
Fast Release: You get the opportunity to roll out your product into the market in the shortest time. 
Find Early Adopters: You can attract potential clients with the MVP. 
Know Customers' Needs: An MVP is a great way to know what users want from your product. 
Additional Improvements: Improving a fully made product is a time-consuming task; besides, you want to provide the best to users in the first place. When you create an MVP, you can ask users to test it, who share their feedback with you. Feedback can help you bring new ideas, and you can provide a better product to users. This valuable feedback of users saves you time and money as the product is not fully developed, and you can make improvements based on the suggestions. 
Final Words  
Multivendor eCommerce platform is a great way to bridge the gap between customers and businesses and earn profit through it. Every business knows the importance of bringing the business online. In today's world, when customers are online, it makes sense to be present where customers are. Creating a robust and scalable eCommerce app can greatly help in enhancing revenue by providing the opportunity for businesses to connect with customers.