Why Website Performance is Important for Your eCommerce Website?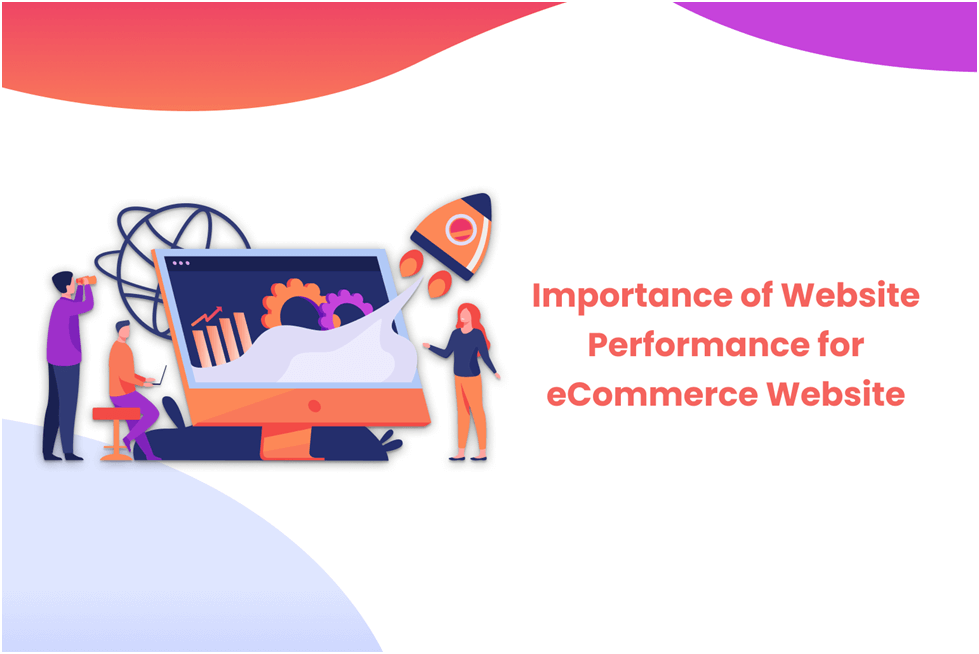 Website performance is one of the most important components of a successful eCommerce website. From a user experience perspective to SEO ranking to Google ranking factor, website speed is a crucial part of everything. Poor eCommerce Website Performance can cause deleterious effects on your sales, increase bounce rates, reduce conversion rates, and ultimately, low revenue.
47% of consumers expect a web page to load in 2 seconds or less, with almost 40% of the people potentially abandoning a website completely if it takes more than 3 seconds to load.
Pretty weird, right? Still, website performance & speed is ignored & taken for granted by many online merchants.
Let's take a look at what is website performance, what the factors affecting website performance are, why website performance matters to your business, how to measure it, and how to improve eCommerce website performance.
What is Website Performance?
Website performance can mean different things to different people, but at its core, website performance refers to how faster the website loads on the web browser.
There are a few key factors that affect website performance:
The Speed of Your Site's Browser
The Quality of Your Site's Images
Load Time of Your Homepage
Heavy CSS & JS use
Poor hosting or server plan
Too many plugins & widgets
Traffic Volume
Why Is Website Performance Matter For Your Business?
In today's digital age, eCommerce websites have to deliver an experience that is user-friendly and browsable. A poorly performing website can cause customers to bounce, a frustrating user experience that ultimately leads to abandoning your site. Here are 4 reasons why eCommerce website performance matters:
Reason 1: Reduce Bounce Rate
Website speed has a positive impact on bounce rates. A high bounce rate means that the majority of users visiting your site are leaving within a short period of time. This can lead to lost sales and potential customers who may have been interested in what you have to offer. By decreasing the time it takes for users to navigate to your website, you increase the chances of converting visitors into leads and customers.
Reason 2: Improving Visitors' Experiences
Improving the visitor's experience can be accomplished through improved speed and stability of the website, which results in decreased load times and faster page registrations. This allows visitors to spend more time exploring your products and making a purchase. Furthermore, reduced interruption rates provide a better overall browsing experience for customers, fostering repeat visits and increasing customer satisfaction.
Reason 3: Enhancing SEO Rankings
A well-optimized website will rank higher in search engine results pages (SERP), leading to increased visibility for your product listings and increased online sales. Quality content on your website will also help to improve ranking in other areas, such as social media shares and Google AdWords placements.
Reason 4: Encouraging Repeat Purchases
A satisfied customer is a loyal customer, which translates into repeat business and high levels of brand loyalty over time. Making it easy for customers to make their purchases directly on your website provides them with a positive shopping experience that encourages future purchases from the same platform or merchant. Ensuring that all checkout processes are fast and error-free helps to reduce the likelihood of customers bouncing between different screens within the buying process – potentially leaving without completing their purchase.
Also Read: What is a website marketing Strategy?
How to Check Website Performance?
How do you measure website performance? This is a question that typically baffles webmasters, especially because there are so many different ways to do it. Trying to understand website performance can help identify and correct problems that can seriously affect how users experience your site.
Measuring website performance is essential to ensure that your website runs smoothly for your visitors. One important way to measure website performance is by analyzing the "performance index" on web speed test sites. The pages with a higher performance index are usually faster and load more quickly.
To check website performance, you can use the below tools:
1) GT Metrix:
It is a free tool that analyzes your page's speed performance. It allows you to get detailed information on your performance score, timings, page speed, and much more. Along with this, you will also get details about how to fix issues that were identified in the page speed test.
It analyzes the content of a web page, then generates suggestions to make that page faster. Get a quick overview of your site speed using PageSpeed Insights. You get both real user data and suggestions on how to speed up your website based on a test.
How to Improve eCommerce Website Performance?
There are many things you can do to improve eCommerce website performance, and here are some of the most important:
1. Use the right theme
Choose a theme that is optimized for performance. A good guideline to follow when choosing a theme is to make sure it is designed for speed and performance first. Look for themes that are fast, lightweight, and advance like Hyva theme Magento 2.
Hyvä Theme Magento is extremely efficient when it comes to performance. The theme has been carefully crafted to be as fast as possible without sacrificing design quality or functionality. Take your business to the next level, with its sleek and modern design. It is highly secure, faster, easy to customization, and SEO friendly.
To learn more about this theme, connect with Magento 2 hyva theme development company and optimize your website performance for better conversions.
2. Optimize your images
Image optimization is one of the most important steps you can take to improve website performance. By optimizing your images, you can reduce the load time of your website and make sure that your images are sized correctly so that they don't take up too much space on your pages. Additionally, you can reduce the amount of data that your website needs to load, which will also improve its performance.
Compression is another effective way to speed up the loading of pages. Reduce the size of an image file without losing quality. Make sure all your images are high quality and load quickly, so users are able to get a sense of what they're looking at right away.
3. Ensuring that your website is optimized for SEO
Part of optimizing your website for performance is ensuring that your site is properly optimized for search engine placements. This includes using keyword rankings and other techniques to help your website show up higher in search engine results pages (SERPs). You can also use SEO tools like Google Analytics to track the effectiveness of your SEO efforts.
4. Inspect your website's code for errors
One of the most common ways that websites can slow down is with incorrect coding. By ensuring all code is properly formatted, you'll help keep your website running smoothly and without any hitches.
5. Minimize plugin usage
Plugin usage can significantly slow down your website. By removing unnecessary plugins, you can free up valuable resources that can be used to improve page speed and overall site performance. Furthermore, consider using themes or plugins from reputable sources to avoid potential security risks.
Also Read: 9 Digital Marketing Tactics To Boost Your Business Growth Online
Good Website Performance = High Conversions + Low Bounce Rates + More Customers
Website performance is one of the most important things to focus on when building a website. It is important because it affects the user experience, SEO rank, and page views. Website performance includes things like speed, load time, and crashes.
Without good website performance, your customers will not be able to interact with your content or find what they are looking for on your site. Poor website performance can make the users feel frustrated and result in lost business. Website performance can also impede SEO efforts if the site's rank deteriorates as a result.
Overall, good website performance enhances customer satisfaction and ultimately drives more sales for businesses.