Top 5 Reasons to Choose Shopify Development for Your Next eCommerce Web Development Project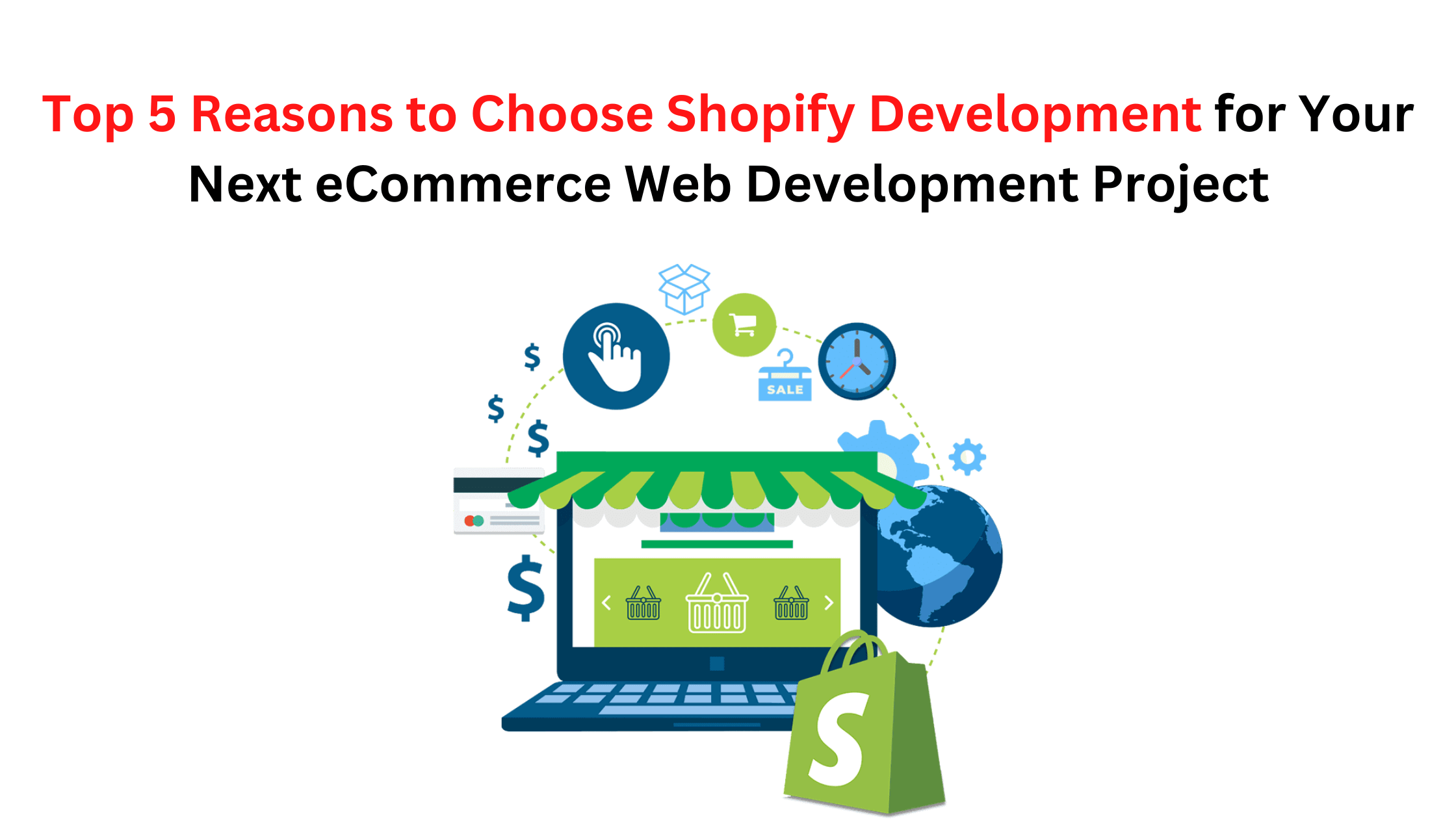 Shopify powers over a million online stores globally, making it a leading eCommerce platform. It has become a well-suited option for many companies that are planning to set up an eCommerce store for their business.It enables a user to create platform-independent online storefronts, a most desired functionality in this digital world. Additionally, it will be best to rely on a Shopify development company for a feature-rich online store development for your business.
Besides popularity and mobile responsiveness, what else Shopify offers, making it an excellent choice for developing online stores?
Let's check out the benefits of Shopify that make it suitable for developing robust eCommerce stores for businesses.
Reasons to Invest in Shopify Web Development for Developing Online Stores
Security
Security is a concern for every web app and website, but it becomes even more crucial for eCommerce websites. It is because every e-commerce site has to handle customer's personal information, credit card details, and more.
Shopify provides various security features like secure hosting, network monitoring, and others. Such features make Shopify well-suited for developing secure eCommerce web solutions. Moreover, Shopify is compliant with PCI-DSS (Payment Card Industry Data Security Standard), which helps to protect the cardholder's data used for making online transactions.
So, Shopify will be a good choice for developing a secure online store for your retail business.
Multiple Payment Gateway Integrations
Running a successful online store also requires the integration of a payment gateway. It is handy with Shopify to set up a secure and reliable payment gateway into an online store. It allows buyers to pay with varied payment options.
Shopify supports over 100 payment gateways that you can use on your eCommerce site. It supports a stripe payment option that enables buyers to make transactions without additional charges.
Additionally, this eCommerce platform provides its payment gateway called 'Shopify payments.' It comes in nominal transaction fees. So, another prominent benefit of investing in Shopify development services is incorporating a reliable and secure payment gateway into your eCommerce website.
Also Read: Selecting The Right ECommerce Development Platform
Availability of Themes
Shopify provides numerous responsive themes to its users for developing platform-independent web solutions. There are both free and paid theme options available that you can choose to develop an online store as per your specific needs. Moreover, you can also customize the theme to develop a unique online storefront for your business.
Shopify categorizes the themes into different varieties, making it convenient to choose a suitable theme for eCommerce website development. Here, you can find themes for different industries like photography, electronics, and others.
Excellent Loading Speed
Shopify provides an excellent loading speed as it runs on a reliable infrastructure with well-optimized servers. Consequently, Shopify sites are likely to load faster. No doubt, with a Shopify development partner, you can establish a fast-loading eCommerce store for your business.
SEO-Friendliness
How will your users be able to find your online store if it appears low in search engine results? It obviously will need more site impressions. So, for an online store owner, it is crucial that their eCommerce site must rank higher in the search engines to get more customers.
Shopify supports various SEO parameters like meta tags and custom title tags. It makes it possible to build an SEO-friendly eCommerce website.
Thus, you do not have to worry more about the SEO-friendliness of your website by investing in Shopify development services.
A Freelancer or a Shopify Development Company: Which One Should You Choose?
If we talk about considering a Shopify freelancer for eCommerce website development, finding such a professional will require a lot of work. And it will waste your time, money, and efforts if you fail to do so.
If your startup has a tight budget, or you need a customized task completed, hiring a freelancer will be your best option.
Conversely, by hiring a Shopify development company, you will have a team of professionals focused on providing you with the best services, whether development, SEO, or others. Moreover, they ensure that the project will be delivered within the specified time.
To provide a user-friendly website experience to your website visitors, investing in Shopify development will surely be worthwhile for a business owner. In addition, it will even help them to build a reputable online presence.
Conclusion
So, this was about the reasons to consider Shopify for eCommerce website development. To develop a feature-rich and robust online store, it is one of the best eCommerce platforms on the market.
This competitively priced platform offers amazing pre-built themes for quick online store development.
It is well-suited for all types of businesses, whether it is small, medium, or enterprise-level. Moreover, Shopify's wide payment gateway support makes the platform more helpful in integrating a secure and reliable payment gateway into an eCommerce site.
So, to build a top-notch online store for your business, you can hire a Shopify development company to leverage the benefits of this eCommerce platform.