5 Ways Artificial Intelligence is Boosting E-commerce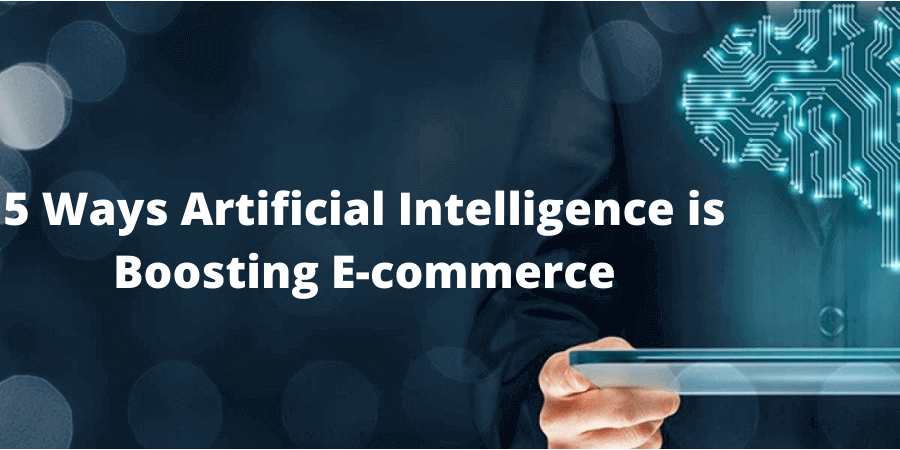 E-Commerce is one of the most competitive sectors. They are not only competing with other online stores and brick-and-mortar places but also with the Internet's total loudness;  meaning people's attention spans are dwindling in today's world where you have so many available options.
About 40% of users abandon a website that takes longer than three seconds to load, and the typical shopping cart is abandoned 68 percent of the time. It is not easy to find an e-commerce site that isn't always trying to increase engagement and revenue.
Technology is finally assisting those efforts significantly. Artificial intelligence (AI), which has proven its worth in fields such as marketing, healthcare, and finance, is also making waves in online shopping.
Let's take a look at five ways artificial intelligence is helping e-commerce.
1. Recommendations for Personalized Shopping
Artificial intelligence is gradually filling in the gaps left by the shift from offline to online shopping. Personalization is one such void. When retailers purchase offline, customers are provided with a tailored shopping experience.
In e-Commerce, personalization is the key to increased conversions and revenue. Today, artificial Intelligence companies are working hard to provide clients with a tailored buying experience through personalized shopping. By evaluating clients' shopping patterns and other data sources, artificial intelligence can create a more personalized shopping experience. For example, if you have a Magento 2 store, you can utilize the Magento 2 size chart to help clients find the best fit and reduce order returns.
The following are the advantages of AI-generated product recommendations for e-Commerce:
Enhance user experience – Customers may find it intriguing when the product they seek is recommended to them. This has the potential to improve the user experience.
Increases conversions – The conversion rate can be improved by providing a customized client experience.
Customer retention is improved – A tailored customer experience can raise lifetime value and enhance the customer experience.
2. Product Descriptions Generated by AI
When it comes to converting visitors into buyers, product descriptions are crucial. A solid product description can assist the end customer in comprehending the product and persuading them to purchase it. Artificial intelligence is now beginning to cover the creative side of writing.
AI tools can assist e-Commerce businesses in creating product descriptions that captivate customers. Some technologies use machine learning and complicated algorithms to automatically produce product descriptions so that e-Commerce store owners don't have to spend time writing them manually.
The following are the advantages of AI-generated product descriptions for e-Commerce:
Time is saved – Writing a product description is a time-consuming process. Artificial Intelligence can help with this and save time and money.
Cost-effective – Artificial intelligence can help develop better content copy at lower costs than human writers.
Errors are reduced – The presence of grammatical errors in manual product descriptions is almost unavoidable. Content written by AI is more likely to adhere to stringent grammar norms.
3. Chatbox That's Intelligent
Customer ease is one of the most crucial aspects of any e-Commerce firm, and it may have a significant impact on the brand's overall reputation and customer retention. Manual customer service is becoming obsolete, with clever AI-powered chatbots assisting customers with purchases and resolving common issues taking their place.
Chatbots are artificial intelligence and machine learning-based computer programs that have been trained to communicate with and support clients. It can assist organizations in improving customer engagement and assistance and providing on-the-spot answers to frequent client concerns.
Leading e-Commerce organizations use chatbots to assist users with general problems, product discovery, and more. Furthermore, sophisticated chatbots can detect user aggressiveness and disappointment, and can escalate such users to human management for support.
The following are the advantages of AI-chatbots for e-Commerce:
24/7 support –Chatbots, unlike humans, can give continuous service to clients since time constraints do not bind them.
Enhances customer service efficiency –Chatbots can solve common problems at the moment, saving humans time and effort in the process.
Cost-effective –Chatbots can handle more consumers simultaneously, reducing the number of human resources needed to escalate these issues. When compared to human assistance, it is both cost-effective and efficient.
4. Visual Search and Image Recognition
Sometimes a customer will wish to look for a product online but will have trouble doing so. Most shoppers are familiar with this scenario. This is when "search by image" or "reverse image search" can come in handy. Complex algorithms and artificial intelligence can assist in identifying what clients are looking for on the Internet and delivering similar results in visual searches.
It can also assist e-Commerce businesses in recognizing and tagging product photos. Leading e-Commerce companies like Amazon already have search functionality on their websites that allows shoppers to find things by looking at pictures.
The following are the advantages of using visual searches in e-Commerce:
Useful Product selection – Allowing clients to search for products using images can enhance their shopping experience.
Enhanced User Experience – Implementing a visual search can help buyers identify the right product more quickly and improve their overall experience.
5. Voice Search's Rise
Assistants like Google and Siri have made life easier. They have progressed far enough in artificial intelligence and machine learning to understand and recognize human speech. For a long time, the Internet has been harnessing the power of Artificial Intelligence in voice recognition. Google's voice search has revolutionized the way people search the Internet. Simply tell your Google Assistant, "Hey Google, remind me about the meeting today at 4 p.m." and a reminder will be established. AI and machine learning would not have made this possible.
According to Google, voice search now accounts for 20% of all searches. Over time, artificial intelligence has enhanced robots' ability to understand voice usage. AI has led to significant advancements in speech analysis and contextual reasoning, resulting in more accurate voice recognition. Artificial intelligence has also improved the usage of voice search in online shopping platforms. It has completely transformed how customers look for things. It has enabled users to shop online using a speak-browse-purchase method, minimizing online purchasing friction.
The following are the advantages of AI-assisted voice searches for e-Commerce:
Time-efficient – From the customer's perspective, voice searches save time. They cut down the time and effort to type and search for a product.
Errors are less likely – When compared to manual typing, using voice search can considerably reduce the risks of making mistakes. It is intelligent enough to know precisely what the customer desires.
Increased client satisfaction – Voice searches can improve the customer experience by allowing customers to search for products quickly and easily.
Conclusion: The audience is open to AI
Artificial Intelligence It has the potential to dramatically minimize human work and make life much easier if correctly implemented. With more innovative and robust solutions, AI has radically transformed the e-Commerce scene. Businesses in the e-Commerce industry are rapidly adopting it.
The e-Commerce market is undergoing an AI revolution as organizations keep up with AI-related market trends to stay competitive.
70 percent of US millennials say they would appreciate a brand or retailer using AI technology to show more interesting products. And about 72 percent believe that as the technology develops, brands using AI will be able to accurately predict what they want.
The opportunity for Personalization 3.0 is exciting, and it is not just large online retailers that can take advantage of these tools. The options are growing for e-Commerce brands of any scale to leverage AI to break down silos, create intellectual personalization capabilities, and monetize products.