Why do Small & Medium-Sized Businesses Need Mobile Apps?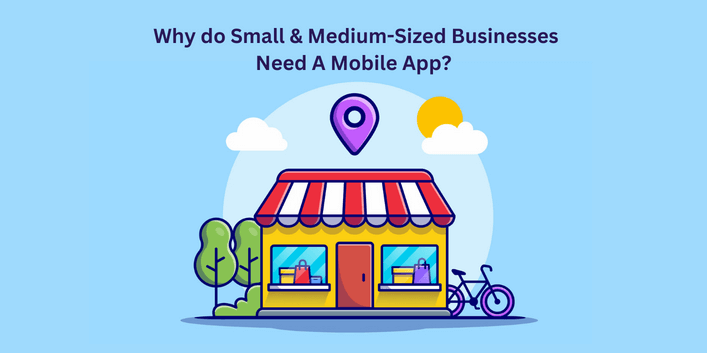 Introduction    
Mobile apps are the future of business. It's no longer enough to have a simple website or social media presence. The most successful companies will be those that utilize apps when it comes to marketing, customer engagement, and promoting products and/or services.
Let's see, why businesses should need a mobile app,
To Boost Customer Loyalty
Customers are more likely to use an app than a website.
The average customer spends about three minutes on mobile devices, but they visit the company's website for over five times as long. This means that if your customer base is small or medium-sized and you don't offer an app, they will still be able to find information about you by searching through Google or Bing. However, if you have a mobile app that allows customers to make purchases and check status updates on their phones while they wait in line at the store or restaurant near them they'll be much more likely to come back!
Improves Communication with Customers
A mobile app is a great way to improve your business communication with customers. You can communicate with them directly, which is much more convenient than sending an email or calling them on the phone. This is one of the reasons why you need mobile apps for your business. Plus, you'll be able to track customer feedback and react quickly if something goes wrong (like receiving negative reviews).
Increasing sales and profits
Mobile apps help increase sales and profits. They can help your business gain access to new customers, engage with them on a personal level, and drive them back into your store again and again. If you're thinking about mobile app development for your company but aren't sure where to start, we've got some tips that will help get things off the ground:
Get a good idea of what type of app would best suit your business needs first. Are there certain features that need more customization than others? Do you want an easy-to-use interface or one that allows users to interact directly with each other (such as through messaging)? Once these questions have been answered, we'll be able to come up with an appropriate solution based on our experience working with businesses like yours!
Build Brand Awareness
Brand awareness is the first step to building a successful business. 80% of consumers say that brand recognition is important when making purchasing decisions. And yet many SMBs don't have the budget to invest in traditional marketing campaigns—they need an app that helps them get their name out there!
The best apps can help you build your brand in a way that is more personal and engaging than a website. They let you interact with customers on their terms (i.e., they're not just reading off monotonous text), which increases engagement rates and makes them feel like they're part of something bigger than just browsing through product pages online.
Also Read: 5 Ways to Improve Data Analytics for Business Strategies
Increases Customer Engagement
Increased customer engagement. A mobile app is a great way to improve engagement with your customers. It allows you to interact with them on the go, and build relationships that last beyond the initial purchase or service interaction.
Real-time communication with clients and other stakeholders. App development allows businesses to communicate in real time with their clients and partners through text messages, voice calls, video chats, and even social media posts all within the app itself!
 Expenses are minimized
Essentially, mobile apps will reduce the expenses that companies would invest in promoting their brands. Businesses would no longer have to allocate additional funds for printing billboards, posters, brochures, flyers, and newsletters for potential clients. Paying agencies to distribute these tangible documents efficiently will cost a business more money.
Mining data
Data mining is possible in mobile apps to a great extent. SMBs can analyze data to learn how customers respond to marketing strategies and discover customer trends. Further, businesses can combine mobile app data with data from other sources, such as social media and direct customer interactions. By combining and analyzing this data, businesses can better understand client interests and purchasing patterns.
Providing an unparalleled customer experience is made possible by this data, which allows enterprises to learn and continually improve their mobile products.
Loads instantly
Speed is essential in today's always-on world, where attention spans are shrinking by the hour. Apps make it easy for consumers to access information and services at their fingertips. Slow-loading websites have already been penalized by search engines like Google, so speeding up your site and investing in a fast smartphone app makes sense. The small business app will load immediately, and new features will be automatically downloaded in the background to save time and ensure users get the most up-to-date version.
Conclusion
We hope that this article has helped you understand more about the benefits of mobile apps for small businesses. A mobile app is a great way to increase your customer engagement and build brand awareness, which is a vital component for success in today's digital world.