Discovering the Beauty and Versatility of Robert Kaufman Fabrics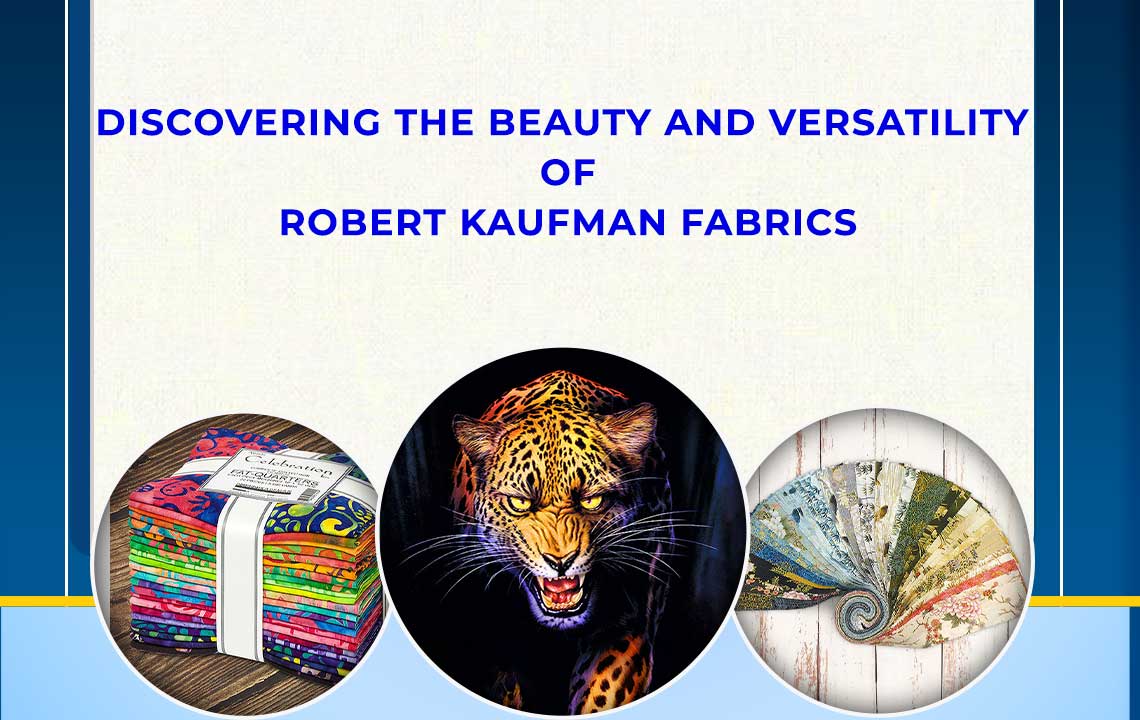 Robert Kaufman Fabrics, many of us who are closely associated with quilts must know the same. It's a well-known name in the textile industry.
Robert Kaufman Fabrics, the company was established in 1942, and since then, it has been providing high-quality fabrics for quilting and sewing enthusiasts. Kaufman Fabrics is known for its versatile and innovative designs, as well as its commitment to sustainability and ethical practices.
Robert Kaufman Fabrics: Another name for Quality and Innovation
Robert Kaufman Fabrics has a long history of providing high-quality fabrics to the quilting and sewing community. The company's fabrics are known for their durability, vibrant colors, and unique designs. Robert Kaufman Fabrics offers a wide range of fabrics, including cotton, linen, rayon, and silk, among others. These materials are adaptable and can be utilized for a range of tasks, such as quilting, clothing, and home décor.
One reason why Robert Kaufman Fabrics is so well-liked by quilters is that it is committed to innovation. To stay on top of the most recent trends and fashions, the brand continually releases new designs and fabric ranges.
Robert Kaufman Fabrics collaborates with top designers in the industry to create fabrics that are both beautiful and functional. Some of the most popular Robert Kaufman Fabrics collections include Kona Cotton Solids, Essex Yarn Dyed Linen, and Artisan Batiks.
In this blog, we will take a closer look at Robert Kaufman Fabrics and explore why they are so popular among quilters and sewists. We will also delve into eQuilter's collection of Robert Kaufman Fabrics and highlight some of the most popular designs.
A colorful batik set featuring Sugar Skulls, skeletons, roses, and bold geometrics to help you celebrate Dia de Los Muertos. Lunn Studios of Artisan Batiks created the "Artisan Batiks: Celebration" batik fat quarter pack for Robert Kaufman Fabrics.
The gold-lined elegance of these Japanese-inspired patterns brings together Peonies, Iris, Bamboo Forests, Cranes, and Peacock Gardens. Robert Kaufman Textiles fabrics roll from the "Imperial Collection 17."
Black, White, Gray, Cobalt Blue, Amber, Savannah Tan, Brilliant Yellow, Rust, Amber, Blazing Orange, and Pink are some of the colors. This fearless leopard has savage eyes and claws that appear to sparkle. This fabric has 24″ panel, digitally printed, from Robert Kaufman Fabrics' "Animal Kingdom" line.
Kaufman Fabrics PFD Kaufman Brussels Washer – Eggshell – LINEN/RAYON – 52″ Wide
Eggshell – This beautiful mid-weight linen and rayon blend has the perfect amount of substance and a lovely drape. To add artistic flair to your quilting and garment projects, use dye, paint, or prints. 52″ wide Brussels Washer by Robert Kaufman Fabrics, 6 oz. per square yard, prepared for dyeing, 55% linen/45% rayon.
Also Read: Complete Cable Guide: Everything You Need to Know
Animal Club – Feline Fun – White
Iron & Ash Gray, Marigold, Sienna Brown, Black, and White are the available colors. These adorable kittens have lots of character. Ideal for adding to your stash or existing hobbies projects! From the "Animal Club" collection by Sevenberry for Robert Kaufman, larger cats are around 2-1/2″.
Robert Kaufman Fabrics is also known for its commitment to sustainability and ethical practices. The company sources its fabrics from reputable suppliers, ensuring that their fabrics are made with eco-friendly and ethical practices.
eQuilter is a top online retailer of Robert Kaufman Fabrics. The company has a huge selection of fabrics in a variety of patterns, hues, and looks.
For more on kaufman fabrics check-out the latest collection with eQuilter.
Happy Quilting!!